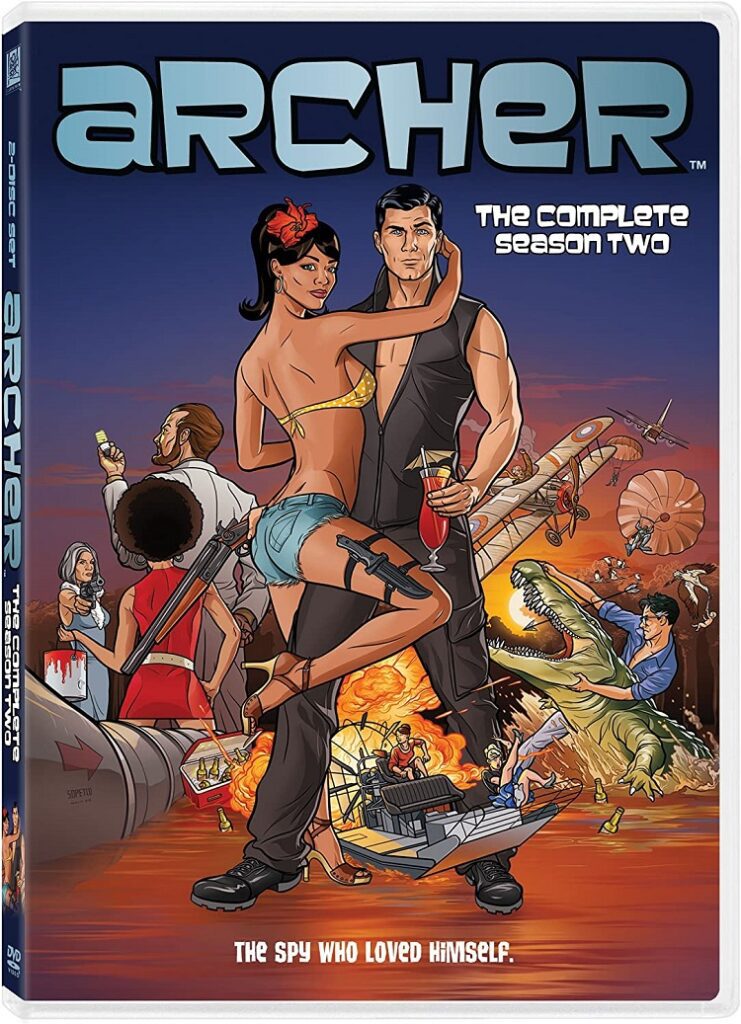 In Season Two of FX's Archer, creator/executive producer Adam Reed and his team deliver another frequently hysterical season of outrageous and offensive espionage adventures for ISIS secret agent Sterling Archer (H. Jon Benjamin) and his cohorts, expanded to 13 episodes from the previous 10.
Archer, his fellow agents, and his co-workers travel the world on different assignments. They go to the Louisiana bayous to capture an eco-terrorist, to Monaco during the Grand Prix so they can obtain a "special" tape on behalf of his promiscuous mother/ISIS head Malory (Jessica Walter), and he goes it alone to Russia in an attempt to learn if Nikolai Jakov is his father.
Life was wildly traumatic and life changing for Archer this season, and it's great the series has a continuity to reward longtime fans rather than rebooting at the start of every episode. Trinette (Maggie Wheeler) the prostitute claims Archer fathered her son, who he refers to affectionately as "wee baby Seamus;" he falls in love with former (or is she?) KGB agent Katya Kazanova (Ona Grauer); and he discovers he has breast cancer, which is made even worse when he learns he is taking counterfeit cancer drugs (Zima?!) because of the Irish mob. The season finale is so emotionally devastating Archer runs away and goes into hiding.
Time is well spent, in entire episodes and brief asides, revealing more about the supporting characters this season. Viewers learn about Archer's manservant Woodhouse's (George Coe) time during WWI, Cheryl/Carol (Judy Greer) is heiress to the billion-dollar Tunt railroad fortune and owns an ocelot, and Dr. Krieger (Lucky Yates) conducts some intriguing experiments.
The video is given a 1080p/MPEG-4 AVC encoded transfer displayed at an aspect ratio of 1.78:1 that looks very impressive. The colors are vibrant, and blacks, including the thick edges that frame every character, are inky. The textures are as detailed as drawn. The one minor flaw is that some of the CGI in the action scenes, particularly moving vehicles, don't always blend well. The DTS-HD Master Audio 5.1 is much better than expected for an animated show. The dialogue is almost always. Objects are well positioned in the surrounds, such as the frequent off-screen voices piping in to make a crack. Gunshots ring out and explosions pack a punch.
The bonus features are on the second disc and all are in HD. Archersaurus- Self Extinction (3 min) – Following up on the gag from the Season One release, the dinosaur that starred in the unaired pilot is given the E! True Hollywood Story treatment as we learn the rest of his story. Ask Archer (5 min) – Archer answers letters from fans. His fascination with Burt Reynolds seen here will be hilariously explored during Season Three. Semper Fi (2 min) – Archer videotapes a shout-out to soldier serving in Afghanistan. L'espion Mal Fait (5 min) – Archer has a tough time after his appearance has been altered to look like voice actor H. Jon Benjamin. ISIS Infiltrates Comic-Con (13 min) – An edited version of the panel from the 2011 San Diego Comic-Con features the cast minus Jessica Walter plus creator Adam Reed shows how funny they all are as they interact with questioners.
Fans of Archer should definitely pick up The Complete Season Two Blu-ray. For those who haven't checked it out yet and are curious, as long as you enjoy comedy rated Mature, do yourself a favor and watch one of the funniest series on TV