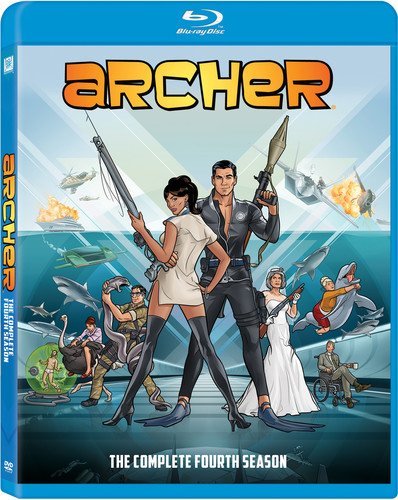 During the 13 episodes of its fourth season, Adam Reed's espionage comedy Archer continued the escapades of international intrigue and outrageous hilarity that have made the show a success.
The season opened with "Fugue and Riffs," which finds ISIS agent Sterling Archer (H. Jon Benjamin) having developed amnesia and thinking he's a fry cook named Bob Belcher. That's Benjamin's character on Bob's Burgers. John Roberts, who plays Bob's wife Linda, makes a brief appearance, and castmates Eugene Mirman and Kristen Schaal, who play their kids, appear in the two-part season finale "The Sea Tunt" as Cheryl's brother and his girlfriend respectively.
Other guest stars this season include Timothy Olyphant as a former ISIS agent and friend of Sterling, Anthony Bourdain as Chef Lance Casteau whose restaurant might be used to assassinate the Albanian ambassador, and Jon Hamm as Captain Murphy of Cecil Tunt's underwater laboratory.
As opposed to some cartoon shows where things reset at the beginning of the next episode, Archer has an on-going narrative. This allows Sterling's fear of cyborgs to dealt with in stories like "Legs," where it surfaces as Krieger works to give Ray the ability to walk again, and "Viscous Coupling," which sees the return of cyborgs Barry, Sterling nemesis, and Katya, Barry's current and Sterling's former flame. Sterling also has to deal with new recurring character and his stepfather Ron Cadillac, who marries Malory (Jessica Walter) and is voiced by Walter's husband Ron Leibman.
The great advantage of being an animated show is the ISIS team can travel the globe on assignment. Aside from missions in the U.S., they travel to Morocco in "Un Chien Tangerine" to rescue an agent and work to foil an assassination of the Pope in "The Papal Chase."
The Blu-ray has been given a 1080p/MPEG-4 AVC displayed at an aspect ratio of 1.78:1. Colors continue to be vibrant. Characters are created with thick black lines and scenes have good depth. The DTS-HD Master Audio 5.1 delivers a very good surround experience for a television series. Dialogue is clear and positioned well as are the effects. There are two extras. "Fisherman's Daughter" (3 min) is anime created by Krieger (so you've been warned). "Archer Live" (20 min) is an edited extra of the cast's appearance (minus Judy Greer) on 1/12/13 at New York's Irvine Plaza. Looks like a wild time and makes you wish the entire event was included.
Archer remains one of the top comedies in my book, so this release is a must-own alongside the previous three seasons.