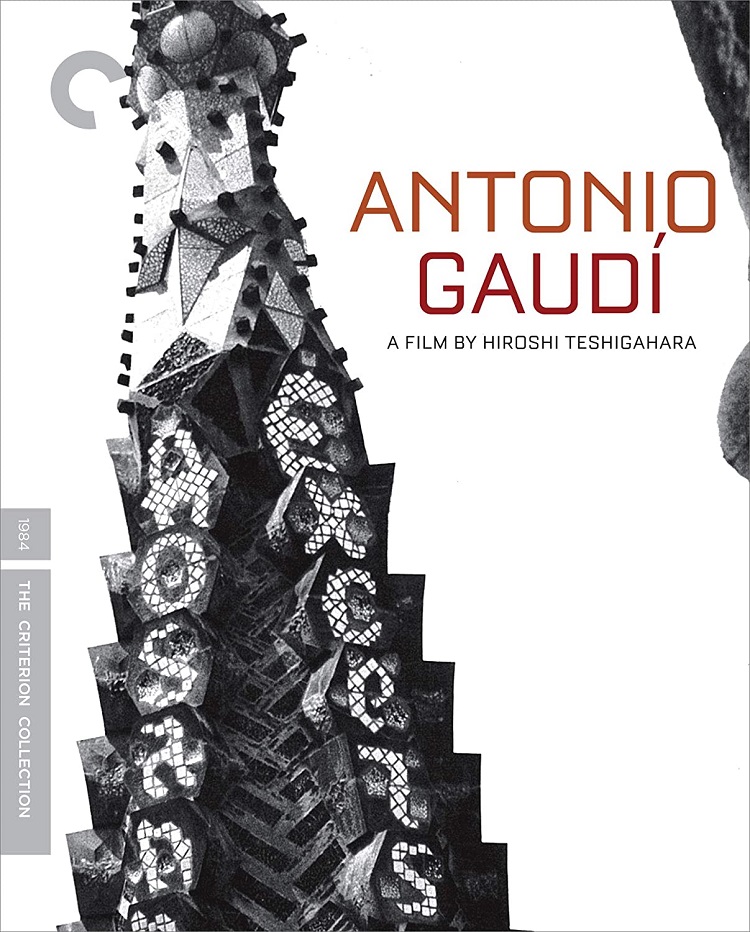 Antonio Gaudí, a film by Japanese director Hiroshi Teshigahara (1927-2001), is a tone poem of Gaudí, Barcelona, and art – filled with vibrant color and music. The restored 72-minute film from 1984 is not your typical artist biography. There is barely any dialogue. Or narration. Or biography. Teshigahara instead creates a collage of dazzling images featuring the unique architecture of Antoni Gaudí (1852-1926). Teshigahara, the first Asian director to be nominated for an Academy Award and probably best known for his avant garde feature film Woman in the Dunes (1964), started his career in documentary film. Here, he seamlessly melds documentary footage with his own trips to Barcelona to highlight Gaudí's idiosyncratic architectural style.
Gaudí's work is incredibly unique, but his influence and curving forms, which have clearly entranced Teshigahara, can be seen in modern architecture by Frank Gehry and Zaha Hadid as well as the fantasy worlds of Dr. Seuss. Much of Gaudí's architecture is located in Barcelona, Spain, including his unfinished masterpiece, Sagrada Família. Gaudí was involved in the design and creation of his buildings to the smallest detail – including the design of ceramic mosaics, stained glass, ironwork, and other decorative elements. He has been called "God's Architect" and seven of his buildings/parks, all in Barcelona (and featured in this film), have been declared UNESCO world heritage sites: Park Güell, Palau Güell, Casa Milà, Casa Vicens, Sagrada Família, Casa Batlló, and Cripta Güell.
The film has been digitally restored in high definition with dazzling results. The sensuous curves, spirals, and organic forms of Gaudí's architecture are revealed both from a distance and in brilliant detail. The film could be enjoyed as an architecture tour, or Gaudí travelogue, as long as the viewer is willing to amble along at a leisurely pace with the director wherever his eye and camera choose to go. After watching Antonio Gaudí, the viewer will not only want to start looking up flights to Barcelona, but need to learn more about this distinctive artist. Luckily, there is an illustrated booklet that accompanies the film that can help fill in some of the biographical and aesthetic blanks of both Gaudí and director Teshigahara.
Supplemental features included on the Blu-ray:
Interview with architect Arata Isozaki (2008)
Footage from director Hiroshi Teshigahara's first trip to Spain, Gaudí, Catalunya, 1959
A short film by Teshigahara on the sculpture work of his father, Sofu Teshigahara, Sculptures by Sofu—Vita (1963)
An hour-long documentary on the architect's life and work, Visions of Space: "Antoni Gaudí (2003)
Filmmaker Ken Russell's program on Gaudí for the BBC (1961)
An illustrated booklet featuring an essay on Gaudí by art historian Dore Ashton, "Border Crossings"; "My First Trip to the West," by Hiroshi Teshigahara (1986); "A Photographic View of Travels in the West," excerpts from a conversation between Hiroshi and Sofu Teshigahara (1959)
Trailer
Antonio Gaudí is now part of the Criterion Collection. The Blu-ray includes an uncompressed monaural soundtrack. Dialogue is in Japanese with English subtitles. The film is presented in its original aspect ratio of 1.33:1. On widescreen televisions black bars will appear on each side of the image.