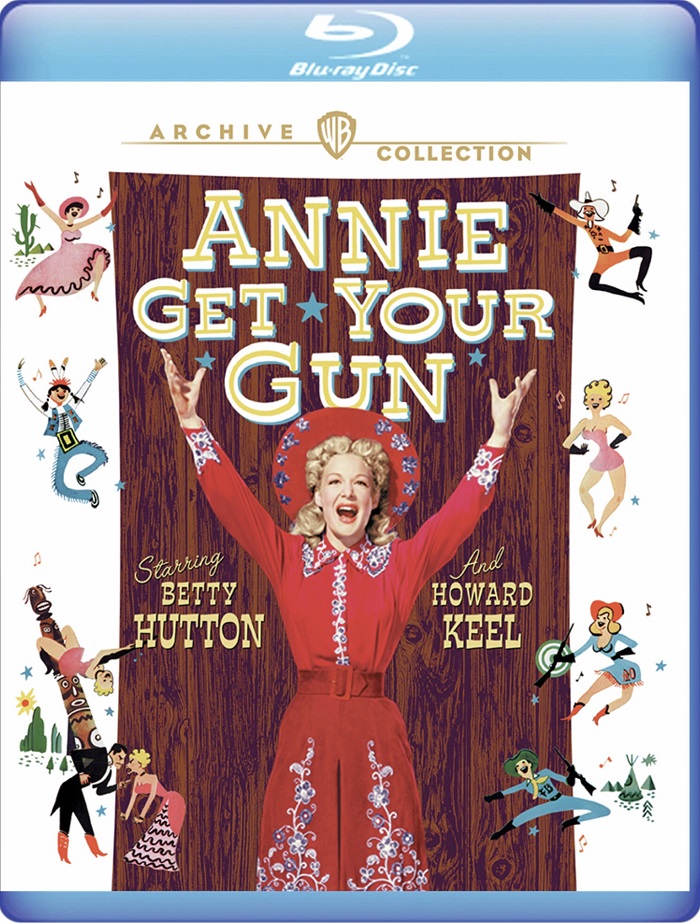 Prior to its release this week, this classic MGM movie adaptation of an American musical theatre staple has never been available on Blu-ray in the U.S. It's still not available on digital. So why did it take so long for Warner Archive to finally release this film in HD?
Well, part of the reason is likely the low marquee value of lead actress Betty Hutton, but there's an interesting story about that, as I'll cover in the bonus features later. There's also the poor message at the film's conclusion that finds Annie intentionally downplaying her talent in order to win over a man, not to mention the total makeover she undergoes over the course of the film to look like the kind of girl her man likes. The biggest factor is the questionable depictions of Native Americans in the film, most notably in the cringe-inducing cultural appropriation nightmare musical number called "I'm an Indian Too", in which Hutton as Annie is adopted by Chief Sitting Bull, dons the tribe's attire and makeup, and attempts to mimic the native dances.
Gender and cultural insensitivity aside, there's just too much good about the film to keep it on ice. From the powerhouse talent behind the scenes, superstar producers Rodgers and Hammerstein and composer/lyricist Irving Berlin, to the commanding co-star turn by Howard Keel, to the two absolutely essential showtune hits "There's No Business Like Show Business" and "Anything You Can Do", the good far outweighs the bad. Even Hutton ends up being an asset to the film, as she's clearly a very gifted comedic actress, although her mugging is so exaggerated at times that it seems like she's delivering a stage performance.
The story is based on the life of sharpshooter Annie Oakley and her adventures as part of Buffalo Bill's traveling Wild West show. Those adventures mostly seem to center on her infatuation with her fellow sharpshooter, Frank Butler (Keel), a smarmy playboy who relishes his dalliances with multiple local ladies at every stop on the show tour. As Annie's role in the show expands, Butler's pride forces him out, leading to painful time apart for both of them as they realize how much they care for each other and long for reunion.
The new Blu-ray has been sourced from a new 4K scan of the original nitrate Technicolor negatives, delivering the best home presentation of the film to date. No noticeable defects appear, although the definition gets a bit muddled in the most high-energy dance numbers. Colors are slightly washed out compared to modern standards, and even fall short of the quality of other musical classics of the era, but remain consistent throughout each scene. Soundtrack choices are a new DTS-HD Master Audio 2.0 mix or the original mono track. The DTS track is very clean with no discernible pops or hiss.
Bonus features start off with an archival introduction from the film's 2000 DVD release. Host Susan Lucci discusses the history of the musical and the film, casually dropping the bombshell that Judy Garland was originally cast as the star of the film and went so far as to film two full production numbers before dropping out due to "illness". If Garland had gone on to complete the project, there's no way this film would have languished in the Blu-ray vault for so long. Thankfully, Warner Archive included Garland's two full numbers as bonus features here, although regrettably one of the songs is the dreaded "I'm an Indian Too". Garland definitely seems off in the footage, hazily remarking at the end of one number that the director had called cut before she thought she was done with her lines. It's fascinating to imagine how the full film would have turned out with Garland, but based on this footage, Hutton's over-the-top bumpkin act was far more entertaining than the prim and proper Garland's reserved approach.
In other interesting trivia revealed by Lucci, the great and powerful Oz himself, Frank Morgan, was originally cast as Buffalo Bill and filmed at least one production number before dropping dead. That number, the also culturally insensitive "Colonel Buffalo Bill", is also included in the bonus features, although considering that all Morgan did was ride into the scene at the very end, it's perplexing that they ended up re-recording the whole thing with the replacement actor. The final bonus production number included is a favorite of Irving Berlin's, "Let's Go West Again", that had been cut from the Broadway musical and ultimately got cut here too in spite of Berlin's lobbying for its inclusion. There are also a couple of audio only pre-recording tracks, including a version of "There's No Business Like Show Business" with Garland missing her cues.
The film is an important piece of Broadway and Hollywood history that is long overdue for Blu-ray treatment. Much like real American history, there's considerable objectionable content, but it still needs to be available to modern audiences as a reminder of how far we've come.