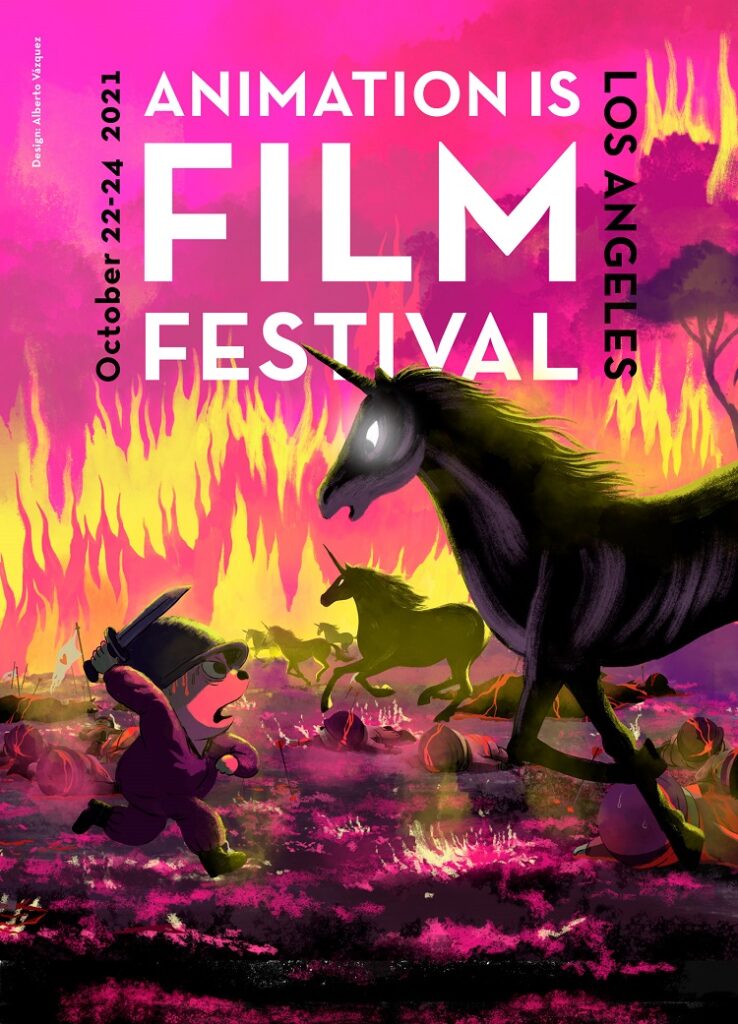 ANIMATION IS FILM (AIF) announced today the competition line-up and other special events for its fourth edition, which takes place in-person October 22-24 and returns to its home at the TCL Chinese 6 Theatres in Hollywood. The festival kicks off Opening Night on Friday, October 22 with the North American premiere of the highly anticipated Netflix feature, The Summit Of The Gods, followed by an in-person Q&A with award-winning director Patrick Imbert (The Big Bad Fox and Other Tales). On Saturday, October 23, the Centerpiece film features the West Coast Premiere of GKIDS' Belle, directed by Oscar nominee Mamoru Hosoda (Mirai) who will also do an in-person Q & A following the premiere. The West Coast Premiere of NEON's award-winning Flee, directed by Jonas Poher Rasmussen, will close the festival Sunday, October 24. Tickets for ANIMATION IS FILM are now on sale at animationisfilm.com.
"This year's Animation is Film lineup represents the very best feature animation from around the world, bringing to Hollywood world premieres as well as critically acclaimed, prize-winning titles from the Cannes, Annecy, Sundance, Telluride and Toronto festivals. After last year's hiatus due to COVID, the Los Angeles animation and film communities are clamoring to gather together to see these films on the big screen, and we at AIF are enormously proud to present them," says Matt Kaszanek, Director of AIF.
AIF partnered up with multiple industry organizations to present this year's festival: ASIFA-Hollywood, Cartoon Network, Crunchyroll, Dreamworks, ELMA, Fathom Events, Funimation, Illumination, Laika, Netflix, Paramount Animation, Pixar, Shout! Factory, Sony Pictures Animation, Unifrance, Walt Disney Animation Studios, Warner Animation Group (WAG), and Warner Bros. Animation. The festival, founded by GKIDS and the Annecy International Animation Film Festival, presents a selection of new animated feature films from Asia, Europe, South America and North America, with both juried and audience prizes. This year, AIF proudly presents 12 features in competition, 20 programs overall with shorts, and Behind-the-Scenes presentations of Disney's upcoming Encanto presented by its director in person.
AIF will also host the North American premiere of Funimation's My Hero Academia: World Heroes' Mission, the third feature film in the global hit anime franchise, offering a sneak peek to fans ahead of its U.S. theatrical release on October 29, 2021. The Festival is also proud to present Studio on the Big Screen, a slate of studio titles that were not able to screen in a theatrical setting upon release and will be offered to cinema-going public for the first time in Los Angeles: Pixar's Luca, presented in-person by director Enrico Casarosa and producer Andrea Warren; and Sony Pictures and Netflix's The Mitchells vs the Machines, presented in-person by producers Phil Lord and Chris Miller, and co-director Jeff Rowe; and Vivo, presented in person by directors Kirk DeMicco and Brandon Jeffords.
Other special sections include the popular Best of Annecy: Female Directors shorts block, presented in partnership with Annecy and Women In Animation. In addition to on-screen programming, AIF is proud to include, for the first time, a special in-lobby exhibit. Award-winning animation studio Laika will display a variety of puppets and sets in the lobby of the TCL Chinese 6 Theatres, available to all audiences, for the duration of the Animation Is Film weekend.
Said Marcel Jean, Artistic Director, Annecy International Animation Film Festival, "Animation is back in Los Angeles and that's excellent news! As one of the festival's co-founders, we are thrilled to support the fourth edition of Animation is Film. This year's lineup is exceptional by its quality and its diversity: more than ever, animation is film!"
2021 ANIMATION IS FILM SLATE
COMPETITION LINE-UP
Opening Night – Netflix's The Summit of the Gods (France / dir. Patrick Imbert, North American premiere)
Animation Is Film alumnus, Patrick Imbert (AIF '17, The Big Bad Fox and Other Tales) returns with the Opening Night selection The Summit Of The Gods (Le Sommet des Dieux) based on the manga by Jirô Taniguchi and Baku Yumemakura. Seventy years after George Mallory and Andrew Irvine climbed to the top of Mt. Everest, an old Kodak camera, allegedly belonging to Mallory, winds up in the hands of an outcast climber believed missing for years. Obsessed with proving its authenticity, a Japanese reporter enters a world of obsessive mountaineers hungry for impossible conquests on a journey that leads him, step by step, toward the summit of the gods.
* Director Patrick Imbert will appear in person
Centerpiece — Belle (Japan / dir. Mamoru Hosoda, West Coast premiere)
Visionary director Mamoru Hosoda (AIF '18, Mirai) returns to Animation Is Film with Belle, a GKIDS release. Suzu is a 17-year-old high school student living in a rural village with her father. For years, she has only been a shadow of herself. One day, she enters "U," a virtual world of 5 billion members on the Internet. There, she is not Suzu anymore but Belle, a world-famous singer. She soon meets with a mysterious creature. Together, they embark on a journey of adventures, challenges and love, in their quest to become who they truly are.
* Director/Producer Mamoru Hosoda will appear in-person.
Closing Night — Flee (Denmark / dir. Jonas Poher Rasmussen, West Coast premiere)
Flee tells the story of Amin Nawabi as he grapples with a painful secret, he has kept hidden for 20 years, one that threatens to derail the life he has built for himself and his soon to be husband. Recounted mostly through animation to director Jonas Poher Rasmussen, he tells for the first time the story of his extraordinary journey as a child refugee from Afghanistan. A NEON release.
The Crossing (France / dir. Florence Miailhe, North American premiere)
A small village looted in darkness; a family forced to flee. The two oldest children, Kyona and Adriel are quickly separated from their parents facing the road of exile alone. They embark on a heroic journey which takes them from childhood to adolescence in search of shelter, peace, and the hope of finding refuge and their family. These courageous siblings survive incredible challengers, before reaching a new world, free at last.
The Deer King (Japan / dir. Masashi Ando & Masayuki Miyaji, West Coast premiere)
The Deer King, a GKIDS release, is a sweeping fantasy epic, and the directorial debut of acclaimed animator Masashi Ando, whose work on such landmark films as Spirted Away, Paprika and Your Name helped shape the world of modern Japanese animation.
Fortune Favors Lady Nikuko (Japan / dir. Ayumu Watanabe, U.S. premiere)
Ayumu Watanabe (AIF '19, Children of the Sea) returns to Animation is Film. The story revolves around a mother named Nikuko and her daughter, Kikuko. Both live on the same boat due to different circumstances. Daily life under this umbrella will lead them to live different types of problems and experiences that will help them grow as a family.
I Am What I Am (China / dir. Haipeng Sun, North American premiere)
Young Juan is awestruck by the artistry of a traditional Chinese Lion Dance. Inspired to become an artist himself, he joins forces with a strange group of friends, and even stranger teacher (a once promising star turned fishmonger), to form the most unlikely lion dance troupe. Together, the group works to achieve the impossible.
Josep (France, Spain, Belgium / dir. Aurel, Los Angeles premiere)
February 1939. Spanish republicans are fleeing Franco's dictatorship to France. The French government-built concentration camps, confining the refugees, where they barely have access to hygiene, water and food. In one of these camps, separated by barbed wire, two men will become friends. One is a guard, the other is Josep Bartoli (Barcelona 1910 – NYC 1995), an illustrator who fights against Franco's regime.
Nahuel and the Magic Book (Chile, Brazil / dir. German Acuña, Los Angeles premiere)
Nahuel is a curious boy who has a deep fear of the sea. One day, he come across a mysterious book that seems to be the solution to his trouble. What he doesn't know is the book is really magical, and Kalku, an ambitious warlock is after it.
Pompo the Cinephile (Japan / dir. Takayuki Hirao, U.S. premiere)
Pompo is a talented, gutsy, and unapologetic movie producer. She works on her filmmaking day and night in the movie capital Nyallywood. Gene is tasked with directing the next script for his boss, will he succeed his first time as a director and create a "masterpiece"? He sets out to find out, with a script built around the legendary aging actor Martin Braddock (think Brando) and a young actress seeking her first big break. Feature is a GKIDS release.
Poupelle of Chimney Town – English dub (Japan / dir. Yusuke Hirota, World premiere)
It is the story of young Lubicchi living among the thick smoke from the chimneys of his isolated town, yearning to see the "stars" — to know the truth — his father always told him about. One Halloween night he meets Poupelle, a man made of garbage, and together they look to the sky as their adventure begins. This feature is an Eleven Arts release.
* Virtual Q+A with director Yusuke Hirota and screenwriter Akihiro Nishino
Where Is Anne Frank (France, Israel, Belgium, Netherlands / dir. Ari Folman, U.S. premiere)
Oscar® nominated director, Ari Folman's latest follows the journey of Kitty, the imaginary friend to whom Anne Frank dedicated her diary. A fiery teenager, Kitty wakes up in the near future in Anne Frank's house in Amsterdam and embarks on a journey to find Anne, who she believes is still alive, in today's Europe. While the young girl is shocked by the modern world, she also comes across Anne's legacy.
SPECIAL BEHIND-THE-SCENES PRESENTATIONS
Encanto (dirs. Jared Bush, Byron Howard, Charise Castro Smith)
Be among the first to experience exclusive, never-before-seen footage from Walt Disney Animation's latest. As your guides, the filmmakers behind this adventure take you on a wondrous journey through the mountains of Colombia, to a magical place called Encanto. Featuring behind-the-scenes insight and footage from the upcoming film, this exclusive sneak peek will cast its spell on audiences of all ages.
SPECIAL EVENT SCREENING
My Hero Academia: World Heroes' Mission (dir. Kenji Nagasaki, U.S. Premiere)
U.A. High School students Izuku Midoriya, Shoto Todoroki, and Katsuki Bakugo face the greatest crisis in My Hero Academia history, with only two hours to save the world! During their internship with the number one Pro Hero Endeavor Agency, Deku and his new friend Rody find themselves wanted nationwide for a crime they didn't commit. Can Deku and his friends stop Humarise's global plans of eliminating all Quirks?
* Special guests TBD
BEST OF ANNECY: SPOTLIGHT ON WOMEN DIRECTORS
Returning for its third straight year, Animation Is Film is proud to present this essential showcase featuring some of the best animated shorts directed by women in 2021. Programmed in partnership with Annecy and Women In Animation, this special program features a diverse array of beautiful, thought-provoking short films from around the world.
STUDIO CINEMA ON THE BIG SCREEN
Luca (dir. Enrico Casarosa)
Set in a beautiful seaside town on the Italian Riviera, Disney and Pixar's original feature film Luca is a coming-of-age story about one young boy experiencing an unforgettable summer filled with gelato, pasta and endless scooter rides. Luca (voice of Jacob Tremblay) shares these adventures with his newfound best friend, Alberto (voice of Jack Dylan Grazer), but all the fun is threatened by a deeply-held secret: they are sea monsters from another world just below the water's surface.
*Director Enrico Casarosa and producer Andrea Warren in-person
Raya and the Last Dragon (dir. Carlos Lopez Estrada, Don Hall)
Walt Disney Animation Studios' Raya and the Last Dragon travels to the fantasy world of Kumandra, where humans and dragons lived together in harmony long ago. But when an evil force threatened the land, the dragons sacrificed themselves to save humanity. Now, 500 years later, that same evil has returned and it's up to a lone warrior, Raya, to track down the legendary last dragon to restore the fractured land and its divided people. However, along her journey, she'll learn that it'll take more than a dragon to save the world—it's going to take trust and teamwork as well.
The Mitchells vs the Machines (dirs. Mike Rianda, Jeff Rowe)
When Katie Mitchell (voiced by Abbi Jacobson), a creative outsider, is accepted into the film school of her dreams, her plans to meet "her people" at college are upended when her nature-loving dad Rick (voiced by Danny McBride) determines the whole family should drive Katie to school together and bond as a family one last time. Katie and Rick are joined by the rest of the family, including Katie's wildly positive mom Linda (voiced by Maya Rudolph), her quirky little brother Aaron (voiced by Mike Rianda), and the family's delightfully chubby pug Monchi for the ultimate family road trip. Suddenly, the Mitchells' plans are interrupted by a tech uprising: all around the world, the electronic devices people love – from phones, to appliances, to an innovative new line of personal robots – decide it's time to take over. With the help of two friendly malfunctioning robots, the Mitchells will have to get past their problems and work together to save each other and the world!
*Producers Phil Lord and Chris Miller, co-director Jeff Rowe, and Lindsey Olivares (production design/lead character design) will appear in-person
Vivo (dir. Kirk DeMicco)
Vivo follows a one-of-a-kind kinkajou (aka a rainforest "honey bear," voiced by Lin-Manuel Miranda), who spends his days playing music to the crowds in a lively square with his beloved owner Andrés (Buena Vista Social Club's Juan de Marcos). Though they may not speak the same language, Vivo and Andrés are the perfect duo through their common love of music. But when tragedy strikes shortly after Andrés receives a letter from the famous Marta Sandoval (three-time Grammy-winning Latin pop legend Gloria Estefan), inviting her old partner to her farewell concert with the hope of reconnecting, it's up to Vivo to deliver a message that Andrés never could: A love letter to Marta, written long ago, in the form of a song. Yet in order to get to Marta, who lives a world apart, Vivo will need the help of Gabi (newcomer Ynairaly Simo) – an energetic tween who bounces to the beat of her own offbeat drum to fulfill his owner's wishes.
*Directors Kirk DeMicco & Brandon Jeffords, editor Erika Dapkewicz, Wendell Dalit (art director), and Carlos Romero (story artist) will appear in-person