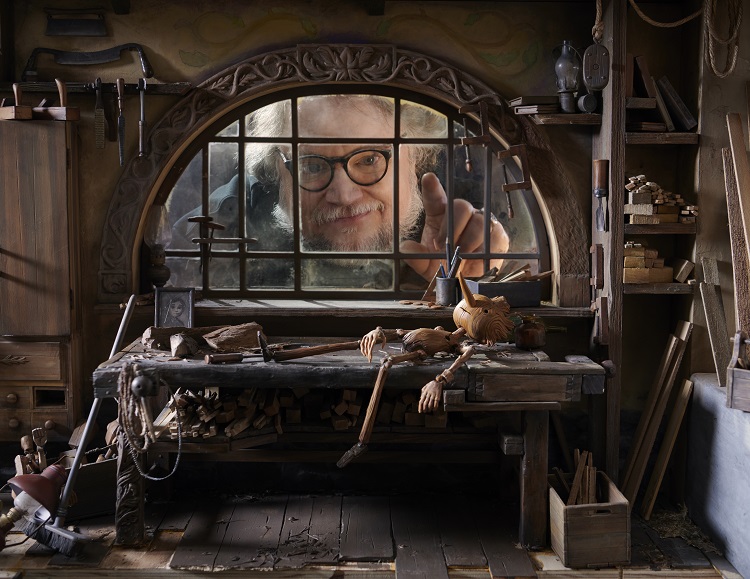 ANIMATION IS FILM (AIF), whose mission is to champion animation as a cinematic artform on par with live action, announced its Closing Night film: Guillermo del Toro's Pinocchio. The closing night will be held at the Samuel Goldwyn Theater and will host the multi-award-winning director, Guillermo del Toro on Saturday, October 29. Also, the festival will screen the World Premiere of the English-language dub of One Piece Film Red as the Centerpiece of the festival, on Saturday, October 22, ahead of its North American theatrical release on November 4.
The announcement of this year's Closing and Centerpiece films comes on the heels of last week's announcement of the Opening Night Selection – Henry Selick's Wendell & Wild, as well as Competition Section titles, including the North American Premiere of Nora Twomey and Cartoon Saloon's My Father's Dragon and Annecy's Cristal Award-winning Little Nicolas. In addition to these titles, Luck, Turning Red and Aurora's Sunrise are also in the awards race. The festival is a one-stop shop for films vying for Oscar contention this award season!
Academy Award-winning filmmaker Guillermo del Toro reinvents Carlo Collodi's classic tale of the wooden marionette who is magically brought to life in order to mend the heart of a grieving wood carver named Geppetto. This whimsical stop-motion film directed by Guillermo del Toro and Mark Gustafson follows the mischievous and disobedient adventures of Pinocchio in his pursuit of a place in the world.
Directed by Guillermo del Toro and Mark Gustafson, the film features an all-star voice cast with Ewan McGregor as Cricket, David Bradley as Geppetto, and Gregory Mann as Pinocchio. Other cast includes Finn Wolfhard, Academy Award winner Cate Blanchett, John Turturro, Ron Perlman, Tim Blake Nelson, Burn Gorman, with Academy Award winner Christoph Waltz and Academy Award winner Tilda Swinton.
"In both spirit and action, Guillermo del Toro exemplifies the Animation Is Film mission — a filmmaker of the highest order embracing animation as a cinematic artform of the highest order. Bringing Pinocchio to life has been the filmmaker's passion and labor for over 20 years. We are honored and humbled beyond words that he has chosen to unveil it to US audiences at Animation Is Film. Thank you Guillermo!!!!" stated Festival's founder Eric Beckman.
One Piece Film Red, produced by Toei Animation, directed by Goro Taniguchi (One Piece – Defeat Him! The Pirate Ganzack) and written by Tsutomo Kuroiwa (One Piece Film: Gold), commemorates the 25th anniversary of creator Eiichiro Oda's popular manga series – the top-selling manga title of all time. The 15th feature film installment of the global hit franchise, One Piece Film Red, delves deep into the legendary pirate Shanks and introduces a new character, Uta, his daughter and the childhood friend of the main character Monkey D. Luffy.
Uta—the most beloved singer in the world whose voice has been described as "otherworldly"—is renowned for concealing her own identity when performing. Now, for the first time ever, she will reveal herself to the world at a live concert. With the Navy watching closely, the venue fills with Uta's fans—including excited pirates and the Straw Hats led by Luffy, who simply came to enjoy her sonorous performance—all eagerly awaiting the voice that the whole world has been waiting for to resound. The story begins with the shocking revelation that she is the enigmatic Shanks' daughter.
AIF partnered up with multiple industry organizations to present this year's festival: Apple Original Films, ASIFA-Hollywood, Cartoon Network, Crunchyroll, Dreamworks Animation, ELMA, Fathom Events, Gotham Group, Illumination, LAIKA, Locksmith Animation, Netflix, Nickelodeon, Paramount Animation, Pixar Animation Studios, Shout! Factory, Skydance Animation, Sony Pictures Animation, StretchSense, Walt Disney Animation, and Warner Bros. Animation. The festival, founded by GKIDS and the Annecy International Animation Film Festival, presents a selection of new animated feature films from Asia, Europe, South America and North America, with both juried and audience prizes.
TICKETS AVAILABLE NOW AT: animationisfilm.com