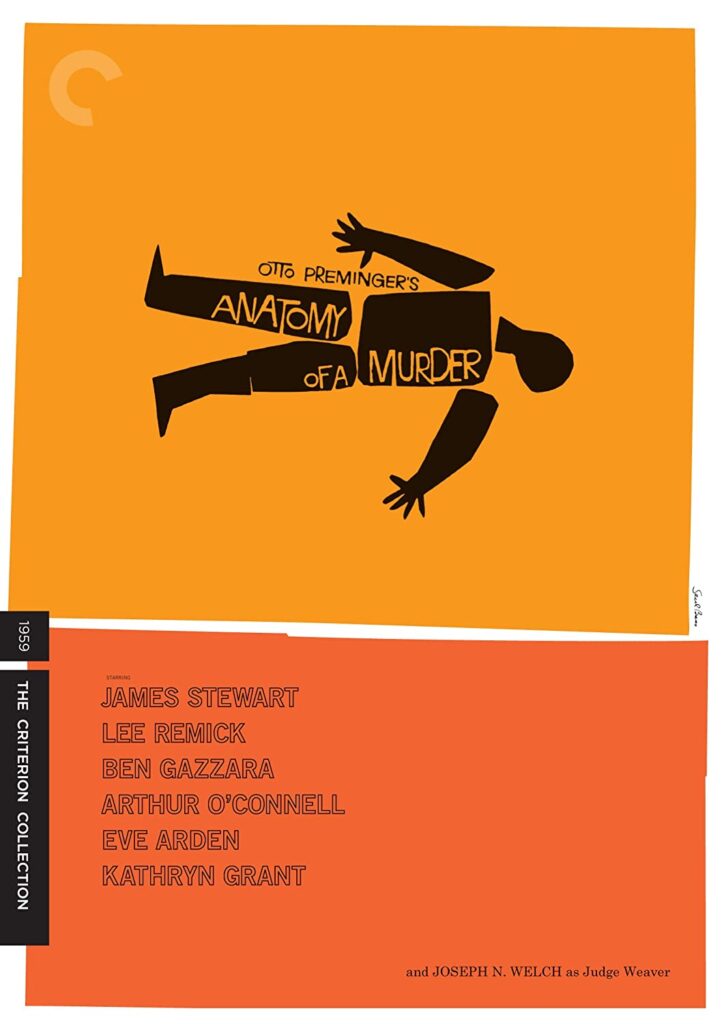 Surprisingly, during all those years that I spent sitting in front of my television as a kid, watching one classic film after another, Otto Preminger's Anatomy of a Murder never found its way into my videocassette player. Even as I matured (if you want to call where I'm at in life "mature"), the 1959 courtroom drama still eluded my field of vision — finally finding its way to my world years later after it was inducted into the prestigious Criterion Collection. And now, some 25 years after I first saw it on the shelves and passed it up for some unknown reason, I have been allowed to see what I missed out on so long ago.
And boy, am I sorry I missed it back then, because Anatomy of a Murder is a damn fine piece of cinema — especially for people who love trial flicks.
Based on a novel of the same name by former attorney John D. Volker (which he based off of an actual case he worked on), Anatomy of a Murder finds the always-delightful James Stewart as small-town Upper Michigan lawyer, Paul Biegler. A former district attorney, Paul has all-but retired from a life of excitement and spends most of his time fishing or kickin' back with his alcoholic, elder mentor, Parnell McCarthy (Arthur O'Connell). Paul's laid-back existence takes a complete 180 one day when Laura Manion (Lee Remick), the wife of army lad "Manny" Manion (Ben Gazzara) calls and asks for help.
Manny is in jail for gunning down the proprietor of a local hotel/bar, Barney Quill — a wrong that the accused does not deny doing, but who does claim that the late Mr. Quill had raped his wife. And so, Paul goes about investigating the case, instructing his new client on how to behave, and trying to keep the reckless and unrestrained Mrs. Manion in line along the way — whose actions (and attire) cause a great deal of controversy surrounding the case. Once the trial begins, the current district attorney (Brooks West) brings in a high-profile prosecutor (a young George C. Scott) to ruffle everyone's feathers, but Paul's cool demeanor and incisive mind are more than game in this masterpiece from director Otto Preminger.
Also starring in this celebrated classic are Eve Arden as Stewart's sarcastic secretary, Kathryn Grant, Orson Bean, Murray Hamilton, and real-life attorney Joseph N. Welch (in his one and only feature) as the judge presiding the case (he was no actor — not by any means — but his genuine charisma more than sufficed). In addition to being one of Preminger's most renowned works, Anatomy of a Murder is also renown for being one of the first features in Tinseltown to defy the Hayes Code and use words such as "rape" (and then some) during a time when such language was utterly taboo.
Anatomy of a Murder also boasts some of Saul Bass' finest handiwork, as well as an innovative music score by Duke Ellington (who also appears in the movie as a jazz musician).
If I had to sum it up in just a few words, I would say that Anatomy of a Murder is a film that brings justice to the genre of courtroom dramas. It's a dazzling work of art that captivates from the first frame on, full of wonderful performances by its cast, and executed with great care by its maker. While it's a shame that I never saw the movie until now, I'm kind of glad that my first encounter with under the Criterion banner — as the presentation here is outstanding (though I can only imagine how much greater the Blu-ray version must be), as are the two audio options: one, the original mono soundtrack — the other, a newer 5.1 mix.
A great movie in itself, Criterion's two-disc release of Anatomy of a Murder on DVD has some great supplemental features of its own to further warrant one's enjoyment. Disc One include the original theatrical trailer, with Disc Two containing the meatier items. There are several interviews on-hand here — one with Otto Preminger biographer Foster Hirsch, another with critic Gary Giddins (who discusses Duke Ellington's work on the film), and a third from Saul Bass biographer Pat Kirkham — as well as newsreel footage, excerpts from a 1967 episode of Firing Line with Preminger talking to William F. Buckley, Jr., a gallery of behind-the-scenes photographs from Life magazine's own Gjon Mili, and passages from an upcoming documentary titled Anatomy of "Anatomy".
Criterion has also included a beautiful 28-page booklet that recreates a vintage Life magazine article about Joseph N. Welch from 1959 (as written by Ernest Havemann), and features new praise for the feature from Nick Pinkerton.
In short: Anatomy of a Murder is a highly recommended feature.