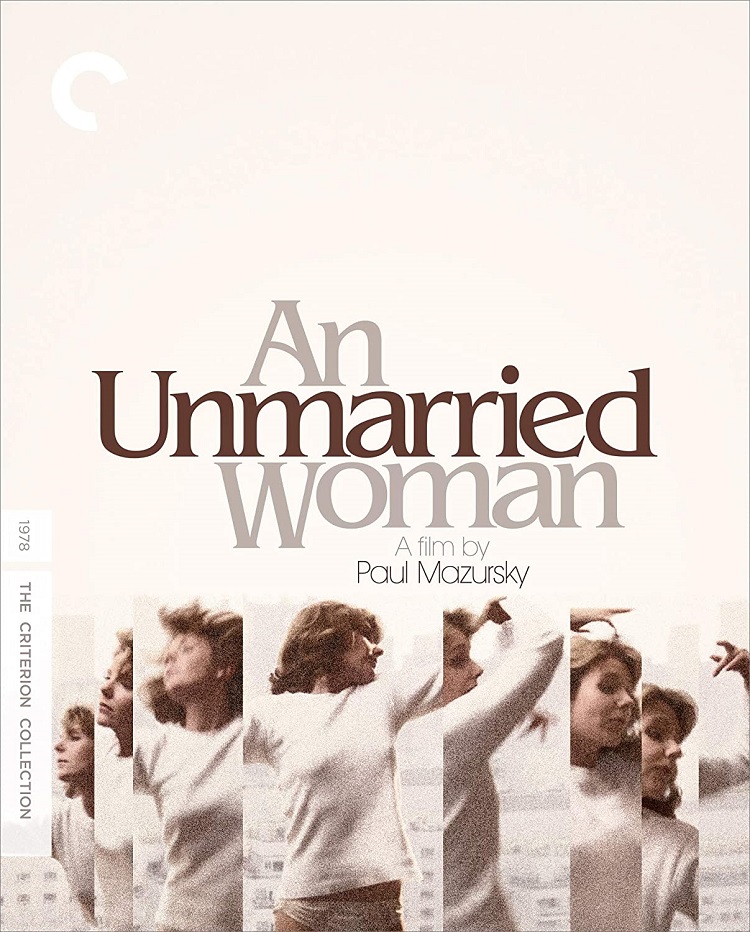 As I mentioned in my Pick of the Week recently, the 1970s were a very pivotal time for women. There was the coming of feminism, Gloria Steinem, bras being burned, Mary Tyler Moore, etc. Arguably unlike any other decade, maybe besides the 1980s, women started to have their own say, thoughts, feelings, sexual needs, and boundaries. They didn't let men define them. They were beginning to find themselves. They had careers, children, and independence. They allowed themselves to clip the strings of men and grow their own wings. I think that director Paul Mazursky really took to that seriously with his bold and groundbreaking 1978 classic, An Unmarried Woman.
The late, great Jill Clayburgh (in a multifaceted, superb performance that would define her entire career) plays Erica Benton, an attractive and bright woman living in Manhattan, who seems to have a perfect life; she has a job (gallery worker) she seems to like, a husband Martin (Michael Murphy) whom loves her, a wise daughter Patti (Lisa Lucas) who admires her, and good friends Elaine, Jeanette, and Sue (Kelly Bishop, Linda Miller, and Pat Quinn) who understand her. However, out of the blue, Martin admits to her that he has been seeing another woman (a younger woman), and is in love with her. Obviously, this leaves Erica stunned, shocked, and her world crashing down. She finds herself confused, alone, cast aside. She goes to a therapist who encourages her to start dating after divorce, which she is hesitant about. Then Martin lends another cruel blow to her psyche: he's set to marry to the other woman. But, this somehow inspires her to make a change in her life. She starts exploring her newfound liberation and sexuality, and eventually finds herself in a promising relationship with Saul, a very charismatic painter (Alan Bates), but is trying so hard not to commit past mistakes.
Clayburgh is a revelation! Her characterization of Erica is sexy, funny, charming, fragile, and most of all, independent. She has the new love in Saul, but she doesn't let that get in the way of her freedom as a new woman. It's an amazing, challenging, and searing performance. Mazursky, being a master at capturing actors' fragilities and strengths, also gets excellent performances from Bates, Murphy, Lucas, Bishop, Miller, Quinn, and a post-Boys in the Band Cliff Gorman as Charlie, Erica's first conquest after divorce. I feel that Mazursky was an incredibly underrated filmmaker, daring at depicting lives interrupted by modern social upheavels, and here in Unmarried Woman, he arguably reached his zenith with his assured, unselfconscious direction. He wasn't afraid of capturing actors at their most fragile, and I believe that they loved and respected him for it.
Of course, the reliable folks at Criterion have given new resonance with their release with some great supplements, including a 2005 commentary with Mazursky and Clayburgh; new interviews with Murphy and Lucas; new interview with author Sam Wasson, who talks about why Mazursky's career mattered; a 1980 audio recording of Mazurksy speaking at AFI; and the theatrical trailer. There is also wonderful new essay by critic Angelica Jade Bastien.
Being a film from the '70s may not strike an appreciative chord with every film watcher now, but I feel that a lot of movies from the decade that definitely stood the test of time. For my money, An Unmarried Woman is truly one of them. It remains a direct and fully realized portrait not of just one woman, but maybe all women.