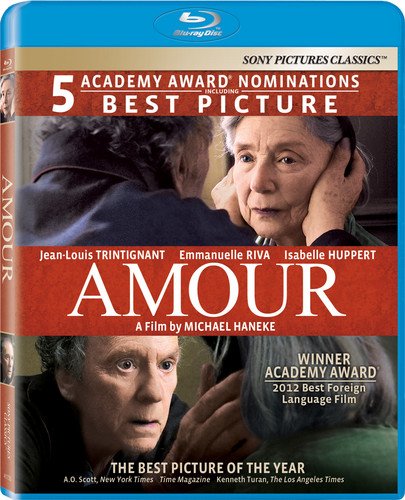 I rarely go to the theatre anymore – too much trouble, too expensive, and audiences are way too obnoxious. Even when I do, it is rarely to see a small, critically acclaimed drama. The nearest city is still a small one, and while they have three movie theaters, they all play the same movies and they are always the biggest, shiniest, most expensive films out and never anything you'd consider small, art-house or critically acclaimed. I don't tend to read a lot of movie reviews either, and I don't really pay that much attention to what all is coming out.
That's a funny thing to say for a guy who writes for a movie website and who once a week posts his pick of the week for new DVD/Blu-ray releases, but it is true nevertheless. Mostly. If you regularly read this column, then you'll remember that I often do have some knowledge of and things to say about under-the-radar cinema. Various amounts of buzz does enter my earlobes and critical acclaim does enter into my spectrum of knowledge. I'm just not on the cutting edge of these things. At least not as much as I'd like to be.
So it happens that come Oscar season I often have not only not seen the movies nominated, but many is the time I've not even heard of the films. Such is the case for Amour. I know its director, Michael Haneke, at least by name. I saw the English version of Funny Games, and I've heard of several other of his movies. They are generally considered brutal, punishing films but artistically made by a challenging auteur. He's the kind of director I'd like to see more of, but rarely do I feel in the mood to challenge myself with.
I was surprised to see that Amour seems to be a fairly straightforward affair and to concern such sentimental things as love and aging. It seems much more accessible than the rest of Haneke's work and I suspect I'll be watching it soon. String all of that together and you have my Pick of the Week.
Also out this week that looks interesting:
Boardwalk Empire: The Complete Third Season: It seems every time I talk about a television show I'm never caught up with it. So it is with this. I'm somewhere in the middle of the second season, but still loving every minute of it. Like so many HBO series, Boardwalk using a big cast of characters to tell a compelling story.
The Good Wife: The Fourth Season: I don't have cable so I rarely just turn on the TV to flip channels or keep up with a show as it airs. What this means is that I don't have time for shows that aren't really spectacular. I've seen The Good Wife a few times and it is quite enjoyable to watch. It is the type of show that if I did watch TV in a more normal fashion I'd probably watch it regularly. But it's just not quite good enough for me to pay to download or to cash out for a complete season on DVD and so it doesn't get watched. But for those who love it, here it is.
Parenthood: Season Four: Another shows that falls into that "not quite good enough" category. Before I moved into satellite internet land and was able to watch streaming video, I caught the first couple of seasons of this. It had some great actors and a lot of potential but could never quite live up to them. There were lots of nice moments, but far too many ridiculous ones too. But again if you dig, here ya go.
Epic: A pretty by-the-books sounding animated adventure with Colin Farrell, Jason Sudeikis, Amanda Seyfried, Chris O'Dowd and Beyonce.
Killing Season: John Travolta and Robert De Niro go man to man in this action flick.
Star Trek: Enterprise – Complete Second Season: I've not watched a Star Trek show since The Next Generation, but I loved Scott Bakula in Quantum Leap which makes me want to give this a go.
Charulata and The Big City (Criterion Blu-rays): Two films I've never heard of set in Calcutta. I always trust the Criterion brand though and always point them out here.