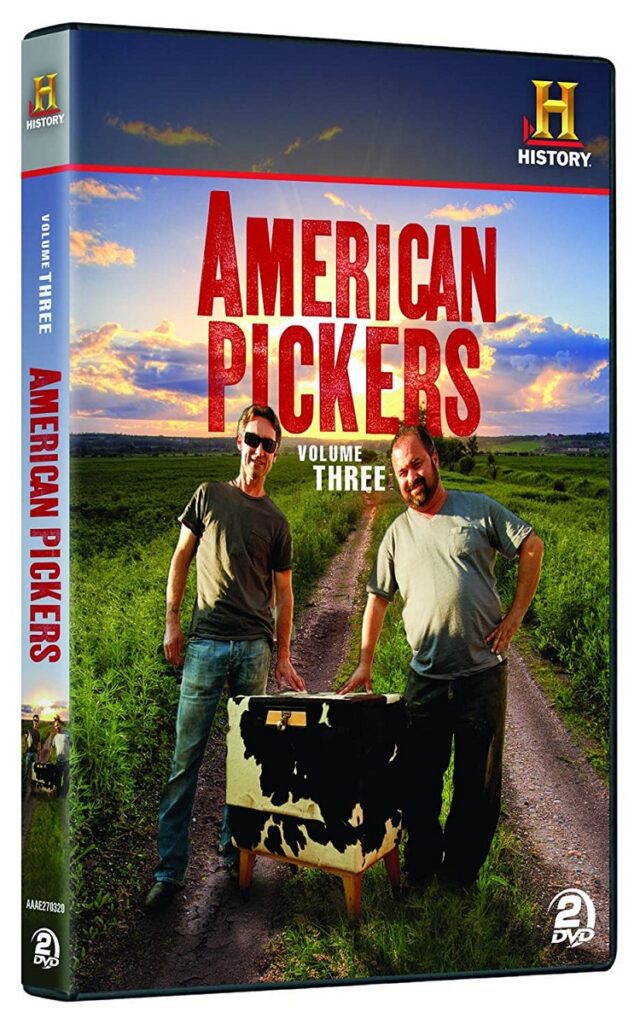 Written by Greg Barbrick
The History Channel (now just called History) has come a long way since their debut on basic cable back in 1995. I remember when they used to be nicknamed "The Hitler Channel," because of all the old World War II programs they aired. I actually dug all that stuff, but it did not exactly make for ratings gold. But since they began producing original programming such as Ax Men, Swamp People, and American Pickers (among many others), the channel has become a destination for many viewers.
And you can count me in. I enjoy just about everything on History, but a particular favorite is American Pickers. History has just released American Pickers: Volume Three, a two-DVD, eight-episode collection. Each hour-long show finds Mike Wolfe and his business partner Frank Fritz heading out across the U.S. in search of hidden treasures, often buried in basements, garages, or barns. They then clean-up (if necessary) and re-sell the items on their Antique Archaeology website, hopefully turning a tidy profit in the process.
"Picking" is a term I had never heard of before this program, but a lot of us fall into the category. If you have ever gone to a yard sale and found an item you though you might be able to "flip" on eBay or somewhere, you are a "picker." Mike and Frank do this on a much larger scale however. They have a couple of methods of finding prospects. One is with people who have a great deal of stuff that they want to unload for one reason or another and contact them. The other is cold-calling.
A show typically starts out with them on the road, headed out to a contact, and they will get a call from Danielle back at the Antique Archaeology home base in Iowa. She generally has another prospect somewhere in the vicinity for the guys to check out. Things get even more fun when they are in the field, and no prospects have come through. Rather than sitting around waiting to hear from Danielle, they will go cold-calling. The guys just drive through a small town, or more likely the outskirts of one, and look around for potential sellers.
One house that looked promising had a Harley-Davidson motorcycle/weather vane mounted on its roof. These are the kind of "crazy" collectors Mike and Frank are looking for. And indeed, this couple had an amazing amount of "junk." Even though the van (and camera-crew) showed up completely unannounced, the couple were happy to let them peruse their stuff, and the guys wound up buying quite a few items from them.
For an arm-chair picker such as myself, one of the most enjoyable aspects of the show is seeing all of the Americana Mike and Frank dig up. There is such a vast amount of history reflected in the old signs, wind-up toys, and various goo-gaws the two discover that is really quite fascinating. It is also a lot of fun to watch them haggle over price. Both are very friendly, and sometimes the offers and counter offers come down to just a dollar or two, but haggling over price seems to be mandatory.
Some of the cool finds in this set include a 1947 slot machine, a steam-powered popcorn machine that dates back to 1906, and two hand-painted sideshow banners from 1902. The guys paid $700 for the banners, and really had no idea what they were actually worth. Before they even got back, Danielle had listed them on the website, and the banners had sold for $10,000. Amazingly enough, Mike and Frank went back to the guy they bought the banners from and gave him half of the proceeds. As you might expect, he was more than a little surprised at this return visit.
Pawn Stars (also on History) is probably the closest program to American Pickers. But of the two, I kind of prefer American Pickers. There is something about these two likeable guys driving around the backroads of America and digging out these cool things that is a lot of fun to watch. "Addictive" might even be a better word. I actually watched all five and a half-hours of the set in one sitting. I took a little ribbing from my better half, but what can I say? It's a great show. And don't be surprised if you start looking at items in thrift-stores or at garage sales with a different eye after watching Mike and Frank at work.