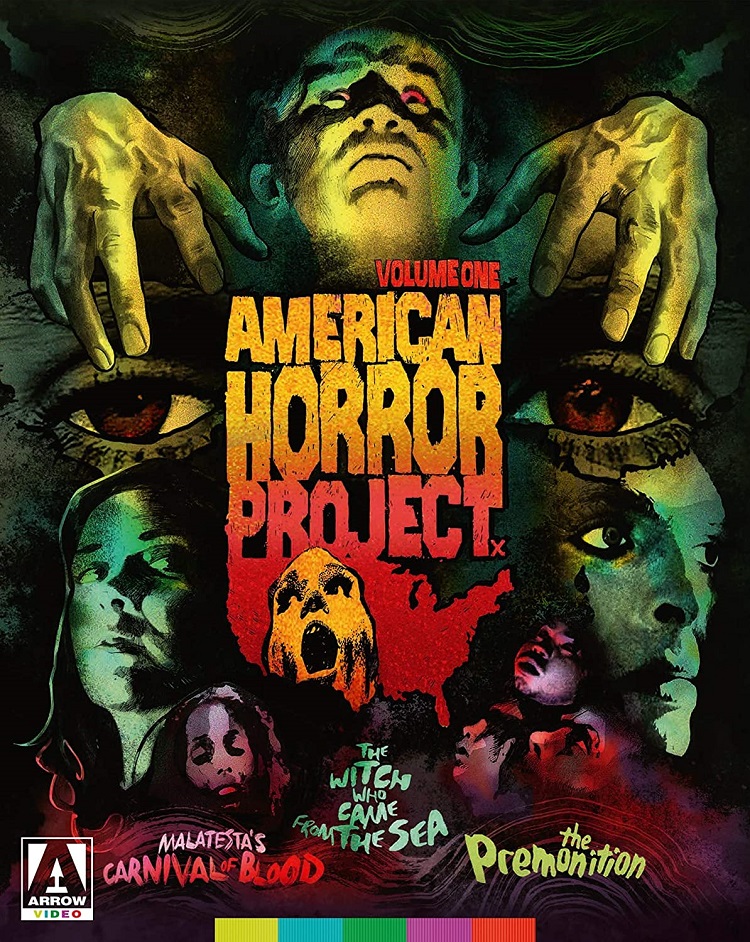 As a guy who has become slightly worn out from watching mostly B-grade movies for the majority of both his adolescent and adult lives, it can sometimes be difficult to truly jump up and down for joy over an impending release of vintage flicks which have been buried by the sands of time. Nevertheless, my excitement managed to pique and I was instilled with a great deal of giddiness upon learning of Arrow Video's American Horror Project earlier this year. And as it turns out, my enthusiasm was completely justified, for the first installment of this potentially life-changing series has already garnered praise and admiration from many a salty old "B" dog such as myself.
Now, just in case I need to simplify things a wee bit, when the Hays Office Production Code ‒ an often overly-moral consensus which enforced a strict set of rules upon motion pictures starting in the mid 1930s ‒ met its demise in the late 1960s, a new rating system for motion pictures made (or at least released) in America came to pass. This, in turn, opened the proverbial floodgates for independent filmmakers from all corners of the country to push the boundaries of previously established guidelines. It was no longer necessary to worry about potentially problematic burdens such as prudence or taste; essentially, one could now make movies ripe with nudity, sex, and/or violence without having to disguise it as "art."
Now, combing through low-budget obscurities, curiosities, and monstrosities is not exactly an easy task ‒ especially when you stop to consider there are thousands of movies lurking in dark corners everywhere waiting to be discovered, with hundreds more having become "lost" over the years. But Arrow Video has somehow managed to pick up on the vibe the late great founder of Something Weird Video, Mike Vraney, had started way back in the early 1990s, with this triple-header release that is ‒ in many delightful ways ‒ akin to the double- and triple-feature DVDs Something Weird began releasing through Image Entertainment in 1999 (and continued to do so until the mid 2000s).
Here, in the American Horror Project, Vol. 1, the folks at Arrow Video ‒ a formerly UK-only distributor which has transcended 'cross The Pond to bring us Yanks a taste of our own medicine ‒ have searched high and low in order to present us with three bizarre thrillers which never succeeded in receiving wide distribution upon their initial debuts, despite their unmistakable common denominators: their keen ability to creep up on you and linger 'round your mind long after the end credits have faded away. And this journey into the weird and wonderful begins with what is, without a doubt, the least subtle of the three films, 1973's Malatesta's Carnival of Blood.
Why, the title alone should give you an inkling of what to expect. And indeed, the oddity from Pennsylvania ‒ the one and only directorial effort from Christopher Speeth ‒ is not at all shy with its elements of bloodshed. That said, such elements are done in a completely unconventional way. Apparently manufactured solely to make use of a near-empty carnival by a filmmaker who was obviously feeling artsy (or at least on drugs), Malatesta's Carnival of Blood is a bizarre, surreal story which finds a family pretending to be investors interested in the surely unprofitable fairground, but who are actually searching for their long-lost son ‒ who had gone to work at the eerie setting, only to disappear without a trace.
And the reason why there, kids, is because cannibalistic ghouls and vampires ‒ who are the majority of the bemusement park's inhabitants ‒ are pretty good at covering up their tracks. Run by the titular villain himself (Daniel Dietrich, who had a bit part in a much better-known Pennsylvania horror film several years later, Dawn of the Dead), who is the least threatening, most non-specific embodiment of evil ever committed to celluloid, most of the carnival's creatures are flesh-hungry ghouls who really do a good job of cleaning the place up at night ‒ whether it's litter strewn about the grounds, or pushy jerks in search of a cheap thrill (watch out for that late night rollercoaster ride!).
Malatesta's Carnival of Blood's younger cast (such as alluring top-billed starlet Janine Carazo) never went on to do anything else on film, but its elder performers certainly had their share of appearances (Jerome Dempsey, Lenny Baker, William Preston, and the legendary Hervé Villechaize) on big and small screens alike. The dilapidated amusement park itself, housed in Willow Grove, PA (a former summer home of John Philip Souza), was closed in 1975 (and is now a shopping mall, naturally). Even the film itself was doomed to the shadows of obscurity, with every print of the title mysteriously disappearing after its limited Southern drive-in circuit run until a rare print surfaced in the early 2000s.
The next feature in American Horror Project, Vol. 1 ‒ Matt Cimber's unsettling 1976 masterpiece, The Witch Who Came from the Sea ‒ saw a slightly wider distribution back in the day than the previous film, though that really isn't saying much. Of course, comparing The Witch Who Came from the Sea to Malatesta's Carnival of Blood is like noting the contrasts between apples and sand pebbles ‒ especially since Witch isn't really a horror film, though its gloriously lurid exploitation poster art (stolen wholesale from the 1971 #11 issue of the original Vampirella comic) definitely sold potential audiences an entirely different concept.
Penned by author/poet/screenwriter Robert Thom (whom we have to thank for the still-active Death Race series) and starring Thom's then-wife Millie (The Diary of Anne Frank) Perkins (whom he wrote the main character specifically for), The Witch Who Came from the Sea is pure psychological terror. Here, a completely convincing Perkins plays Molly ‒ a Venice Beach woman who sings praises about her long-lost seafaring father to her two nephews (who bear the names Tadd and Tripoli!) as she preaches about purity. Alas, the things that go on in Molly's head are not as pretty as the picture she paints for the boys. In fact, Molly has more than a few issues with the male species and her memory of the past.
One of the few non-splatter flicks to earn a place on Great Britain's notorious list of Video Nasties back in the '80s, this truly disturbing look into an equally disturbed mind received its dishonor in the UK (and likewise, by the MPAA in the US) for being one of the first features to tackle the subject of sexual abuse. The movie's low budget and rundown locales (it was the '70s, after all) only add to the emptiness of the tale, as does a fine supporting cast, such as Lonny Chapman, Vanessa Brown, Peggy Feury, Rick Jason, Stafford Morgan, and a highly memorable Stan Ross. The great George "Buck" Flower is also featured as a police detective and served as casting director ‒ selecting his own daughter Verkina as young Molly in the film's gritty flashbacks.
Last in this set is another oddity from 1976: Robert Allen Schnitzer's The Premonition. Though the title is easy to confuse with any of the twenty other movies bearing the same title alone, the tale itself is not. In fact, out of all three releases to be had here, The Premonition is the only one from the lot which I had actually seen before as a young lad via a barely-worn Embassy Home Entertainment ex-rental VHS. I watched it once after buying it at a video-store sale as a teenager, and never saw it again until this set. As such, my brain didn't recall a whole heck of a lot, other than a few very upsetting images of late character actor (and B-movie villain extraordinaire) Richard Lynch.
As an almost absurd amount of interest in the paranormal grew in the '70s due to people frying on too much acid during the '60s (to wit we were blessed with many schlockumentaries, such as a plethora of dumb UFO and Bigfoot movies!), elements such as psychic powers began to manifest on-screen. The Premonition is a gripping psychological tale of a foster mother (Sharon Farrell) who develops a psychic connection to her adopted daughter (Danielle Brisebois) after the latter is kidnapped by her crazy biological mother and her scary-as-fuck, carnival-clown (!) boyfriend (Mr. Lynch, who really did fry on acid in the '60s: he set himself on fire while he was on LSD, and his real life scars can be seen in full HD here).
Though all three films have seen the light of day on DVD before, the American Horror Project, Vol. 1 presents these rarities in beautiful new Blu-ray/DVD combo presentations, each boasting a spectacular 2K restoration from the best (surviving) elements. And though the stories contained in the photoplays themselves may be quite ugly, their new 1080p transfers are things of beauty, and are undoubtedly the best any of them have ever looked anywhere. Each title has a lossless LPCM mono soundtrack (enabling viewers to journey back in time to a magical era when filmmakers didn't need to sell their works of art with ever-busy Dolby Digital 7.1 soundtracks), with accompanying optional English subtitles just in case you can't crank up the volume.
Horror historian Stephen Thrower, the brain behind this endeavor (and author of must-have books such as Beyond Terror: The Films of Lucio Fulci and Nightmare USA: The Untold Story of the Exploitation Independents), serves as our host for each film here via (optional) introductions. Interviews (most of which are new) with cast/crew for all three films and audio commentaries for the second and third films are also included. Malatesta's Carnival of Blood also features outtakes, a still gallery, and (BD/DVD-ROM) draft script; The Premonition's additional bonus goodies consist of short films and vintage "Peace Spots" protesting the Vietnam War made by Robert Allen Schnitzer, and several trailers/TV spots.
This wonderful three-title/six-disc set also includes a well-read 60-page booklet, which dives into our three feature films via various essays; reversible artwork for each title (with each title's own classic artwork on the reverse side, and newer "Mondo" style art from The Twins of Evil on the obverse) and a very sturdy, high-quality cardboard box that quite literally wraps things up. All in all, this is an incredible set for genuine classic horror enthusiasts (no, your torture porn flicks don't count, kids); a High-Def variant of those SWV triple feature DVDs we've been missing all these years. The set is limited to only 3,000 copies, so get one while you can ‒ preferably before American Horror Project, Vol. 2 (which we're told is already in the works!) is unleashed.
Highly recommended.