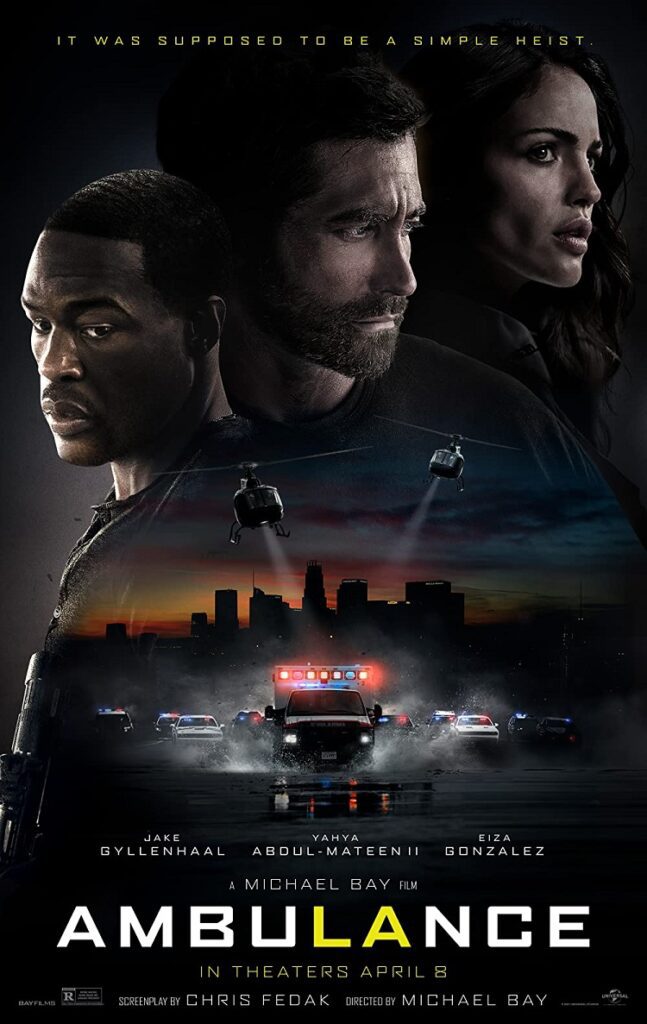 Based on the 2005 Danish film of the same name, Michael Bay's Ambulance is a critique on the failures of capitalism and the failures of both the U.S. government and medical system as former marine Will Sharp (Yahya Abdul-Mateen II), who served his country honorably, is compelled to seek the help of his notorious brother Danny (Jake Gyllenhaal). But the audience has to ruminate on their own because Bay's movie rarely sits still to marinate in the themes the plot raises as he and his crew inundate the viewer's eyes and ears with the relentless mayhem, or "Bayhem" as his style has been dubbed, that unfolds.
After struggling over the phone against a faceless corporation whose supervisors have names rather than numbers, Will secretly reconnects with Danny seeking a loan of a few hundred thousand dollars to pay for the costly experimental surgery his wife requires. Instead, Danny offers Will the chance at millions if he joins Danny's bank-robbing crew that morning. Will reluctantly tags along.
While Will and his crew are at the bank, LAPD Officer Zach (Jackson White) interrupts them to ask out the bank teller he's attracted to at the urging of his partner. He becomes a hostage and after a struggle with Danny, Will shoots Zach, wounding him badly and leaving him behind. EMT Cam Thompson's (Eiza González) ambulance picks up Zach but they are hijacked by Danny and Will.
The cops were already onto Danny's plan, so a loud, bloody shootout occurs with the rest of his crew while the ambulance is tracked. The cops don't want to cause any more harm to Zach so they stay close rather than stop him, leading to chases of varying speeds all over the streets and freeways of Los Angeles.
Danny gets assistance from a gang to which his father had ties, but that comes at a high price. One scene is so over the top, it's hard to believe what's happening. Ambulance had been grounded in realism, but once the gang leaps into action, the movie becomes cartoonish.
The longer the Sharp brothers run the more damage they cause to all involved. Danny is willing to kill anyone in his way to escape, including Cam and Zach while Will holds him off as long as he can, even helping her remove the bullet he shot into Zach's spleen.
Ambulance's story wraps up rather predictably but Will earns sympathy from the other characters, even from the man he shot, which is not fully earned due to all the choices he made. Sure, he's not as bad as Danny, but he still committed a number of crimes regardless of the motivation. The movie resolves suggesting he is in the right.
And speaking of unmotivated action, Bay and his cinematographer Roberto De Angelis shot Ambulance like it's the first time they got access to a drone, which they use quite a bit. Some scenes the camera flies through and across action sequences, presenting unique and interesting perspectives and framing. But other times, the camera flies up and down the side of a building, offering nothing but puzzlement in the choice, although maybe they are evoking the off-kilter feeling the main characters are having as they race around town. Also, discombobulating the viewers is the loud sound design by Erik Aadahl's team that matches the relentlessness of the visuals.
Even though Chris Fedak's screenplay is bloated (for example, Danny's former classmate, FBI Agent Anson Clark, could have been cut and another character could have handled his exposition dumps) and some of the directing choices are mystifying, I enjoyed Ambulance, a verb I rarely use in relation to Bay's work. The movie is a very good actioner that keeps the intensity up for a long period. It doesn't feel like it runs over two hours while watching it, and it is impressive what they did with a budget of $40 million. Definitely a movie for a big screen and sound system, and it has me curious about Bay's movies I have skipped.