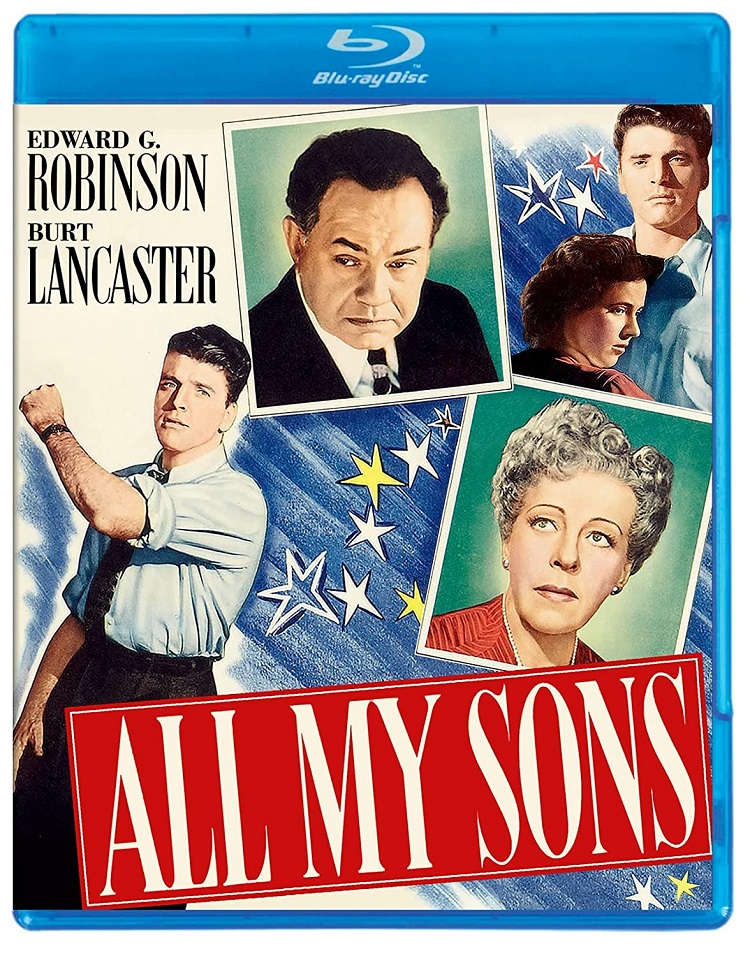 Based on Arthur Miller's 1947 play of the same name, which was inspired by a true story, All My Sons is a compelling look at a character so driven to achieve the American Dream he cares nothing about to cost to himself and others. That is until the bill comes due and he learns what price was paid.
Set after WWII, Joe Keller (Edward G. Robinson) is a factory owner. He wants his son, Chris (Burt Lancaster), to take over the business, but Chris has no interest. What he is interested in is marrying Annie Deever (Louisa Horton). His mother Kate is against the pairing because Annie is Chris's brother Larry's fiancee and while everyone else believes him dead after three years, Kate thinks Larry is just missing in action and holds out hope for his return.
Kate is also against the marriage because Annie's father, Herb (Frank Conroy) is Joe's former business partner. Their factory had a contract with the U.S. Army Air Force to make cylinders for planes, but after 21 planes that had used those cylinders crashed, they were brought up on charges. Joe was home sick the day the parts left the factory and was found innocent while Herb was sent to prison.
Fourteen months after the trial and through Joe's hard work, his factory was one of the best shops again. He is proud of this as he tells Chris. Proud of his hard work because he started as a junk man when he was young and had to make something of himself. He then worked up to being a respected member of the community who supported his family over the years, giving them a better life than he had. Although as the plot moves along, it's revealed not everyone respects him.
One such person is Annie's brother, George (Howard Keel). He comes to town because he's against the marriage. After visiting with his father in jail, George thinks Joe set him up to take the fall. Chris, who has always believed his father, is no longer sure and visits Herb, who tells him what happened. The flashbacks show the decisions made and who made them. Not only does Chris confront his father over the truth, Annie confronts Kate with a hard truth about Larry, which has a calamitous impact on the Keller family.
I don't know how close it hews to Miller's play, but Chester Erskine' screenplay is wonderful to watch unfold. The movie is somewhat of a detective story as Chris works to unravel what happened for himself and the audience, but it's not billed as mystery, so viewers likely won't be looking for clues as the plot moves along, yet they appear in smart ways. There's also a major reveal towards the end that is terrific because it's unexpected.
The cast is first rate. Robinson does a great job playing the range of Joe. He exudes brash overconfidence at beating the odds, an act he puts on for himself as well as others, but he is also vulnerable when he learns the choices he made to achieve and maintain the American Dream were wrong and hurt so many. All My Sons was one of the first films Lancanster appeared in that wasn't a film noir. Rather than the typical tough guy of his early roles, he is a tender sort, overwhelmed by his love for Annie and blindly trusting of his parents. He navigates the emotions of losing his tether to both. Horton's Annie is a practical person, willing to give in to her love for Chris, but aware there's more to life than that. She is gentle yet firm with Kate when she shatters the illusion Kate, the fierce Keller matriarch, was holding onto to protect herself and her family.
The video has been given a 1080p/MPEG-4 AVC encoded transfer displayed at the film's original aspect ratio of 1.37:1. Cinematographer Russell Metty fills the scenes with so many shadows, suggesting the darkness that hangs about the Keller family, that film feels like a film noir. The blacks are inky and luxurious. White specks pop up throughout. There are vertical scratches during the flashback when Herb gets the news that the parts came out bad, and the specks increase. During the scene with Anne confronting Kate, the frame judders repeatedly.

The audio is available in DTS-HD Master Audio 2.0. The dialogue is clear, and the track is free of hiss and other defects. Leith Stevens's score and the effects were limited but effective, and all three elements were mixed together well.
The special features include an audio commentary by film historians Kat Ellinger and Lee Gambin, and six trailers of other KL Studio Classic releases.
With a story this good, it's easy to understand why All My Sons was Arthur Miller's breakthrough on Broadway, earning him his first Tony Award. Director Irving Reis and his team do a very fine job adapting this engaging drama to the screen. The Blu-ray delivers a good high-definition presentation, although the film does need some restoration work. Still, it's well worth seeking out.