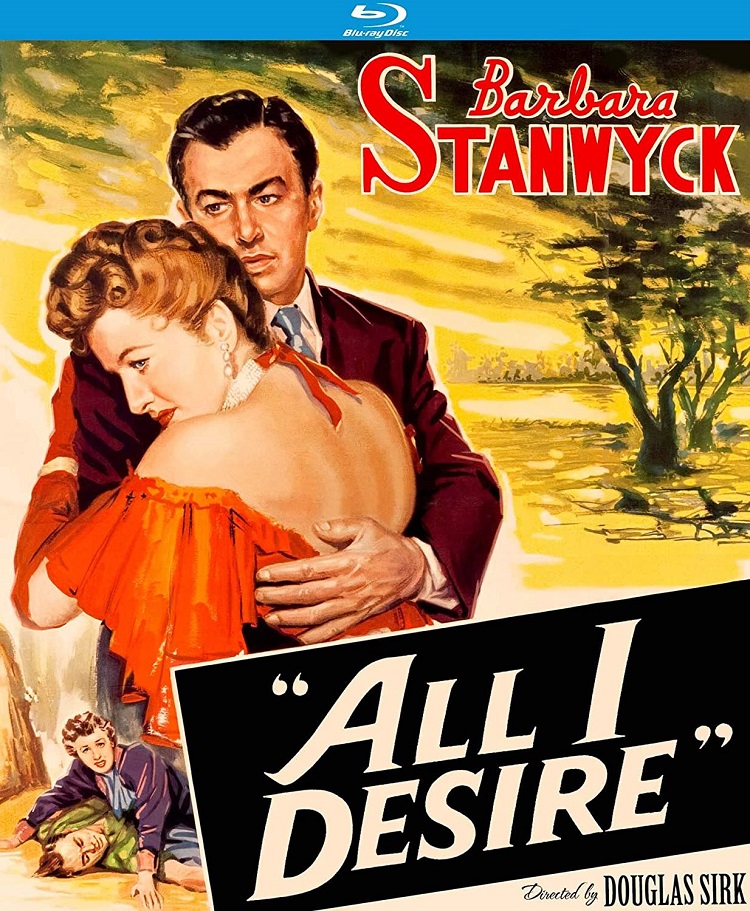 Kino Lorber's KL Studio Classics has released All I Desire, from 1953, a romantic melodrama featuring Barbara Stanwyck, from the producer/director team of Ross Hunter and Douglas Sirk. Stanwyck plays Naomi Murdoch, a vaudeville actress who left her husband and family years ago to escape small-town life and scandalous gossip. When her teenage daughter writes to her to come and see her in her high school play, she decides to accept her invitation – good acting roles have dried up for her and she can't help but be curious about how her family has fared without her.
Her husband Henry Murdoch and her three children have differing reactions when their missing mom turns up after ten years. Henry is uncomfortable, especially as it seems he has cultivated a romance with local school teacher Sara Harper (Maureen O'Sullivan, in a tiny part). Lily, the aspiring actress, (Lori Nelson) is thrilled to see her mother, who she believes is a huge star on the stage. Joyce (Marcia Henderson), her older sister, is disapproving, and youngest kid Ted (Billy Gray) is confused. The longer Naomi stays, the more she wants to make her visit become permanent. But she faces an obstacle more difficult than just soothing the hurt feelings of some of her family . A potential problem is brewing in the form of old boyfriend Dutch Heineman (Lyle Bettger), who was part of the reason Naomi had to flee her small town life so many years before.
All I Desire doesn't seem like a typical Stanwyck feature. The setting of turn-of-the-century Wisconsin and filming in black and white amplify its distant, almost quaint feeling. It shares similarities to other classic tearjerkers by Hunter and Sirk – Magnificent Obsession (1954), Imitation of Life (1959) and All That Heaven Allows (1955) – but one wonders if the production team had the budget to shoot in color and update the story to the modern day it might have become more of a classic romantic drama like their other films. Reportedly Sirk wanted to at least film in color, but the studio refused, as it wasn't a musical. All I Desire is still an entertaining vehicle for star Barbara Stanwyck, who couldn't help but make anything watchable.
Film and television buffs will note that Joyce's handsome young boyfriend is played by Richard Long, who went on to star with Barbara Stanwyck as her son in the Big Valley television series from 1965-69.
The film looks great on a large-scale high definition television screen and has a running time of 80 minutes and an aspect ratio of 1.37:1 (1920 x 1080p). English subtitles are available. Extras include an audio commentary by film historian Imogen Sara Smith and theatrical trailers for All I Desire, The Great Man's Lady, The Bride Wore Boots, Witness to Murder. There's Always Tomorrow, The Tarnished Angels, and The Magnetic Monster.