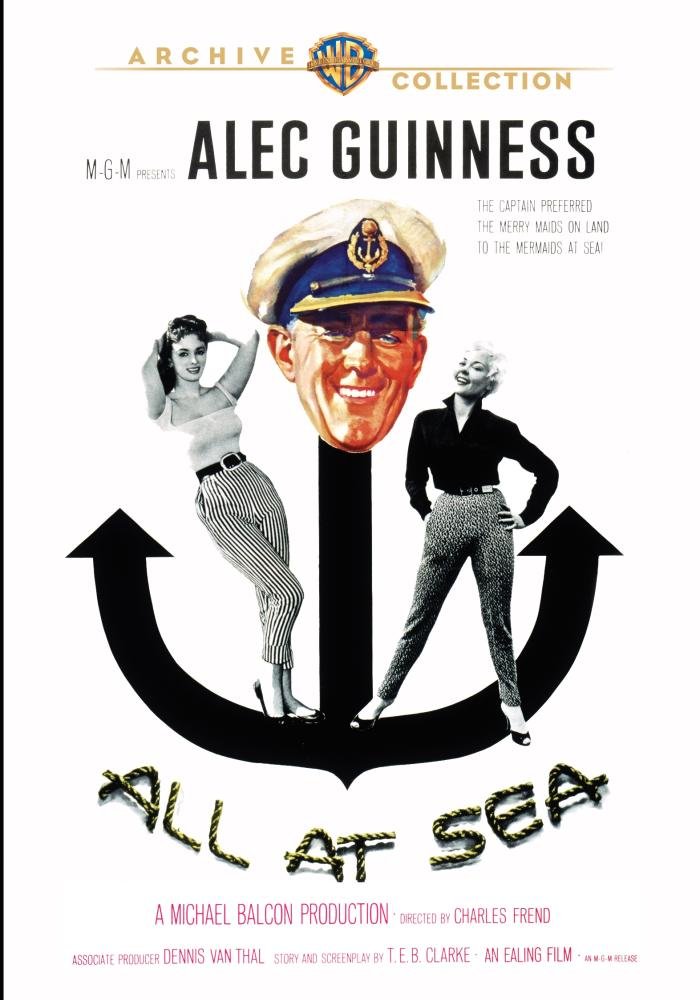 Television shows notwithstanding, the bulk of British filmmaking – that is to say, actual feature length films made especially for the cinema – have been unfairly lumped into two categories by American audiences: long, drawn-out, boring dramas, and comedies that only made viewers long for a Benny Hill rerun. And the bulk of the unfairness lies within the world of British comedy, as most of us have only ever been subjected to latter-day Carry On entries and, well, Benny Hill reruns. In fact, there have been many excellent British comedies manufactured since World War II that, thankfully, didn't feature Rowan Atkinson or Hugh Grant. And we have one tiny little company to thank for several of the best British comedies ever made: Ealing Studios.
Several years after the war, once the English decided they could laugh again, the small West London studio released a modest 1947 offering called Hue and Cry. The film, penned by T.E.B. Clarke, was a success, paving the way for more Ealing Comedies – the most notable of which (by today's standards) featured Alec Guinness, who showed off his superb comedic skills in addition to his keen ability to play it straight throughout. The acclaimed late actor's first appearance in an Ealing Comedy, the lovably dark-humored Kind Hearts and Coronets (1949), found Guinness playing eight different members of the same aristocratic family – all of whom are dispatched in various ways by a poor distant relation (character actor Dennis Price) determined to claim what is rightfully his.
It seemed only fitting that, for the final (official) Ealing Comedy, Sir Alec would not only return, but to play multiple roles once again. Of course, the multiple role portion found in 1957's All at Sea – better known by its original UK title, Barnacle Bill – is played down when compared to that which we see in Kind Hearts and Coronets. And there are many who claimed the comedy itself is downplayed when compared to the previous Ealing Comedies: Mr. Guinness himself later cited it was a wretched film, which he only did as a favor to a friend. Now, maybe it's because I am currently living in a world where unfunny comics like Adam Sandler are permitted to continuously assault movie-going audiences year after year, but I would have to disagree with Mr. Guinness on that one.
In fact, I found All at Sea to be an utterly charming – if very simplistic – comedy. Here, Guinness plays Captain William Horatio Ambrose – the last of a mighty English lineage, wherein the men of the family were proud seamen. And Captain Ambrose is no exception to the latter: he too is unashamed of his devotion to the Royal Navy (in which Guinness did serve in real life during the war). He is, however, somewhat embarrassed by a trait the ghostly apparitions of his ancestors have even turned their backs on him over – for it turns out that Captain Ambrose suffers from sea sickness. Thus, his entire naval career has been spent on land trying to find a cure for his affliction. But now, with all of that out of the way, Captain Ambrose is set for his first command: a run-down amusement park pier on a tiny coastal village.
Sadly, from the get-go, Captain Ambrose starts to rub the locals the wrong way, beginning with an accidental walk between the shoreline bathing huts owned by the seemingly venomous Arabella Barrington (Irene Browne), who mistakes him for a pervy peeper. The local city council also develops issues with the disciplinary naval-commander-at-heart, as their numerous attempts to be as greedy as most city councils only ignites Captain Ambrose's instilled gene for warfare. Taking a cue from the corrupt leaders of the tiny community, the good Captain starts to exploit every single loophole he can, commissioning his pier as a ship via a small nearby country, and remodelling his broken amusement park into the world's first completely stationary cruiseship with gambling, dancing, and drinks aplenty.
For my money, All at Sea is a delightful comedy all the way. Even though he may have been less-than-thrilled to take the part one, Guinness is in top form here, and his excellent ability to play the part of the comic while maintaining his dignity is on display throughout. Maurice Denham is the local corrupt mayor, Percy Herbert is Alec's second-in-command, Victor Maddern is a jaded dredger captain who sides with Denham and his cronies, including Lionel Jeffries and George Rose. Donald Pleasance – who would co-star alongside the aforementioned George Rose three years later in The Flesh and the Fiends as the infamous Burke and Hare – appears as a young banker in this fairly forgotten tale from screenwriter T.E.B. Clarke (who also penned The Lavender Hill Mob for Ealing) and director Charles Frend.
Never before available on home video in the United States, Barnacle Bill returns under his American alias via the Warner Archive Collection in a matted widescreen presentation that does not appear to be too terribly cropped (though the UK DVD is open matte). Still, beggars can't be choosers: this MOD DVD-R looks just fine as it is, and the accompanying English mono audio comes through without a hitch. As an added bonus, the original American trailer is included.
Ahoy mateys, this one comes highly recommended from Capitano Bastardo.