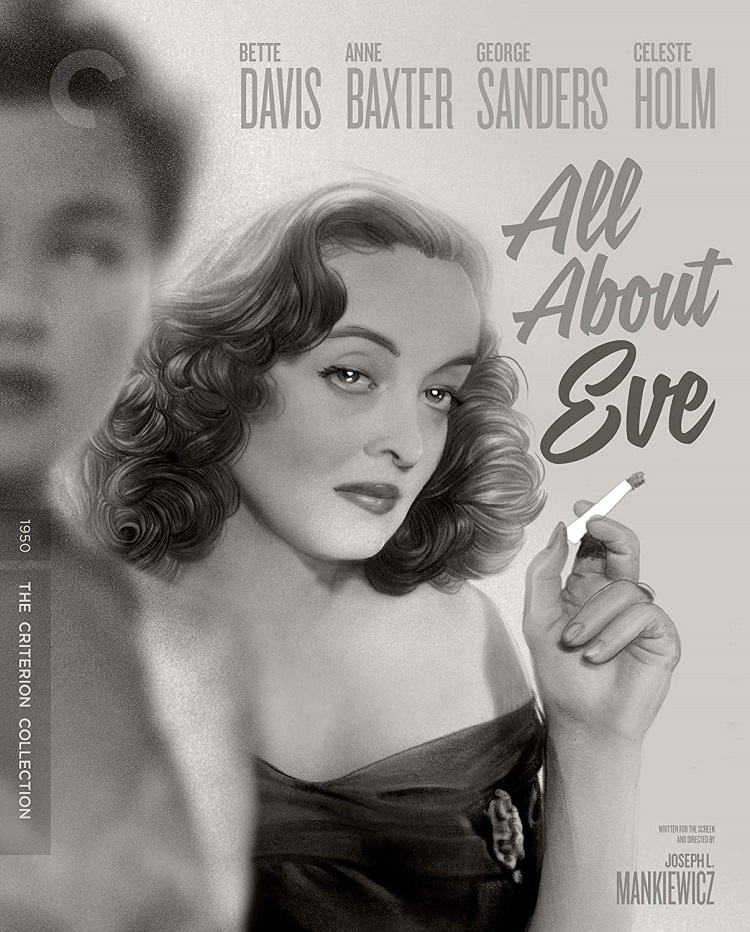 Best Picture Oscar winners don't always age well, but as All About Eve approaches its 70th anniversary, it's every bit as entertaining and relevant as ever. The film garnered six well-deserved Oscars out of a lofty total of 14 nominations, including two wins for Joseph L. Mankiewicz as writer and director. The plot is a fascinating study of betrayal, as a young up-and-coming actress named Eve (Anne Baxter) seeks to supplant her idol, aging stage star Margo (Bette Davis). The story should be required viewing for every aspiring actor as a cautionary tale of the pitfalls of success, although its theme is so universal that it can be applied to any profession, or even the nature of the world as a whole.
The acting performances are superb all around, especially Baxter in the titular role as she transforms from a seemingly meek ingénue into an icy grand dame. It's confounding that she's not very well known now in comparison to screen legend Davis, but this performance alone shows that she had more than enough talent to be worthy of major fame. In an interesting occurrence of art imitating life, the film also boasts a real-life Eve in a minor early role: Marilyn Monroe, who would of course go on to be the most famous member of the production, presumably minus some of the back-stabbing.
This release of the film comes from a brand-new 4K scan and features an uncompressed monaural soundtrack. As expected, the image quality is exceptional, with fantastic contrast and no visible defects, while the soundtrack has also been buffed of any imperfections. If you've only seen the film on TV before, it's high time to revisit this classic in its pristine new form.
The bonus features are so extensive that the Criterion edition is spread across two Blu-ray discs. The highlight is All About Mankiewicz, an feature-length documentary from 1983 that dives deep into the details of his storied career. I always enjoy vintage talk show excerpts, so it's a treat to have two episodes of The Dick Cavett Show included here featuring Bette Davis and Gary Merrill from 1969 and 1980. There are also shorter documentaries from 2010 about Mankiewicz, the original 1946 short story that served as the basis for the film, and a real-life society based on a fictional organization in the film. Interestingly, the writer of the original short story didn't retain film rights, but did have stage rights that allowed her to put on live productions of the story in the aftermath of the film's success.
This release also includes a full radio adaptation of the film from 1951, a 2001 documentary featuring interviews with Davis and other members of the cast and crew about the making of the film, and a new interview with a costume historian. Viewers who prefer audio commentaries have their choice of two, both from 2010: one with Celeste Holm, Mankiewicz's son, and author Kenneth L. Geist; the other featuring author Sam Staggs. Rounding out the bonus features is a look at some of the promotion that Davis did for the film.
The collection also includes a hefty booklet of essays sandwiched between the two discs, although the packaging is somewhat odd. The discs are on each side of a cardboard gatefold case housed in a cardboard slipcase, but since there's no real holder for the booklet or even plastic trays, the center spool holders of each disc are just small pieces of sticky rubber, presumably to hold the booklet in place between the discs but in practice more perplexing than anything. It's far from a premium packaging idea for this important release, and also fails to prevent case and booklet damage (my review copy arrived slightly creased and ripped), making it the only downside to an otherwise spectacular product.