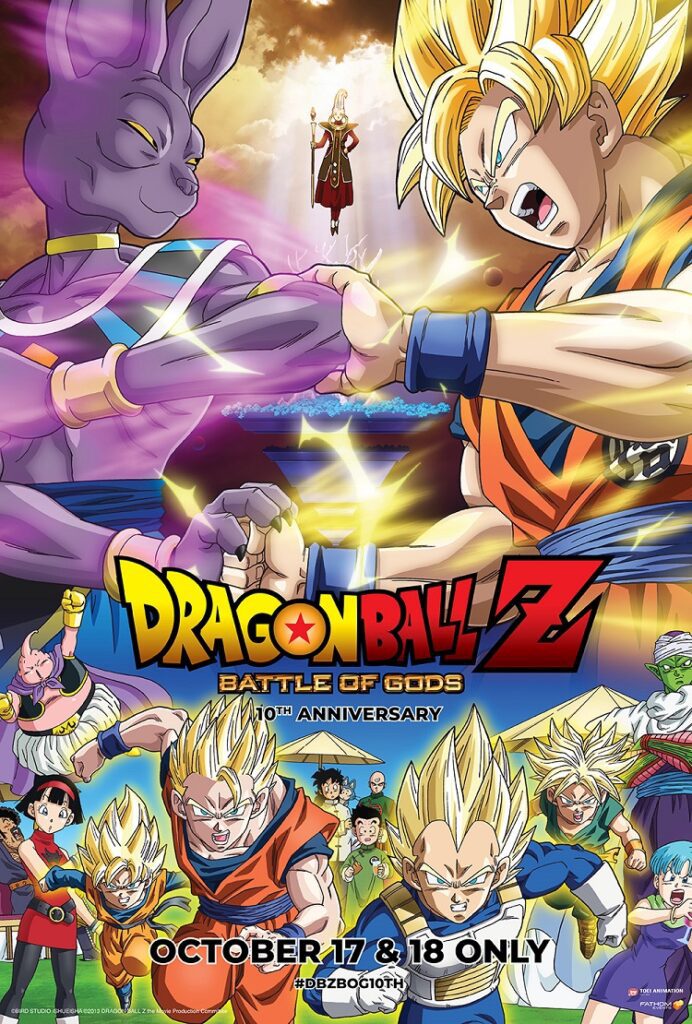 This October, in celebration of the 10th Anniversary of Dragon Ball Z: Battle of Gods, Goku and his friends return to the big screen to save Earth in one of the most epic battles of the Dragon Ball franchise. Toei Animation and Fathom Events today announced plans to re-release Dragon Ball Z: Battle of Gods as a special two-day event on October 17 & 18 in theaters across the United States.
Dragon Ball Z: Battle of Gods is an original work from Dragon Ball creator Akira Toriyama, who penned the story, screenplay and character designs for the movie. It premiered in Japan in 2013 and, at the time, was the first new feature film in 17 years for the Dragon Ball franchise. For this special event and for the first time ever in U.S. theaters, moviegoers will be able to watch the extended edition cut (105-minute length version) of the film, which will be presented in English dub on both days. Fans can join the Dragon Ball Z: Battle of Gods 10th Anniversary celebration in more than 800 theaters through Fathom Events. Check local listings.
Tickets for the Dragon Ball Z: Battle of Gods 10th Anniversary theatrical release are on sale now and available at FathonEvents.com, which also provides a complete list of theater locations (subject to change). Fans may also purchase tickets via participating theater box offices as well.
The Dragon Ball phenomena began in 1984 when Japan's well-known manga from Akira Toriyama premiered in Shueisha's Weekly Shonen Jump – becoming a top ranked title throughout its 10 and a half years of publication. Since then, the manga's popularity has continued to grow with an astonishing record of 260 million copies sold worldwide and counting. And with Dragon Ball's ever-increasing popularity, it has expanded beyond manga to include TV animation, movies, games, and merchandising.
Film Synopsis : Following the events from the Dragon Ball Z television series, after the defeat of Majin Buu, a new power awakens and threatens humanity. Beerus, an ancient and powerful God of Destruction, searches for Goku after hearing rumors of the Saiyan warrior who defeated Frieza. Realizing the threat Beerus poses to their home planet, the Z-Fighters must find a way to stop him before it's too late. Only Goku, humanity's last hope, can ascend to the level of a legendary Super Saiyan God and stop Beerus from destroying Earth, and possibly the entire universe!