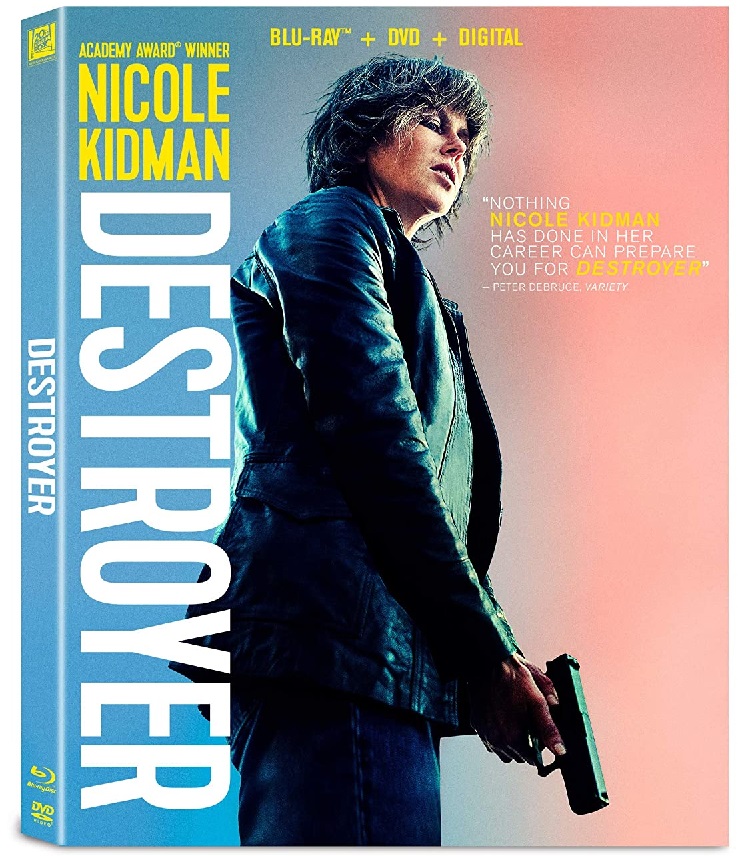 Karyn Kusama's Destroyer opens with LAPD detective Erin Bell (Nicole Kidman) showing up at a murder scene. Strewn around the victim is stolen money marked by dye. She tells the homicide detective she knows the killer, but doesn't reveal anything to the detective or the audience. Back at the station, Erin receives money similarly stained, which she learns was from a botched bank robbery by a criminal gang that she and an FBI agent (Sebastian Stan) infiltrated undercover posing as a couple. Through flashbacks, we see the operation unfold and derail.
She believes the money is a sign that the gang's former leader, Silas (Toby Kebbell), has come back around. Erin becomes obsessed with finding him, and won't let anything stop her, not police regulations and not any of her former cohorts. She also has to deal with her out-of-control teenage daughter, Shelby (Jade Pettyjohn), whose wildness is partially due to her mother's absence in her life.
Anchoring the film is Kidman's outstanding performance as a woman under the influence of her past decisions. It's a gritty portrayal of a dark character not usually played by her or by any women, but a common role for men. Kidman dives right in and makes the most of the role, which is a highlight on her already impressive resume.
The script by Phil Hay and Matt Manfredi is well crafted, presenting a brilliant puzzle that answers questions before the viewer even realizes they have something to ask, but by the film's end, the story is laid bare and it all becomes clear.
Kusama's direction and the work of cinematographer Julie Kirkwood allow the story's visceral nature to come through and the multiple bank robbery sequences will leave the viewer invigorated.
Karyn Kusama's Destroyer is a spectacular film that deserves to be added to the canon of Los Angeles-set film noirs. Highly recommended.