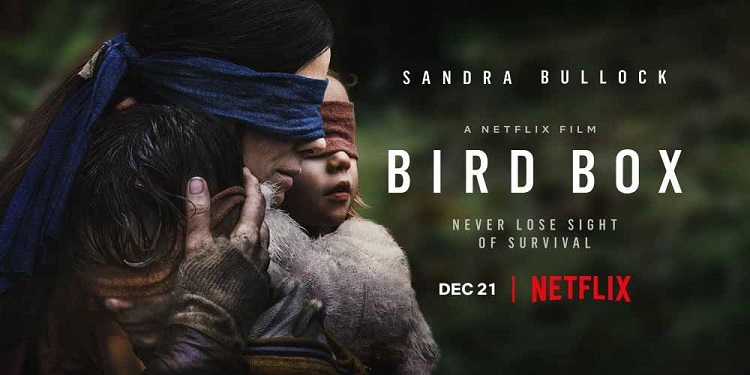 As the Bird Box opens, Malorie (Sandra Bullock) tells two young children, identified as "boy" and "girl," the grave dangers they face as they plan a trip down the river. It requires them to not talk nor remove their blindfolds because "if [they] look, [they] will die."
Five years earlier, mass suicides are spreading across the globe. The madness comes to California when a pregnant Malorie is taken for a check up by her sister Jessica (Sarah Paulson). In the mayhem, Lydia offers Malorie refuse in her neighbor Greg's (BD Wong) house but after talking to her dead mother, Lydia sits in a burning car and dies. Others take refuge at Greg's house and Lydia's husband Douglas (John Malkovich) blames Malorie for his wife's death. Charlie (Lil Rel Howery) claims its the End Times and demonic creatures, which have been written about in different cultures, are causing people to go insane and die.
The film intercuts between the two timelines, both are perilous, especially because some people work on behalf the demons, so no one knows who to trust. Both at home and on the river, there are tension-filled scenes as supplies are searched for. Amidst all the chaos is a story about Malorie coming to terms with connecting with people. She is distant from her mother, she and her sister are disconnected from their father, and she's considering put her baby up for her adoption since the father is no longer in the picture, explaining the lack of names for the children. Through the course of the film, her growth in this area is shown, thanks in part to Tom (Trevante Rhodes).
Director Susanne Bier's framing and the evocative score by Trent Reznor & Atticus Ross do a great job at augmenting the chills and thrills. The plot in Eric Heisserer's script takes interesting turns while also offering familiar genre moments in conjunction with Bier's shot selection.
After Bird Box's world premiere at AFI Fest in Hollywood, the film will begin a limited theatrical release on December 14 before streaming worldwide on Netflix on December 21.