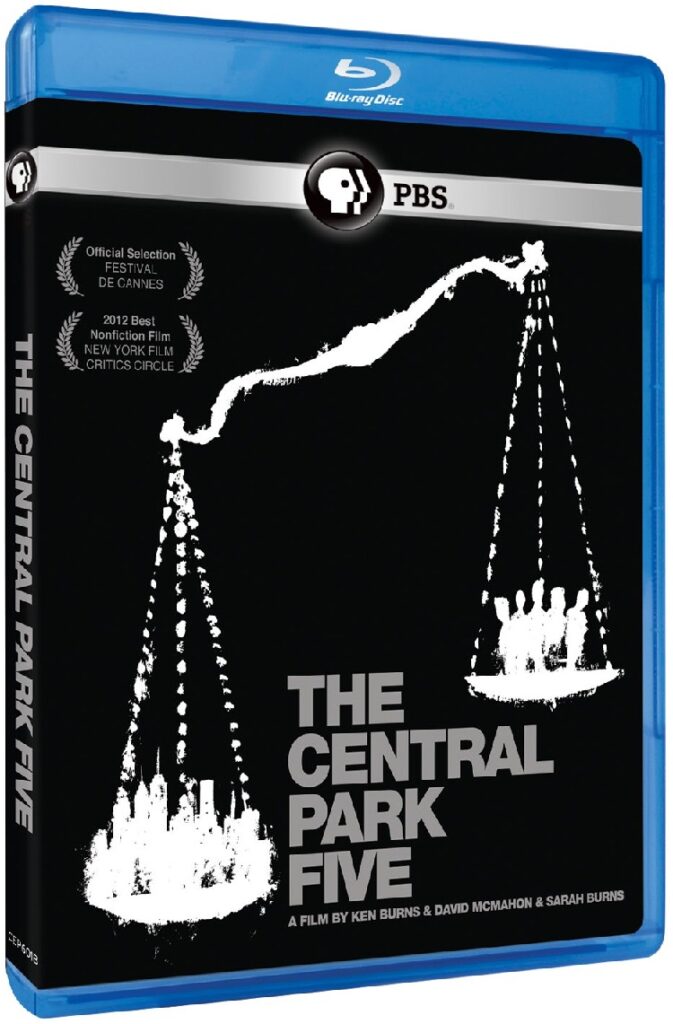 Based on her book The Central Park Five: A Chronicle of a City Wilding, Sara Burns, her husband David McMahon, and her famous documentarian father Ken Burns have created Central Park Five, a heartbreaking film about a stunning conspiracy that will surely ruin whatever faith viewers have in the U.S. justice system and those tasked with running it.
On the night of April 19, 1989, Trisha Meili, a 28-year-old white woman, went for a jog in Central Park. In his 2002 examination of the case in The Village Voice, Sydney H. Schanberg recounted what happened soon after: Meili "was allegedly raped by a group of black and Latino youths who, the authorities said, had thrown her to the ground, stripped her of her clothes, and, as she struggled desperately, bashed her all over her body with a rock and other objects to stop her flailing. Her left eye socket was crushed and her skull broken through to the brain. She lost 80 percent of her blood. The doctors at Metropolitan Hospital, who initially told police her chances to live were almost nil, saved her."
That same night a group of about 30 teenagers were randomly terrorizing people and viciously assaulting in the park, referred to as "wilding." Police rounded up many of the teens and assumed some were responsible for the attack on Meili. Though there was no evidence against them, teenagers Antron McCray (15), Kevin Richardson (14), Yusef Salaam (15), Raymond Santana (14), and Kharey Wise (16)confessed to taking part and implicated each other, yet as seen in the videotaped interrogations, not only do their stories not match, but they aren't in line with the facts of the case. Soon after, the boys claimed the police coerced them, but it was too late. The city had been whipped into a frenzy by this despicable crime and its racial components. Many cried for justice, but what they sought was vengeance.
Through archival material, the idea that a person in America is innocent until proven guilty is revealed to be the lie that it is. Local columnists and people like former mayor Ed Koch directed an amazing amount of vitriol towards these five young men before the case was made to the juries. Two trials were conducted. McCray, Salaam, and Santana were charged and convicted in the first, followed by Richardson and Wise, the latter being treated like an adult. During the jury deliberations of the first trial, one juror, who is interviewed for the film, held out for 10 days because he didn't see that the D.A. had proven the case, but unlike Juror 8 in 12 Angry Men, he eventually felt beaten down and gave up.
Having already worked with them on her book, Sara interviews four of the five on camera with McCray appearing audibly to tell their versions of the events. Though victims of a corrupt system, the five aren't portrayed as saints as it's very likely some, if not all five, committed crimes that fateful April night while in the park. Also, Wise served extra time as a result of violations that occurred while serving his sentence, and after his release, Santana became a drug dealer, which ultimately led to him going back into jail. The cops and district attorneys involved appear through archival footage but aren't interviewed for the film, in part because they are currently defendants in a civil lawsuit. However, the evidence shown by the filmmakers leaves no doubt what happened.
The most amazing part of the Central Park Five story, which audiences wouldn't accept if it happened in a fiction film, is how the men are eventually exonerated. Rather than a police officer finding new evidence or a lawyer re-opening the case, salvation comes from where it's least expected. Sadly though unsurprisingly, the coverage of their innocence didn't garner the same amount of attention.
The Central Park Five is one the most important films of the year, if not all time. The documentary serves as a stark warning about how easily those in society who have been granted power can abuse it and reminds the citizenry to stay vigilant.