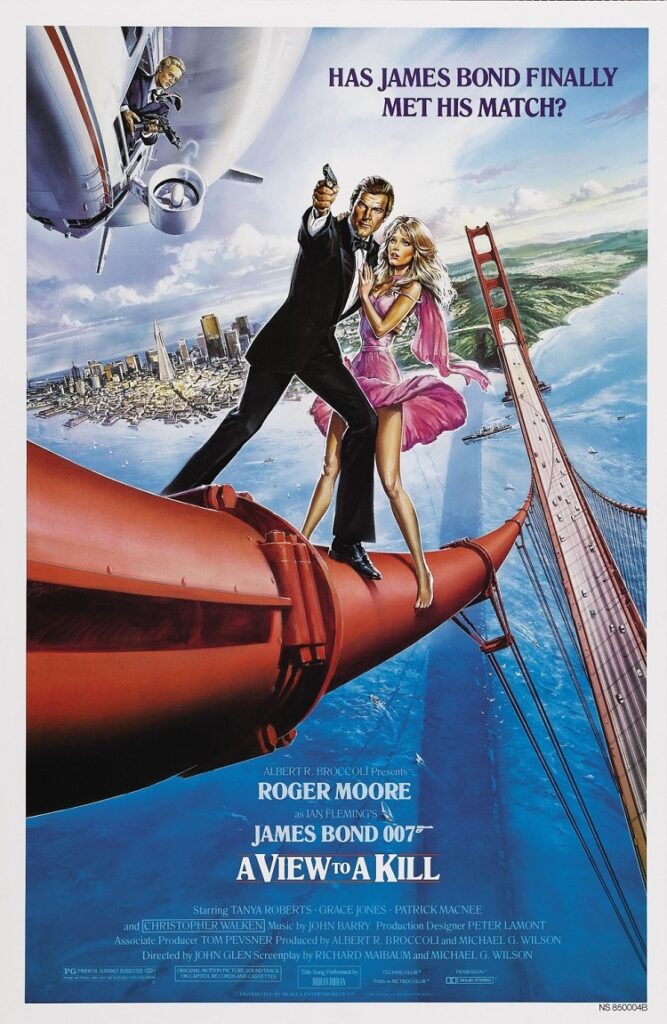 Written by Michael Nazarewycz
Okay. Confession time.
I specifically chose to review A View to a Kill (1985), the fourteenth entry in the James Bond film franchise and seventh (and final) film starring Roger Moore as 007, because Duran Duran performed the title song.
There. I said it out loud.
If there is something I have a weakness for as much as movies, it's the 1980s – the decade of my youth. I am the MTV Generation. I watched the network launch on Day One. I tuned in daily to see VJs like Nina and JJ and Alan (not train wrecks like Snooki and The Situation and the cast of others whose names sound like they're all running the third at Belmont). And yes, as the old gag goes, I do remember when MTV showed music videos. The best-in-class from MTV's earliest (and greatest) days was a British New Wave-turned-Pop group named Duran Duran (a name stolen from 1968's Barbarella, starring Jane Fonda). They were one of my favorites then, so I couldn't pass up the chance to revisit a Bond film where they played an integral part on the soundtrack (the film's theme is the only Bond theme to chart at #1 in the US).
It had been many years since I had seen A View to a Kill, and going into the viewing I had low expectations, as I have viewed the Roger Moore era, and more specifically Moore/Bond films of the 1980s (including the Timothy Dalton films), as the Dark Ages of Bond.
Boy, did I have this one wrong. I was rather surprised by how well A View to a Kill holds up after 25+ years.
The film starts with your typical Bond opening gambit. This time, Bond is looking for a microchip and being pursued by Russians on skis. It's here that Bond fashions a snowmobile skid into a snowboard, that in 1985 must have looked really cool, but in 2012 looks rather pedestrian. (I must admit that I was reminded of that scene in Back to the Future when Michael J. Fox-as-Marty McFly circa 1955 turns a scooter into a skateboard to everyone's amazement.)
After securing the microchip (and bedding a woman on his rescue sub), Bond returns to HQ to learn that the chip was produced by Zorin Technologies. This leads Bond, with the help of fellow MI6 agent Sir Godfrey Tibbett (Patrick McNee), on an undercover mission, posing as a horse breeder and Tibbett as his chauffeur and valet. Their target – Max Zorin (Christopher Walken), a horse breeder and microchip developer who has designs on detonating enough explosives on the fault lines of northern California so that all of Silicon Valley will be flooded and dead, and he will corner the microchip market.
With the help of Tibbett and Stacey Hutton (Tanya Roberts), a geologist who lost her family's oil interests to Zorin, Bond must stop the fiendish plot.
I think I liked this film as much as I did was because it was so very '80s. In a lot of '80s films, you get a sense of the era from the fashion or music or slang or cars. Here, theme song aside, the sense of time is gleaned more as a result of the supporting cast and the direction as opposed to the A/V periphery.
For starters, you get a villain played by strikingly blonde Christopher Walken, who was at a point in his career where he was only Christopher Walken, not yet, you know, Christopher Walken. He had not yet become a favorite among stand-up comic impressionists, nor had he hosted an episode of Saturday Night Live. But his appearance and his maniacal portrayal of Zorn gave an indication of what he would become.
Next, his henchman, make that henchwoman, is played by infamous '80s model/singer/actress/Grace Jones, and is Bond-ly named May Day. The Jamaican American, whose signature look cannot be overlooked, plays Zorin's hot lover/icy assassin as well as she needs to be convincing. She isn't given many lines, which is probably for the best, and she does not fumble those that she is given, recognizing that she is in the film to be seen and not heard.
And then, of course, there is Tanya Roberts, the beauty who had already made her mark on such works as TV's Charlie's Angels (replacing Shelly Hack, who had replaced original Angel Kate Jackson), as well as the films The Beastmaster and Sheena. Granted, she isn't much of an actress, and that certainly shows here, but she is a suitable female Bond girl and certainly representative of the times.
Even Dolph Lundgren (he of Rocky IV fame) has a blink-and-you'll-miss-him bit part in the film, adding yet another element that is distinctly '80s.
As for the filmmaking, whenever I've discussed the history of the action film, I've always caveated my statements to take all of the Bond pictures off the table, as they truly are a genre to themselves. But if I were to select one to fit the traditional action movie mold, particularly one released in the heart of the 1980s, it would be this one. The early action/chase scenes capture it somewhat, but it is particularly evident in the fire truck chase scene that involves hapless police and a loose ladder. Whereas I find For Your Eyes Only to be more reminiscent of late-'70s cop shows, and annoyingly out of place as a result, I find A View to a Kill to fit comfortably in the company of other films around it.
Is A View to a Kill the best Bond film (Moore or not)? No. Is it the best action film of the decade? No. But in the way that the Daniel Craig era seems to fit in with action filmmaking of today, so too does A View to a Kill find the balance of being both a Bond film in the '80s and an '80s action film.
Operation: BOND will return with The Living Daylights.