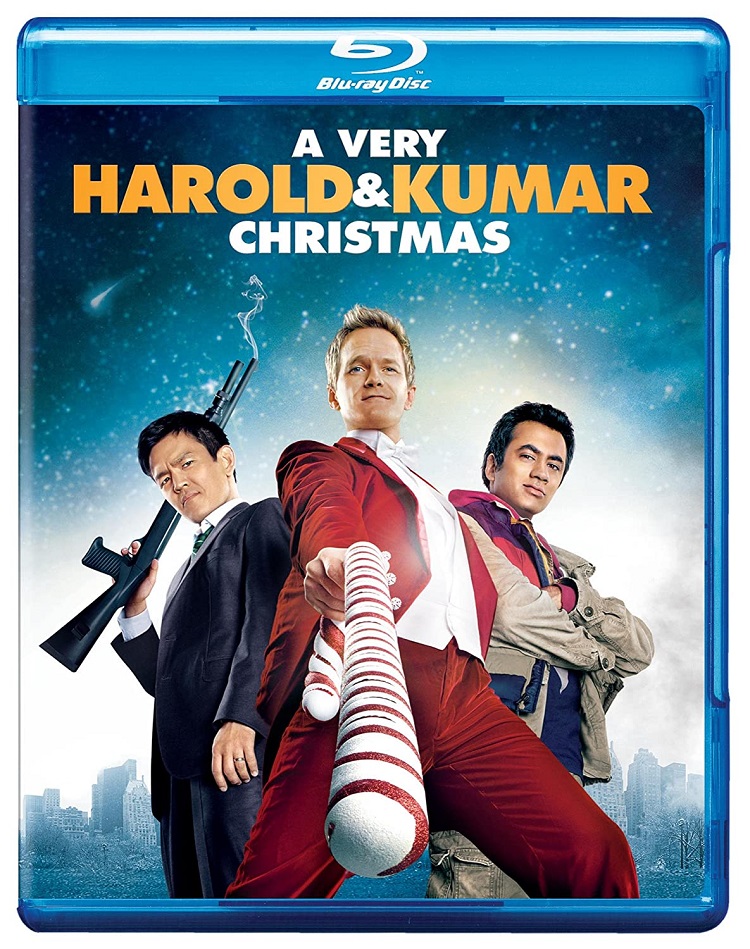 Harold and Kumar aren't the ideal characters one would envision for a frothy Christmas movie or a senses-shattering 3D experience, but as it turns out they're just the counter-programming the season and the 3D format need.
The new film plays up their odd couple relationship to the extremes, with Harold (John Cho) now a conservative, happily married Wall Street exec and Kumar (Kal Penn) a poor, disheveled pothead one missed paycheck from eviction. Ok, so not much has changed for Kumar, except for his girlfriend's revelation that they have a baby on the way. Harold has embraced his serene suburban life to such an extent that he's more interested in impressing his father-in-law with a spectacular Christmas tree than helping out his old friend.  
When a mysterious box addressed to Harold appears on Kumar's doorstep, he takes the time to drive it to Harold's home even though they've long since parted ways and lost contact with each other. Harold isn't exactly pleased to find Kumar at his home, especially since he's in a rush to get his tree decorated before his father-in-law's return. When they open the box and find a huge joint, Kumar proceeds to spark it while drug-free Harold immediately throws it out a window, whereupon a magical breeze boomerangs it back in another window and directly into the Christmas tree, setting it ablaze and setting up the film's quest. It's Christmas Eve, there are no decent trees left for sale, but somehow Harold and Kumar must come up with a perfect replacement.
What follows is a zany trip through a Russian mobster's home, a Christmas musical starring returning foil Neil Patrick Harris, a drug-induced Claymation fantasy sequence, and an encounter with a wounded Santa Claus. Not forgetting their 3D prerogative, they also throw everything but the kitchen sink at the screen, taking the foolishness to such an extreme that the film becomes a parody of the entire 3D genre. Somehow, maybe by Christmas magic, it all works, even when watching in 2D without any chemical aid. It's a funny, ridiculous, and surprisingly heartwarming film that is well worth watching at any time of the year.
The film also looks very good, with its above-average production qualities highlighted by Blu-ray presentation. Surround sound gets a bit of a workout during the film's crazy 3D hijinks and action scenes, making the 5.1 DTS-HD Master Audio worthwhile. The Blu-ray includes theatrical and extended cuts, with the latter adding about six minutes of footage but substituting Dolby Digital for the DTS-HD audio.
Bonus features includes a lengthy and amusing segment with co-star Thomas Lennon where he basically just turns on a camera backstage and riffs on whatever crosses his mind, such as the film's place in the pantheon of Christmas classics (thanks for my review title, Thomas). There's also a featurette about the Claymation sequence, as well as a handful of nonessential deleted scenes.
The Blu-ray/DVD combo pack is really a combo, with the Blu on one side of a disc and the DVD on the other. The package also includes an Ultraviolet digital copy. The film is also available on DVD, digital download and 3D Blu-ray, so if you're equipped it's probably worth anteing up for 3D. All versions are now available.