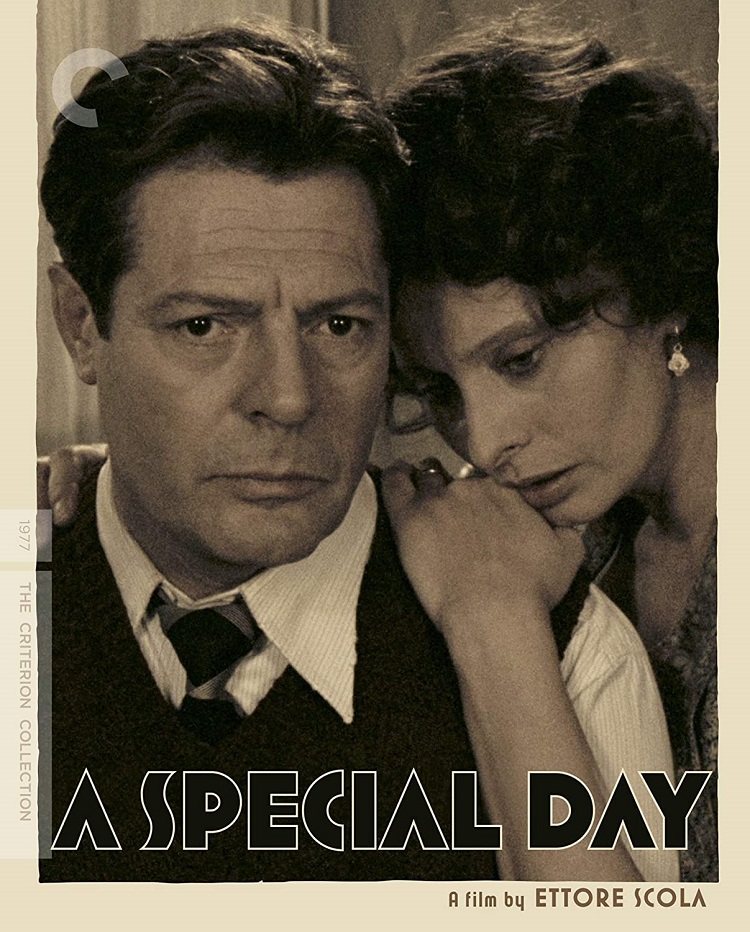 The setup for this Italian film is deceptively simple, but belies the impact of the performances by its two stars, screen legends Sophia Loren and Marcello Mastroianni. Playing against type, their characters meet by chance in their otherwise vacant apartment building and spend the entirety of the film and their day getting to know each other. Loren is a resigned and harried housewife, tired of the grind of caring for her oaf of a husband and ungrateful brood of kids but unable to find any escape. Mastroianni plays a persecuted journalist about to be shipped off for both his liberal views and his homosexuality. With no other support network in place, they turn to each other for solace in the face of their individually crippling adversities.
Their building is empty because nearly everyone else is attending Hitler's historic visit to their city, waving their nationalistic flags and embracing their overlord with their native leader, Mussolini. The film opens with nearly 10 minutes of actual newsreel footage of the event, setting the oppressive tone for the besieged star characters. Once the extremely guarded characters meet, it's pure cinematic joy to watch as they gradually open up to each other, becoming closer confidants in the course of a day than anyone else in their lives. It's clear from the outset that their relationship isn't destined to last, and yet they forge a permanent bond that transcends their limited time together.
The generally effusive, charismatic Mastroianni expertly portrays his subdued, pained character, although as a well-known journalist his character is still more refined than his typical neighbors. Loren takes an even greater jump into the unknown, putting aside her glamorous sex-symbol stature to fully embrace the mousy, unkempt, desperate nature of her character. She's fully convincing in the role and demonstrates her true strength as a dramatic actress, not just a pretty face.
The film was shot in color, but in such bleak sepia tones that it matches up well with the newsreel footage and conveys the 1940s setting. Those dull tones do little to enliven the Blu-ray format, and actually make black shades appear sickly green in the initial minutes, but otherwise the restored print is extremely clean with no evidence of artifacting. The disc has a superb selection of bonus features that include a new exclusive interview with the still-luminous Loren, a new interview with director Ettore Scola, a recent short film starring Loren, and an entertaining hour-long appearance of Loren and Mastroianni on The Dick Cavett Show produced around the same time as the film.