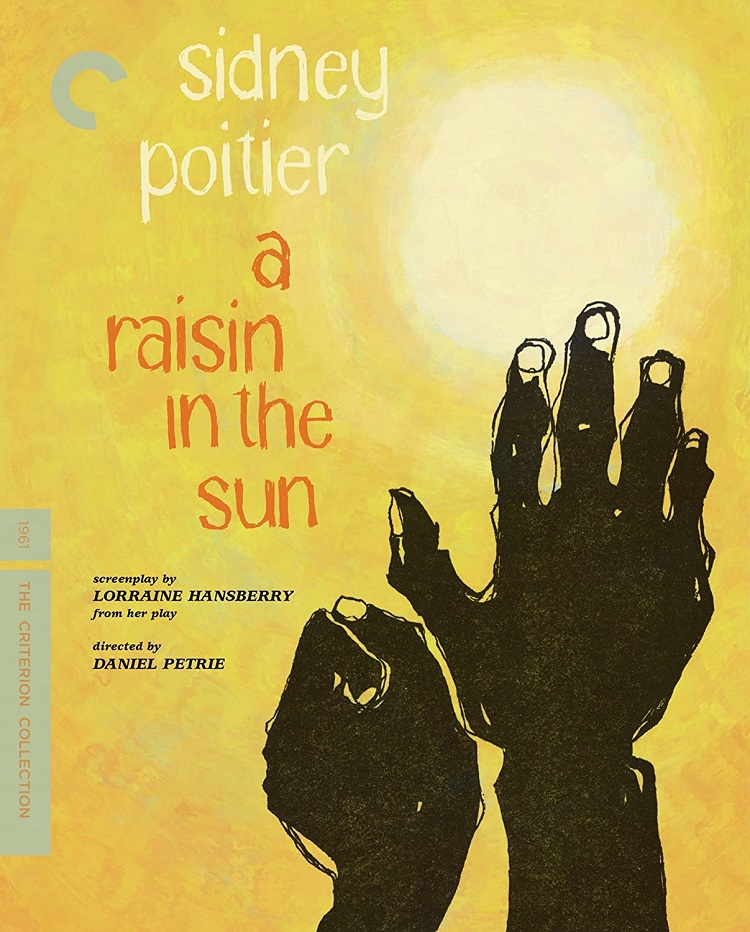 While some movies about the African-American experience are embarrassing and downright stereotypical, there are others that realistically transcend the bad taste, to tell truthful stories of the issues and obstacles that face people of color. Director Daniel Petrie's brilliant 1961 adaptation of celebrated author/playwright Lorraine Hansberry's eternal play, A Raisin in the Sun, is definitely one of the seminal films of all-time.
It takes place mostly in a cramped Chicago apartment that houses the Younger family: Lena (Claudia McNeil), the strong and proud matriach; her son Walter Lee (Sidney Poitier), an ambitious but often reckless man; his wife Ruth (Ruby Dee), a well-meaning but fragile woman who does laundry for white people and takes care of their son; and her liberal-minded daughter Beneatha (Diana Sands), a college student who dreams of being a doctor. After the death of Lena's husband, she becomes the beneficiary of $10,000 life-insurance check that supposedly is the solution to their problems. However, tensions arise over how to use the money. Lena wants to buy a house, Beneatha wants to pay for medical school, and Walter Lee wants to go into the liquor business, thinking that it's a sure thing. Unfortunately, fate intervenes and the money is stolen, which derails their dreams. In the end, they still pack up and move to their home, in a predominately white neighborhood mind you. Despite the eventual scorn and discrimination they will obviously receive, they learn that with courage and determination, the road to happiness could be a little less bumpy.
Bare in mind, some elements are a little dated, but because of the strong impact, you overlook those minor flaws to really relate to the sheer relevance of the overall message of both the play and film. The strong ensemble cast, many of them from the original play, help make this one of the greatest reworkings of a play ever made. Poitier is legendary in the film, but McNeil, Dee, and Sands also deliver powerhouse performances. There are moments where each of them take the breath away, especially in the scene where McNeil denounces Sands for her mocking the existence of God. Also, Petrie's direction and Laurence Rosenthal's music help elevate the film to classic-film status.
Criterion did a really marvelous job bringing new life to this wonderfully acted film. It looks and sounds better than its ever been, especially with its new 2K restoration. The supplements definitely help to further appreciate the film and its lasting legacy.
They include:
Audio interview with Hansberry from 1961
New interview with Imani Perry, author of Looking for Lorraine
Episode of Theater Talk from 2002 featuring producer Philip Rose and actors Dee and Ossie Davis
Excerpt from Black Theatre: The Making of a Movement (1978), with a new intro by its director Woodie King Jr.
New interview with film scholar Mia Mask, coeditor of Poitier Revisited
Interview from 2002 with Pietrie
Trailer
Rounding out the release is booklet with a new essay by scholar Sanita Cannon and renowned author James Baldwin's poignant tribute to Hansberry, "Sweet Lorraine".
Ending this review, I have to say that I really love this film. I had seen it several times on TCM, and it gets more relevant and dynamic with each viewing. If you want to see a film that expertly captures African-American life and culture, you can't get any better than Raisin.