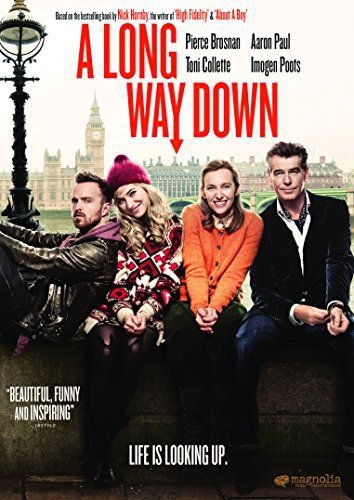 I first heard of Nick Hornby through the movie version of his musically obsessed book High Fidelity. The film stars John Cusack as Rob, a down-on-his-luck, record-store owner whose entire life has been influenced by pop songs and who tends to spend his day making mix tapes for pretty girls and Top Five lists of favorite every things. After watching that film, pretty much all of my friends turned to me and mentioned that it must have been based on my life.
That's not true, of course, but it could have been. Certainly large chunks of my life have been influenced by pop music (and movies, and books, and pretty much all pop culture) and I do love to make Top Five lists. The movie hit all sorts of home and I adored it. From there I read the book and loved it more. Then I moved on to other Hornby books such as Songbook, which is a book of essays about different songs that have had an effect on his life or that speaks to some aspect of himself. I loved that one too and in fact it greatly influenced my own writing style. I then gobbled up all of his other non-fiction books and am completely in love with the way he's able to blend parts of his life with pop culture and have something interesting to say.
But his fiction beyond High Fidelity has never moved me as much. He's over-sentimental and his characters have a tendency to tell you how to live your life. In his non-fiction he writes poignantly about his own life, his mistakes and triumphs, and speaks with a sincerity that is quite beautiful to read. But somehow when creating his own characters some of that quality slips away and he winds up sounding preachy.
So it was true with A Long Way Down, his story about four very different characters meeting by chance on New Year's Eve atop a building they each were planning to commit suicide from. They don't do it of course and they each then go on to help each other out. It's not a bad story and has plenty of that Nick Hornby wit about it, but neither was it particularly good.
So why am I picking the movie adaptation of a novel I didn't particularly care for as my Pick of the Week? Simple, his film adaptations have a much better track record than his own fiction. High Fidelity, as mentioned, is one of my favorites. About a Boy is also an excellent movie (I just remembered I rather liked the novel as well.) I've not seen the American version of Fever Pitch but the British take with Colin Firth is quite enjoyable.
Add in the stars – Pierce Brosnan, Toni Collette, Imogen Potts, and Aaron Paul, and I'm ready to give it a shot. Toss in my brother-in-law's opinion (who has seen it, liked it and whose movie opinions I generally agree with ) and we've moved into Pick of the Week territory. Mostly though, despite not really caring for several of his novels, I just really love Nick Hornby. When he's good, he's one of the best modern writers. When he's bad, well I just forgive and move on. Here's hoping the filmmakers were able to push some of Hornsby's negative tendencies and elevate his good ones and create a really good film.
Also out this week that looks interesting:
Agatha Christie's Poirot, Complete Case Collection: I'm a big fan of the Poirot stories and of the David Suchet adaptations. Recently, he wrapped up filming Poirot's very last case. Having played the character for 25 years and filmed essentially every story Christie ever wrote of the Belgian detective, he's created quite a living catalog of some of the most popular murder mysteries ever written. In response to that rather cool event, they've made a big boxed set of every episode. This 33-disk set also includes a 46-minute behind-the-scenes featurette, an interview with Suchet, a collector's book, and photo galleries. That's not much for such a big box, and not enough to make fans who already own the individual series on DVD or Blu-ray to throw down a hefty wad of cash for this, but for folks who like the show, have the cash but have never purchased the series before, this is a great set.
Captain America: The Winter Soldier: I'm sure I've talked before about how I never really get excited about superhero movies anymore, but always wind up watching them, eventually. It will be the same with this. My guess is that I'll see it when I visit the in-laws over Christmas and the nephews want to watch it.
Agents of S.H.I.E.L.D.: The Complete First Season: See above. I was actually more excited about this show than any of the Marvel movies. TV allows for much broader storytelling than a two-hour movie, and I kind of dig the idea of these guys working more behind the scenes while the super powers duke it out on the big screen. The reviews were pretty tepid though and the couple of bits I saw was underwhelming . Here's hoping they figure it out and start making must see TV soon.
Words and Pictures: A small little drama starring Clive Owen and Juliette Binoche. It got high praise at the Toronto Film Festival last year.
Homeland: Season 3: Season 2 was good, but by the end you could tell it was heading off the rails. Everything I've heard about Season 3 is that it ran completely off and jumped the shark while at it.
Doctor Who: Deep Breath: All the hype and the waiting is finally over – a new Doctor is here! Three episodes in and I'm really liking Peter Capaldi's take on the character but the writing is really bringing it down. This longform premiere had some wonderful moments, but again, was hurt by poor writing and a misplaced Clara. It started with a dinosaur vomiting up the TARDIS which nearly made me walk out on it, but it really did get better from there. Ultimately, there is absolutely no reason to buy this as it will no doubt eventually be included in the season's collected set.