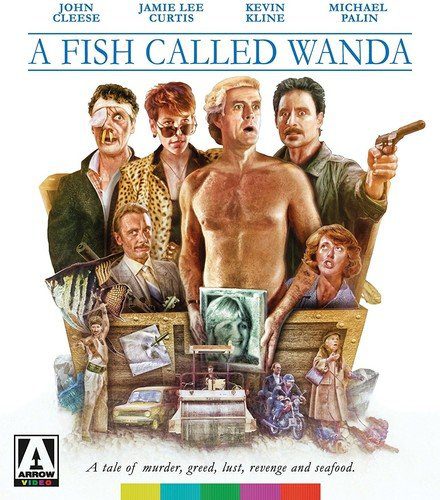 Just short of the film's 30th anniversary, Arrow Video sends a Special Edition of the classic comedy A Fish Called Wanda to store shelves and there is plenty here to be excited about. Originally released in theatres in 1988, it was a sleeper hit amongst competition such as Rain Man, Big, Die Hard, Twins, and…well, Cocktail. With tremendous word of mouth, and Roger Ebert proclaiming Wanda, "The funniest movie I have seen in a long time," John Cleese had a huge hit on his hands.
Cleese, who wrote and stars in the film, manages to take some Monty Pythonesque ideas, turn them into sketches, and then weave them into a film that often appears to be thrown together, yet excels on amazing performances and genuinely funny premises. With Cleese joined by his Python cohort Michael Palin, and reunited with Kevin Kline whom he worked with on Silverado, the comedy pours off the screen like a refreshing and invigorating cup of coffee that we can't get enough of. Not to say that that which is served is not extremely dark at times, but the characters are so endearing that we find ourselves siding with them regardless of who or what they are hitting, crushing, etc.
Jamie Lee Curtis joins the three boys and manipulates each one as they all attempt to get ahold of some stolen gems. Granted, the character of Archie Leach, played by Cleese, is originally more interested in getting a hold of Curtis, but it all comes together eventually. Though Kevin Kline took home the Best Supporting Actor Oscar for his work on Wanda (pun intended), this is clearly an ensemble comedy that one can't imagine working as well with any other cast. Palin and Cleese were both award worthy here, and Curtis clearly belongs in this group of talented comedic thespians.
The brand-new 4K restoration from the original negative, produced by Arrow Films exclusively for this Blu-ray (1080p) presentation, look great. I find commentary tracks distracting, but the Trivia Track was interesting for a short time. Ultimately, it's the documentaries that make this a "Special Edition" simply because Cleese is entertaining in the film and when he is talking about it. Most special releases include deleted scenes, but here we get Cleese talking about all 24.
Recommendation: Catching this new release would be a great investment for both super fan and those who are going fishing for the first time. There is so much amazing bonus material to lure you in that once you're hooked, you'll surely thank me that you didn't let this one get away.