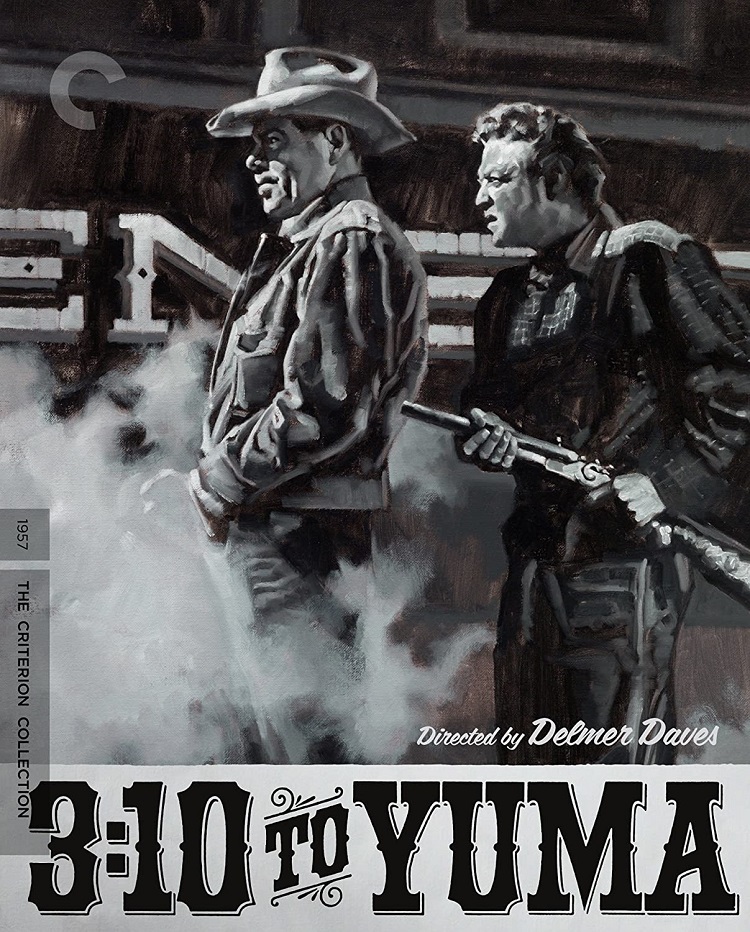 Though the story of a lone man standing up for what is right is a common Western motif, Delmer Daves' 3:10 to Yuma, based on Elmore Leonard's short story of the same name, shows what drives someone to make such a choice.
Dan Evans (Van Heflin) is a rancher in the Arizona Territory circa 1880s, but he's having a very tough time of it. As a husband and father of two, the three years of drought have led to very lean times and great disappoint. While out collecting his cattle with his two boys, they discover the notorious Ben Wade (Glenn Ford) and his gang used the herd in a stagecoach robbery. Dan and his children are forced to give up their horses to make sure they won't report the gang, which is made even more humiliating when Dan's wife Alice (Leora Dana) presses him about what happened.
Ben and his gang stop at a saloon in town for a quick drink, but rather than flee, Ben sends the gang on ahead after he becomes interested in the barmaid Emmy (Felicia Farr). Because of his decision to be an outlaw, Ben passed on the married life and only gets a brief amount of time to connect with a woman. However, his brief dalliance results in his getting arrested.
Fearing what the gang will do when they find out, the marshal wants Ben transported to Contention City in order to get him on the titular train, which will take him to jail. Stagecoach owner Mr. Butterfield (Robert Emhardt) offers $200, but the job is so dangerous that even large amount is only able to garner the interest of the two desperate men, Dan and local rummy Alex Potter (Henry Jones). After a bit of misdirection to fool Ben's gang, he is taken to Dan's ranch where they have dinner before leaving in darkness. The strains of the Evans' marriage and family are on display as they interact with a handcuffed Ben during the meal.
Once in Contention City, they hole up in a hotel bridal suite. Butterfield hires more men, but they don't stay around long once the gang shows up and demonstrates the lengths they'll go to in order to free Ben. Dan is the last holdout, but how long will his resolve last as the pressure mounts and opportunities to become unburdened present themselves?
3:10 to Yuma satisfies on a number of levels. The two main characters are compelling due to the combination of writing and the actors' performances. The story, though slightly predictable, remains engaging throughout as the tension increases. Charles Lawton, Jr.'s black and white cinematography looks very good.
The Blu-ray has been given a 1080p/MPEG-4 AVC displayed at an aspect ratio of 1.85:1. According to the liner notes, "This new digital master was produced from a restoration undertaken by Sony, for which a digital transfer was created in 4K resolution on a Spirit 4K scanner from a 35mm fine-grain master from the restored 35mm original camera negative; the restoration work was then performed in 2K resolution."
Blacks are deep, whites are bright, and a number of shades of gray are apparent, all leading to strong contrast. The image reveals fine details and natural film grain throughout. The only flaw I saw was a slight light fluctuation during opening credits.
The notes also reveal, "the original monaural soundtrack was restored from the original 35mm D/M/E magnetic master." Criterion has offered both a Mono and DTS-HDMA 5.1 track that sound free of defect and age. Purists should enjoy the former while the film's small scale keeps the latter track's augmentation from sounding phony. Dialogue sounds clear and are well balanced with the music and effects, which create a larger sense of space on the 5.1 track
Extras are slight in contrast to many other Criterion releases, limited to just two recent interviews presented in HD. This was the first feature film based on the work of "Elmore Leonard" (13 min). He talks about writing, westerns, this film and the 2007 remake, which he undeservedly knocks. Glenn's son "Peter Ford" (15 min) tells some great stories, including one about about Orson Welles showing up at house upset over Glenn's affair with Rita Hayworth.
Do yourself a favor and get on board the 3:10 to Yuma to see for yourself why this western is a classic.