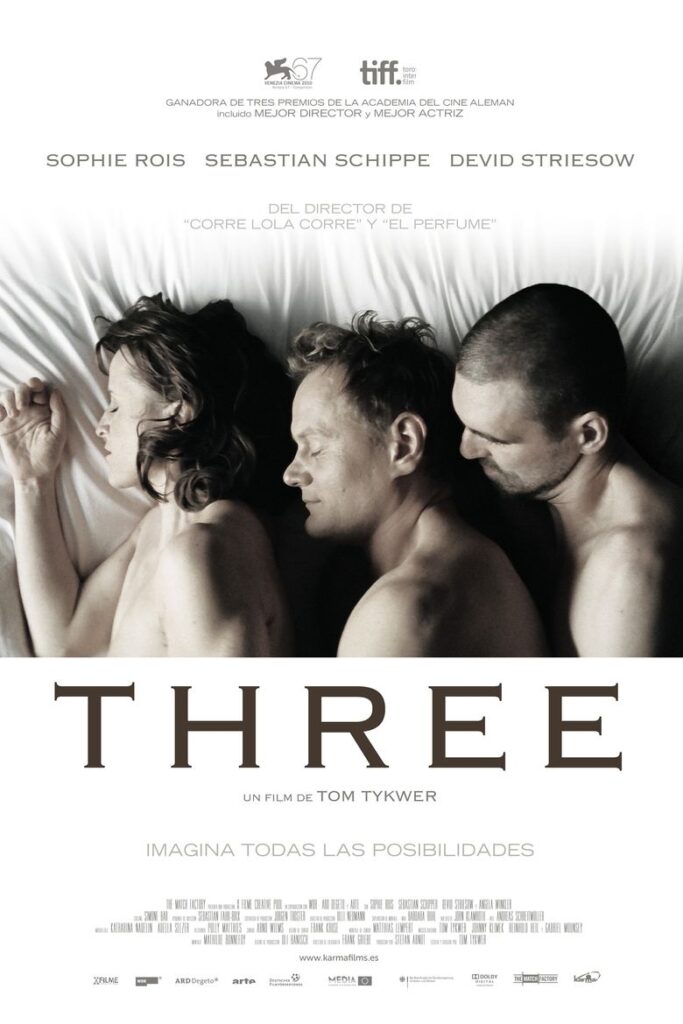 After one entirely dull, far too self-serious attempt at a big-budget Hollywood crossover in The International, it's nice to see German director Tom Tykwer follow up with a more idiosyncratic vision. That would be 3, a not entirely successful but nonetheless wholly engaging film about a couple at a crossroads, and the man who enters their individual lives independently.
Perhaps Tykwer's greatest asset here is his sense of playfulness — despite its metaphysical and philosophical underpinnings, 3 isn't weighed down by metaphor, even though it engages in a good deal of it. Tykwer's best-loved film, Run Lola Run, is immensely playful in its construction, rewinding and replaying key events in fits of stylish bravado. 3 is never so showy, but its sense of ironic mischief is strong.
The comedic undertones here help the film push past some of Tykwer's more distracting formal choices, like a series of montaged split-screens fighting for the viewer's attention or overly literal interludes like a three-person ballet that neatly foreshadows the fate of the film's characters.
The events of the film examine the nature of coincidence and connection more satisfyingly on their own, as we witness longtime Berlin fortysomething couple Hanna (Sophie Rois) and Simon (Sebastian Schipper) grind through the motions. They've been together 20 years and have never married, but their sense of resigned commitment is nevertheless strong.
Their individual lives get a shot in the arm when both begin affairs — Hanna with a colleague who specializes in fertilization medicine and Simon with a fellow swimmer he encounters in the locker room. In both cases, the man is Adam (Devid Striesow), and his confident sexuality and content demeanor spills over into Hanna and Simon's life together. Unaware of the other's tryst, the couple becomes closer and happier. But are they really complete with just the two of them?
3 mostly remains beholden to surface elements — its slightly drawn characters are ensconced in a slick, modern Berlin, filled with recreational opportunities and cultural diversions. But the film's inherent irony helps ensure that potentially big emotional moments — like when Hanna and Simon discover their mutual acquaintance — aren't played for unearned drama. Similarly, a connection between Simon's cancer-causing emasculation and Adam's fertile virility — in the lab and the bedroom — isn't oversold as grand cosmic interplay. Tykwer undercuts the film's own potential for sobriety, and it's a better movie for it.
The Strand Releasing DVD of the film is sadly barebones, offering up only the film's theatrical trailer and trailers for other Strand releases.