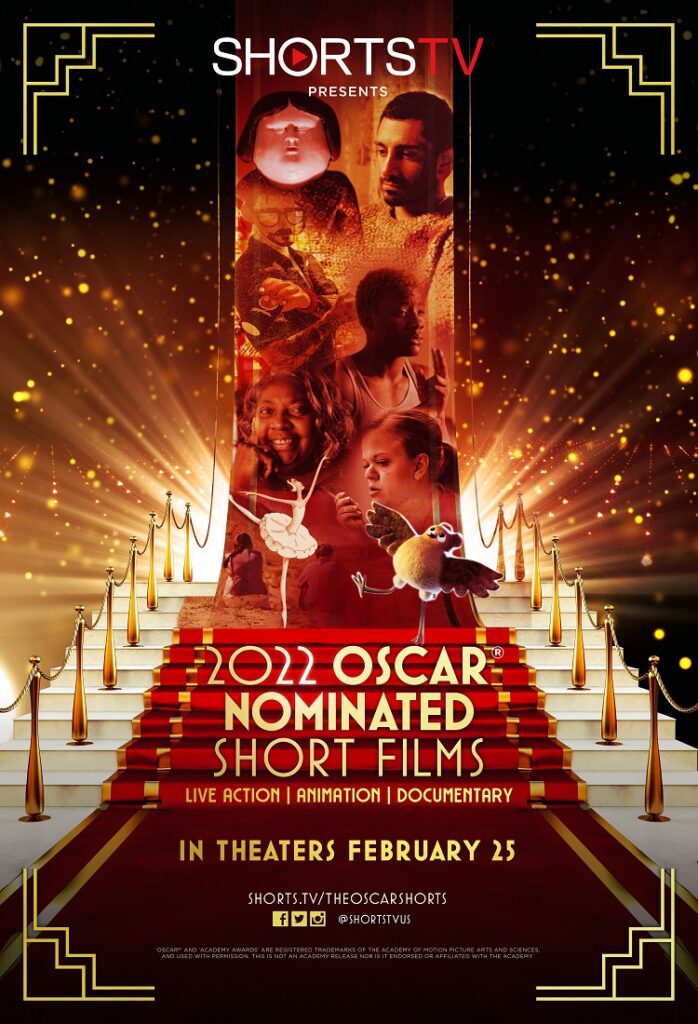 ShortsTV presents the 17th annual Oscar Nominated Short Films theatrical releases. Spanning the categories of Live Action, Animation, and Documentary, the short films will be available in theaters across the U.S. and Canada starting February 25, 2022. To learn more about the participating theaters and how to purchase tickets, please visit https://tickets.oscar-shorts.com/. The program will be available only in theaters for the first four weeks and then will also be available on VOD via iTunes, Amazon, Verizon, and Google Play beginning March 22, 2022.
Ala Kachuu (Take and Run) (director Maria Brendle, Switzerland, 38 min)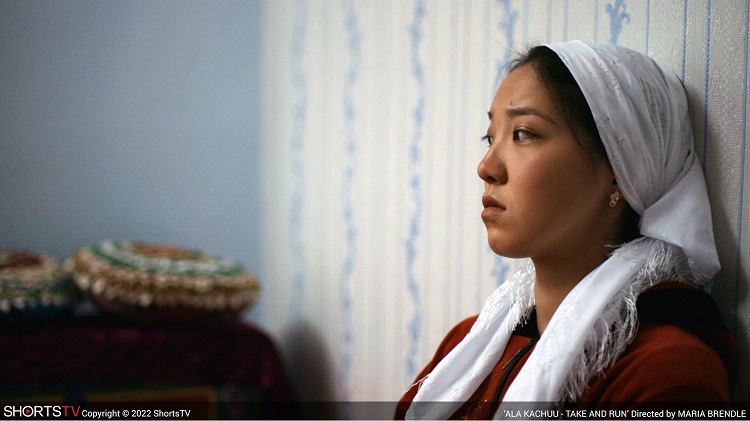 Sezim (Alina Turdumamatova) is a young woman who wants to study in the capital of Kyrgyz, but her mother says no. So, one night, she runs away to live with a friend and gets a job to help pay her way. She's late for her first day, but she starts to get the hang of it. However, she's kidnapped by a group of mysterious young men, who take her an isolated village, where she is forced into marriage with one of them. Obviously, she is angry about the whole thing, but if she doesn't go through with it, she will be socially ostracized.
Despite the grim story, it is slightly hopeful, especially at the end where Sezim does get away. I like that Sezim never once decides to cave in and accept her fate. Throughout all 38 minutes, she is determined to make her escape. But she doesn't take her little sister with her, because when she grows up, she will probably have to endure the treatment. I thought that maybe Sezim wouldn't want that to happen, so that does put a little gap in the story. I also hated all of the adults, especially her mother, who basically set up the entire kidnapping, because she wants Sezim to continue tradition, in a society that views women as inferior to men, and whose only job is to be a housewife and mother without any major ambitions. Thankfully, not all societies are like that.
Its flawed, and most of the characters are unsavory, but Turdumamatova makes it a worthy watch. And it also is a call to action, to help save other women from being forced into an awful situation. So, it mostly succeeds on that level.
On My Mind (director Martin Strange-Hansen, Denmark, 18 min)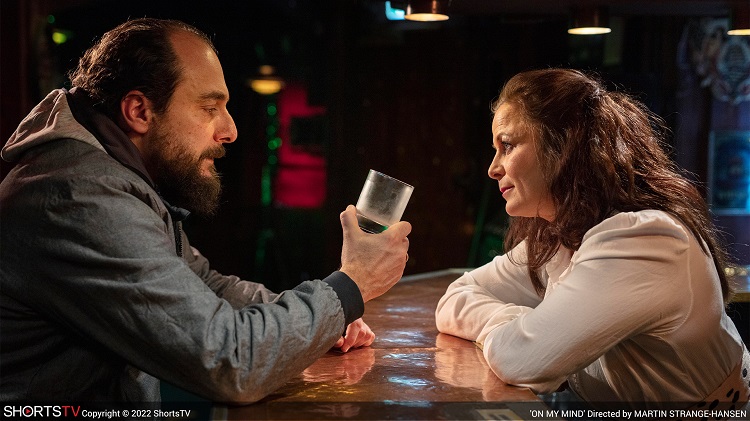 This poignant tale has Henrik (Rasmus Hammerich), an ordinary man who walks into a bar with a simple goal: to record the song, "Always on My Mind", on an old karaoke machine for his dying wife, Trine. There are a few setbacks: his own stage fright, and that the owner refuses to turn on the machine. But with the help of a friendly barmaid, he is able to finish the song and take it to Trine, as a final gift before he has to pull the plug.
I really did like this film because it doesn't place judgment on anyone. We deal with tragedy on a daily basis, especially during the ongoing pandemic, and we find ways to make peace with it. The only problem I had with it is that we don't get to spend more time with Henrik. The character seems like a really thoughtful and sweet man just trying to make peace with loss and his wife's illness.
Please Hold (director Kristen Davila, USA 19 min)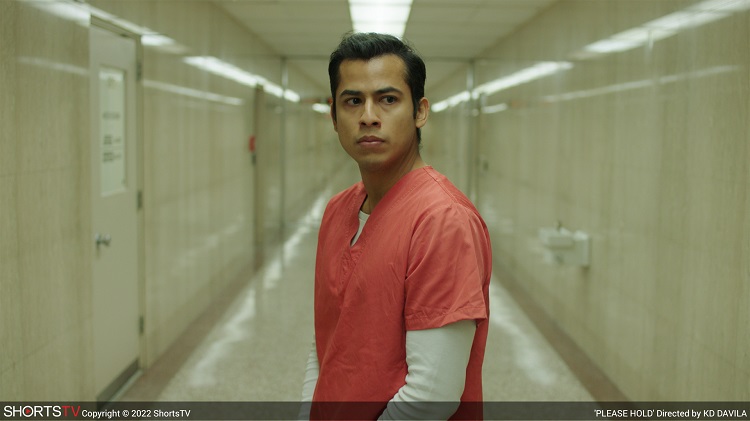 This hilarious and darkly prescient film tells the story of Mateo (Erick Lopez), a man just walking down the street when he gets arrested by a police drone for no apparent reason. He is escorted to prison where he must plead guilty to get a lighter sentence, even though he doesn't know what he did to get put there.
He tries to get help from his parents, which does work out but only to a limited extent, especially when his minutes (and money) run out. He has to bide his time by knitting to make money, but it becomes too much for him, and that makes him eventually gives in. But he is released, now to live the rest of his life as an ex-convict.
We don't really know what Mateo did to get sent to prison, but that's not the point. The cleverness of the film is more centered on the flaws of the future and the so-called advanced technology, and how truly warped the justice system is, where innocent people are put in weird situations simply out of inconvenience.
Lopez is definitely a revelation. You feel his frustration and have total sympathy for him as he deals his increasingly bizarre plight. His mannerisms are great too. As far as short films go, this one is a winner.
The Dress (director Tadeusz Lysiak, Poland, 30 min)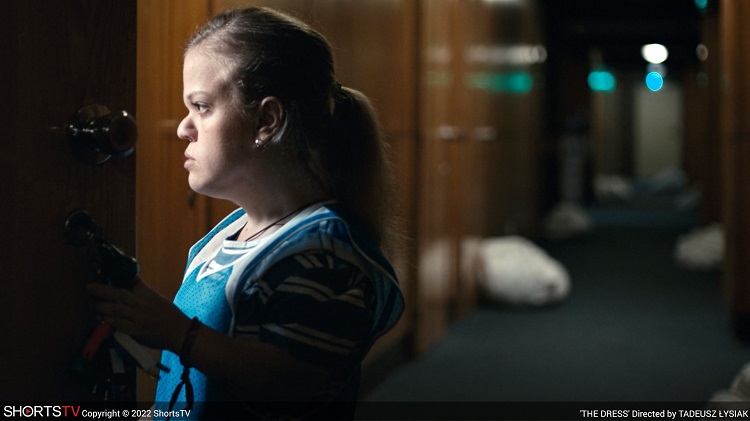 A unique but troubling film centering on Julia (Anna Dzieduszycka), a lonely maid who happens to be a little person. She spends her days working at her thankless job and dealing with the fact that she's different. Unfortunately, society definitely lets her know that she will be never normal. However, she finds solace with handsome and seemingly nice truck driver Bogdan (Szymon Piotr Warszawski), who sees past her height. They have beer at a bar and eventually sit in his truck. They start to have sex, which seems innocent enough, until he suddenly gets violent and calls her a midget (a terrible word by the way) in the process. She basically realizes that he is just as awful and irredeemable as the rest of society. To make matters worse, she goes to confront him, but has a naked woman in his room, one who isn't little.
I like (and didn't) the film. I love it because you don't get films about the trials and tribulations of little people too often. We need more of this, specially to get a teaching lesson of never condemning people because some of them are born different, and to never judge a book by its cover, because that particular book may have some really rough edges. I didn't like it especially with the sex scene near the end. It's basically a rape, and Julia obviously didn't deserve it. She wanted to love and be loved but didn't experience it the way she hoped. It's well-acted but a tough watch.
The Long Goodbye (director Aneil Karia, UK, 12 min)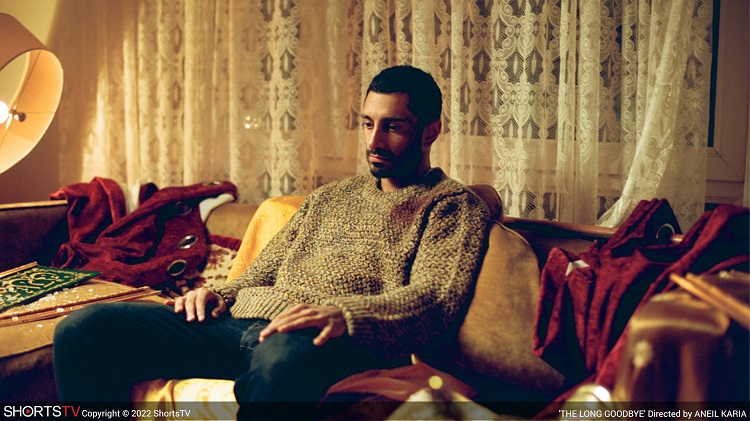 Riz Ahmed stars in this unpleasantly realistic short film where he and his family are preparing their home for a wedding celebration. That celebration is cut pretty short when right-wing gangs violently round up the family. Riz is injured, and many of his family are either shot or taken away. As he tries to make sense of what just happened, he raps to the camera about the human condition and why people have to have so much hatred on their hearts.
At first, I thought the film was too short and we don't ever get the chance to really know Riz and his family, but I what I found was a powerful and all-too-real depiction of racism and anti-immigrant ignorance. It also shows that Ahmed is a definite force of nature and a star in the making, especially after his Oscar-nominated performance in Sound of Metal.
These five short films are all earn their acclaim, so I really can't choose only one. They all have relevant themes, such as misplaced tradition/gender roles, grief, a questionable future, how society view a certain community, and Islamophobia.