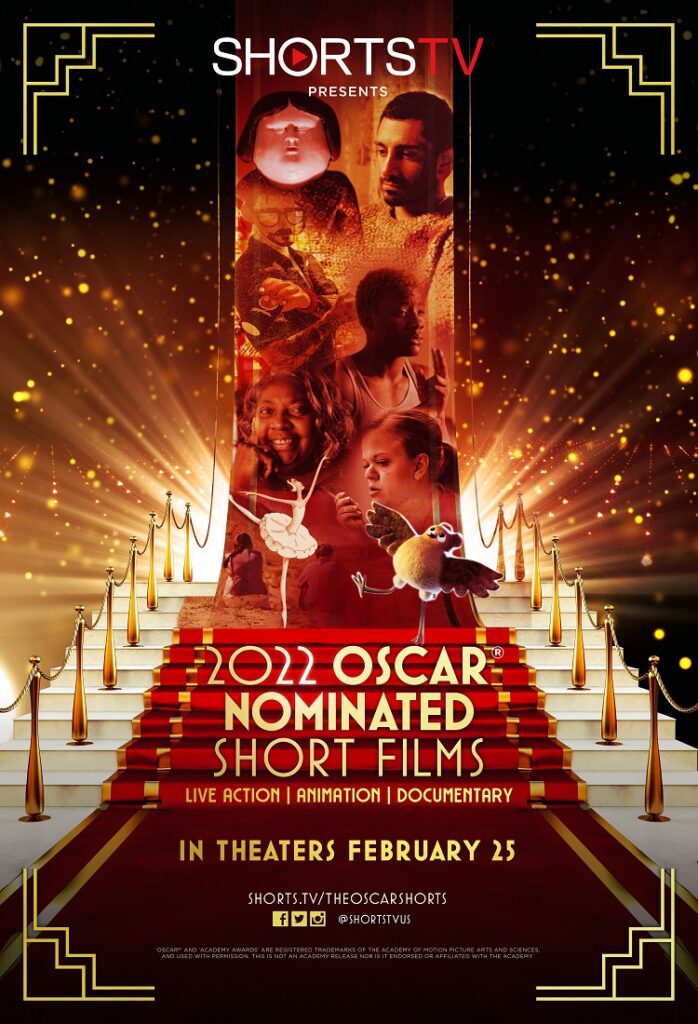 ShortsTV presents the 17th annual Oscar Nominated Short Films theatrical releases. Spanning the categories of Live Action, Animation, and Documentary, the short films will be available in theaters across the U.S. and Canada starting February 25, 2022. To learn more about the participating theaters and how to purchase tickets, please visit https://tickets.oscar-shorts.com/. The program will be available only in theaters for the first four weeks and then will also be available on VOD via iTunes, Amazon, Verizon, and Google Play beginning March 22, 2022.
Affairs of the Art (director Joanna Quinn, UK/Canada, 16 min)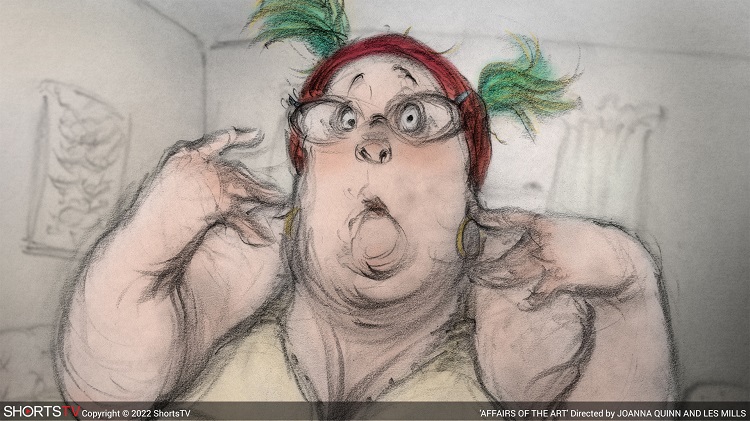 Beryl is 59 years old, lives with her husband, Ifor and adult son, Colin, and dreams of being an artist. She shares a series of remembrances, some featuring her sister Beverly, who goes from an ugly ducking as a buck-toothed child fascinated by insects to a tanned swan in Los Angeles under a plastic surgeon's knife. The whole family are odd balls, but Beryl has great spirit.
Affairs of the Art is the latest installment in a series of animated shorts by director Joanna Quinn and producer/screenwriter Les Mills starring Beryl, who first appeared in Girls Night Out (1987). This was my introduction to Beryl and the series. The hand-drawn animation is interesting as the figures are drawn with soft, penciled lines rather than a sharp, inked lines. While adding fluidity to the characters' movements, the drawings look unfinished. Stylistically, it works better during the flashbacks, but then aren't we all unfinished to an extent in the present? Something that doesn't work is an effect that alters the brightness of the film throughout, like a sporadic shading filter, which is distracting as it creates a flickering of the image.
Bestia (director Hugo Covarrubias, Chile, 16 min)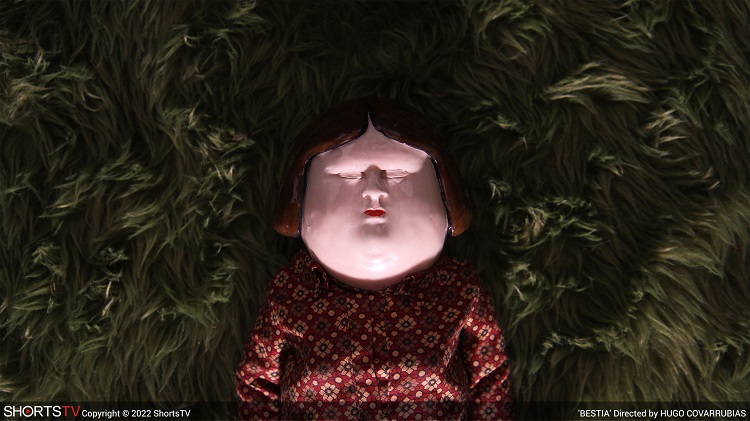 Bestia is a stop-motion film without dialogue uses figures that look like ceramic dolls. The main character is a woman who works as an interrogator for her country's secret police and seems to be living a regular life at home. Unfortunately, Covarrubias undercuts the makings of a compelling story by grinding the film to an immediate halt when the relationship with the women and her dog becomes sexual. It was hard to pay attention to the rest of the film and left me puzzled why this was the best way to comment on the character.
Boxballet (director Anton Dyakov, Russia, 15 min)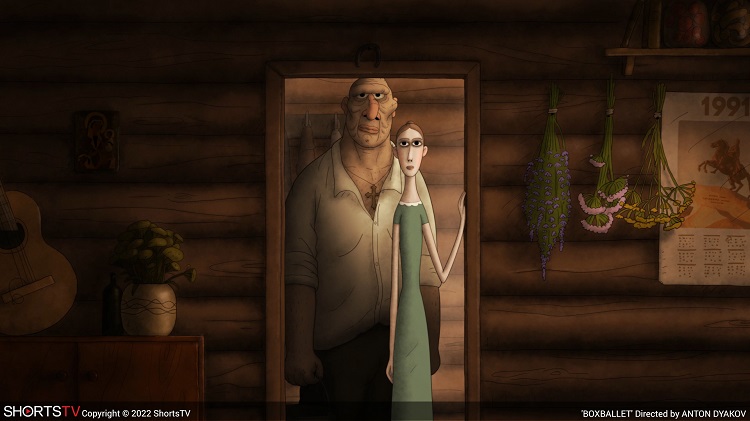 Appearing to be hand drawn, Boxballet brings together up-and-coming ballerina Olya and boxer/punching bag Evgeny, who live in the same apartment building. She is drawn small and sleight, and moves gracefully. He is large man with a face and body misshapen by taking so many punches. It's a common romantic tale as these characters from disparate worlds come together, but will the culture clash be too much for them?
Robin Robin (director Daniel Ojari & Michael Please, UK, 31 min)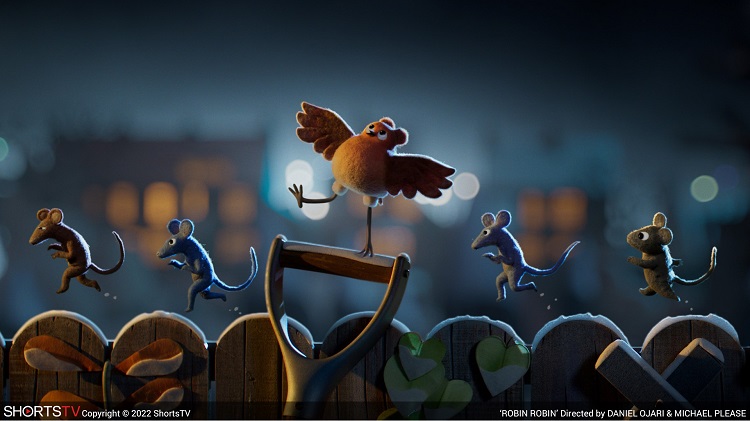 Aardman Productions presents a sweet, Christmas-adjacent story about a young bird accepting herself and finding her place in the world. The egg of the titular character falls out of its nest and when it hatches, it does so in front of a family of mice that adopts her. The mice feed themselves on the scraps they get from sneaking into the houses of humans (pronounced "Who-mans").
However, Robin is not good at sneaking. Her greed causes her to attempt to steal an entire sandwich but she ends up causing a commotion, causing them to rush out of a house with nothing. Robin is determined to prove herself a good mouse and leaves her family behind to get them food. She encounters a wounded magpie (voiced by Richard E. Grant), who offers some help to her but he has his own goal, and a cat (voiced by Gillian Anderson) who thinks Robin would be a lovely snack.
The stop-motion animation is impressive and the story, albeit familiar, is a good one. Set to air on Netflix, Robin Robin is a fun film for families to watch together.
The Windshield Wiper (director Alberto Mielgo, Spain, 15 min)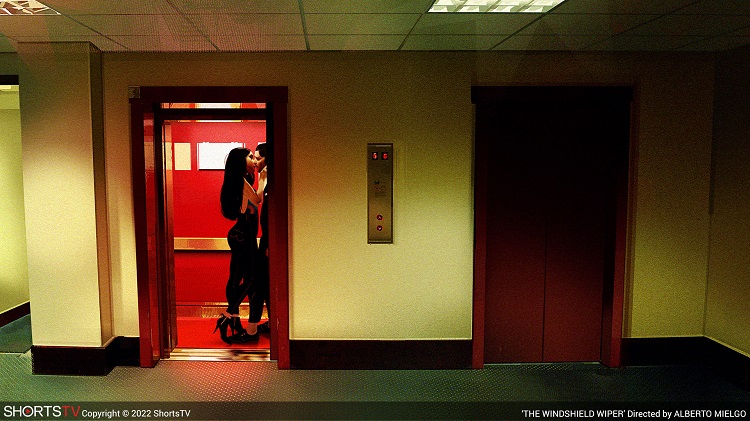 After a man in a cafe asks "What is Love?", the director presents a series of vignettes about love and relationships. Many, if not all, should be familiar to viewers, including the one that takes an unfortunate dark turn. The art is amazing, and appears as if (pardon my technical jargon naivete) there is CGI rotoscoping taking place a la Ralph Bakshi because the detail on some character and setting is amazing.
Not sure how Academy voters will see it, but based on the animation alone, The Windshield Wiper would get my vote.