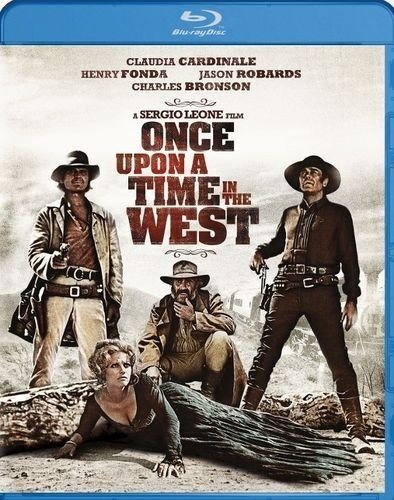 The last day of the festival is always started with a mix of emotions, sadness that it is almost over and a bit of gladness due to the film fatigue that has set in. This year it was mostly sadness since there had been so many great movies, and I wasn't ready to stop seeing more.
Luckily, the day started with one of my most anticipated films, Once Upon a Time in the West (1968). I am so grateful that I waited to see this for the first time on the big screen. It is stunning and truly one of the most beautiful westerns I have ever seen. John Sayles introduced the film, which was a huge treat, and he talked very lovingly about it. Not only is it gorgeous to look at, it also has a fantastic cast including Henry Fonda, Charles Bronson, and Jason Robards.
Frank (Fonda) is a hired gun sent to kill a family in order to take control of their land. Unbeknownst to Frank, the head of the family had recently married and when his widow shows up, she enlists Cheyenne (Robards) and Harmonica (Bronson) to protect her newly inherited property.
Fonda was mesmerizing as the villain, a role that takes a while to get used to since it is so out of character. Robards was the highlight for me. While I have always enjoyed him as an actor, his comedic relief here is desperately needed. I was also pleasantly surprised by Bronson. Known for his preference of action over dialogue, it really works here with his contemplative performance. Being able to see this film on the big screen in all its glory is why this festival is so special.
Next on my agenda was Places in the Heart (1984) with an introduction featuring Sally Field, who won an Academy Award for Best Actress for this performance. Field provided interesting background on the making of the film, such as having three weeks to rehearse and her insistence on using her own hair rather than a wig since your hands don't move through your hair the same as with a wig. This story doesn't really hold up today, but the performances make it worthwhile.
Set in 1935 in a small Texas town, Edna Spalding (Field) loses her husband, the sheriff, after an accidental on-the-job shooting. This leaves her to try and save her farm in the midst of the Depression while caring for her two young children. She ends up relying on two unlikely heroes, a blind boarder (John Malkovich) and a homeless black man (Danny Glover).
The film was released during a time when the United States was emerging from a major farming crisis and that seemed to be what garnered its initial attention along with the fierceness of Field's character. The most disturbing and powerful part of the film to me was the racism aspect and Glover is clearly the standout performance. What is most upsetting is how little ground we have gained since 1984.
I decided to end the festival with something a little more upbeat. I knew Silk Stockings (1957) featuring one of my all-time favorite actors, Fred Astaire, would bring lots of smiles. Steve Canfield (Astaire) is an American producer who convinces a Russian composer to work with him on his next movie in Paris . This doesn't please the high officials in Moscow who send three operatives, Brankov (Peter Lorre), Bibinski (Jules Munshin), and Ivanov (Joseph Buloff) to retrieve him. When these three are unsuccessful, Nina "Ninotchka" Yoschenko (Cyd Charisse) is then sent after them. Upon her arrival, it is up to Canfield to romance Ninotchka to save his film and allow them all to stay in Paris.
I had never heard of this Astaire film going in and admittedly, it is not one of his best. However, Astaire and Charisse have amazing chemistry and dance beautifully together. There are several great dance numbers featuring music and lyrics written by Cole Porter, most notably "Stereophonic Sound". Additionally, Munshin is always a delight, and Peggy Dayton, who plays Astaire's leading lady, shines in every scene she is part of.
My eighth year of the festival was my favorite, yet I probably think that at the end every festival. Of the thirteen films that I attended, there weren't any that I regretted seeing but instead there a few I really wish I could have fit in or had been in different time slots to be able to see them. The keys for me are seeing films that I have always wanted to see, those that need a big-screen viewing, and those that I know I love but have never seen in a theater. It is also fun to find new-to-me films featuring my favorite stars whose entire catalogue I thought I had already seen. This blend results in the most satisfying experience along with seeing some discussions of people I admire or find interesting. They often set the tone before a film which enhances the enjoyment of the viewing. The 2019 festival can't come soon enough!