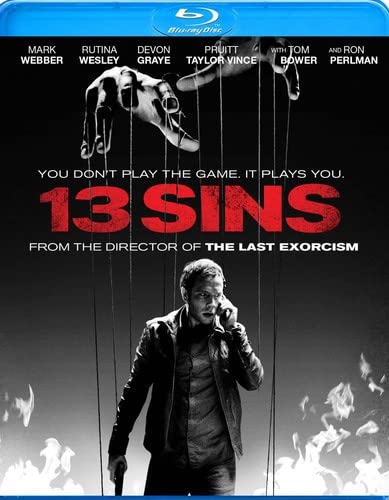 The Game. A Simple Plan. Fight Club. Eagle Eye. Saw. If you liked any or all of these movies, there's a good chance you'll like 13 Sins. It pleasantly surprised me with its cathartic take on what people do to escape increasingly desperate situations.
Elliot (Mark Webber) is like many of us — he's got more responsibilities and obligations than his time or bank account will allow for. Things get worse when he's unexpectedly let go from his job with a wedding to plan with his fiancee Shelby (Rutina Wesley), a disabled brother Michael (Devon Graye) to look after, and an aging father (Tom Bower) to care for. Just as he's about to lose control of it all, his phone rings, and a stranger on the other end offers him $1000 to kill a fly buzzing around in his car. Elliot plays along, expecting it to be a joke, but the money immediately shows up in his bank account after completing the task.
This sets in motion a series of "challenges" that the stranger gives him to complete, each entailing more risk, but is also worth more money, ultimately saddling him with $6.2 million if he completes all 13 challenges. The first few are rather innocuous, moving from personal discomfort to bothering others and committing vandalism, then gradually widen in scope and consequences to the point that several people may be injured or killed. It'd be a shame to spoil what any of the challenges are since they're cleverly conceived, sometimes explained to Elliot in a misleading way, and often have unforeseen or problematic outcomes that Elliot must contend with if he's to keep playing the game, including eventual police involvement and investigation (Ron Perlman).
I love a good "What would you do?" scenario in a movie, where the viewer can query their own moral compass and decide whether they'd think the risk was worth the reward. Throughout Elliot's transformative journey of deceit and discomfort, he gets a sense that the "game" of which he is a part is somehow bigger than himself, and I love the fact that it doesn't play out in some contrived way where he's the ultimate hero who brings the whole show crashing down. At the same time, he is not remarkable in the fact that the was chosen to participate. He's an average guy who can think on his feet with a lot to lose if he can't come through. As the odds stack up against him, he doesn't simply devolve into some sub-human monster, blind to the unspeakable things he is eventually asked to do. He retains his humanity throughout, despite the changes he faces along the way. This made me really like him as a protagonist and sort of anti-hero. There are a couple of moments that seem like a stretch, but overall, the plot holds up well and the pacing is good. It kept me guessing as to if and how Elliot would keep facing challenges.
The Blu-ray looks and sounds as you'd expect, sporting 1080p picture and DTSHD-MA audio, with optional Spanish subtitles. Also on the disc are feature commentary with the writer/director and the three leading men in the story, a Making-Of, an alternate ending, deleted scenes, and "Anatomy of a Meltdown" featurette. The deleted scenes were rightfully taken out of the story, as they would have bridged some of the moral and ethical leaps Elliot was unwilling to take in the final cut, and would have made him more reprehensible, mitigating his chance at redemption. The alternate ending is actually pretty interesting, though it may seem more far-fetched. It's definitely not what I expected for an alt ending, either, and offers many more questions than answers.
I found myself wanting to watch it again almost as soon as I finished it, not because I'd pick up on something missed the first time or have a different angle on it the second time through, but because it was just well put together and kept me on my toes. If you're up for a sometimes gross and occasionally ridiculous mind-bender of suspense, I'd recommend checking out 13 Sins.