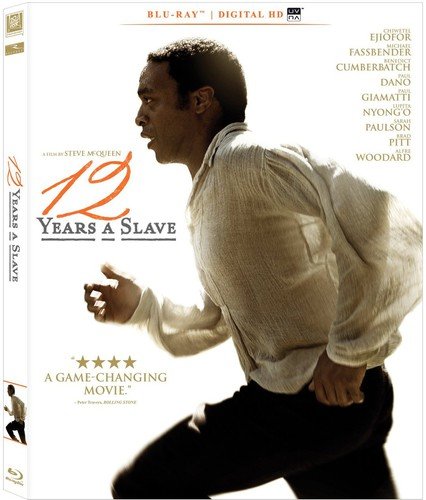 The 86th Academy Awards show was on last night. It was watched by a lot of people. Usually I'm one of them. But this time I did my taxes. Or rather my friend who used to be an accountant did them. We've been trying to find a time that we could get together and get them done for weeks now. But bad weather, busy schedules, and sick kids have caused us to reschedule and reschedule again. So last night, even though I really do love the Oscars, I turned off the TV and set about my civic duty.
The upside is that while I did miss Ellen's turn as host, I will be getting a really nice refund from the government. I'll take that over a golden statue any day. We actually did get finished in time to catch the last 45 minutes or so of the ceremony so I got to see the big winners and some of the songs.
One of the big winners was 12 Years a Slave. Based on true events, the film tells the story of Solomon Northup, a free black man who is abducted and sold into slavery for 12 years. It is supposed to be a heart-wrenching, realistically violent, but ultimately heart-warming story. It's the kind of thing Academy voters eat up as they obviously did, but one that also has the critical acclaim and artistic feel that gets me all excited too.
I admittedly rarely see everything that gets an Oscar nod before the Oscars actually air, but this year I somehow managed to see absolutely nothing that either won or was even nominated. I don't even know how that is possible. I mean I very rarely go to the theater anymore, but several of the nominated films have made it to home video and I still managed to see none of them. This shall be remedied very soon, me thinks. Starting with this week's Pick of the Week. 12 Years a Slave looks like an amazing film and it's nice to see it getting Academy recognition as well.
Also out this week that looks interesting:
Doctor Who: The Time of the Doctor: The latest Christmas Special saw the end of Matt Smith's tenure as the 11th Doctor. It was full of problems, but also very entertaining. I loved Smith but am now really looking forward to what Peter Capaldi can do. Read my review.
The Hunger Games: Catching Fire: I've not read the books, nor seen the first film. I saw this one because my dad wanted to go; it was Thanksgiving break and I wanted to give the old man what he wanted. Admittedly, I likely missed a lot of stuff not knowing anything about the series, but I found this one to be about one rung above terrible.
Oldboy: It was Spike Lee's remake of the classic Korean film that I wanted to see with my dad. Not that I expect it's any good either (the reviews have been brutal) but I'm still interested to see what Spike Lee can do with the material.
Agathe Christie's Poirot: Series 11: David Suchet has now filmed every existing Poirot story in existence. How cool. This set contains "Mrs. McGlinty's Dead," "Cat Among the Pigeons," "Third Girl," and "Appointment with Death."
The Tinto Brass Collection 4 (The Voyeur, Monamour, Black Angel): From the guy who brought us Caligula and the erotic Nazi romp, Salon Kitty.
Cold Comes the Night: Bryan Cranston stars as a nearly blind gangster who takes a motel owner and his daughter hostage to help him retrieve a package. I've never heard of this, but I'm always willing to give Cranston a shot.