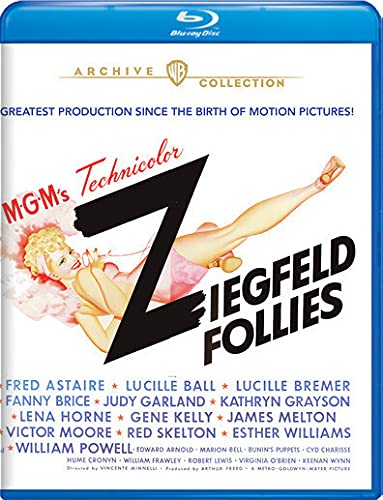 While movie musicals typically follow a paper-thin plot as a device to string together their songs, this oddity ditches the plot conceit and just serves as a musical and comedy revue. Its only attempt at explanation is a brief opening segment starring William Powell as Ziegfeld, reprising his role from The Great Ziegfeld nearly a decade early. Ziegfeld, now in Heaven, reminisces about the good old days and yearns to put on just one more show of his famous production, the Ziegfeld Follies, but this time featuring only the biggest and best Hollywood stars.
The resulting production definitely delivers the biggest and best stars, but their numbers are almost evenly split between hits and misses. Additionally, to deliver the full Follies experience, some of the acts are comedians, not singers and dancers, dragging the film down every time we have to endure their antics in between quality musical numbers. The four comedy bits add up to about a half hour, but they feel much longer. Two of the acts didn't achieve lasting fame so are largely forgotten now, but the other two are Red Skelton mercilessly mugging his way through a solo skit and Fanny Brice teaming up with a youngish Hume Cronyn. None of them are uproariously funny, which makes their inclusion all the more baffling considering that the film originally had three hours of content before they cut acts to get down to two hours. They could have cut another half hour to ditch the comedians and the movie would have been stronger.
In the so-so musical category, Esther Williams does her swimming thing, but unusually, does it entirely solo and without much pizazz. Lucille Ball briefly stars in a massive production number where she doesn't speak, sing, or dance, instead just strutting around as she cracks a whip while surrounded by a bevy of female dancers dressed up as devils. There's a lavishly produced opera number, but still, it's opera so hopelessly out of place here. And then there's this: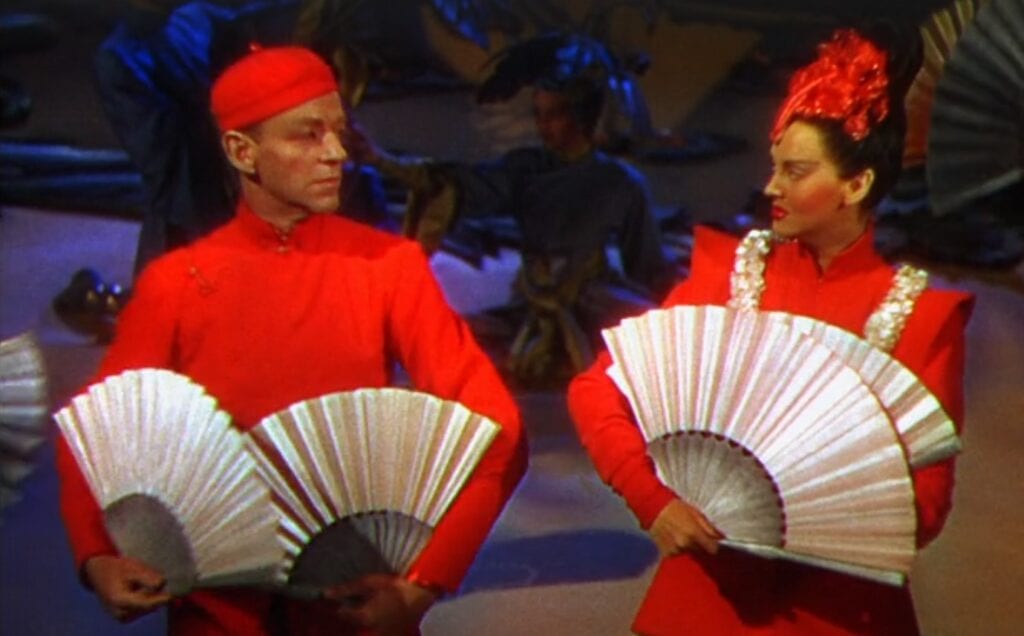 Yeah. That's Fred Astaire with Lucille Bremer playing Chinese characters and performing a fan dance. Yes, they even had their eyes altered to complete the ill-advised illusion. To their credit, their choreography is very tight, but still, it's a lot to digest. At least Astaire didn't also perform in blackface this time around, although the only performer of color in sight, Lena Horne, is unfortunately ghettoized into performing her number in a club filled with only black extras. These two numbers leave no doubt that the film is a product of its time.
The biggest winners are largely at the end of the film. There's an intriguing and accomplished stop-motion puppet segment near the start, decades before Rankin & Bass. Astaire and Bremer team for another huge number near the middle that is a high point of the film, helping to make up for their massive Chinese low later. Then the final three acts are Judy Garland with lots of male backup dancers, Astaire and Gene Kelly performing together for the only time other than their end-of-life team-up in That's Entertainment II, and Kathryn Grayson singing about the Follies while surrounded by elaborately attired Ziegfeld girls.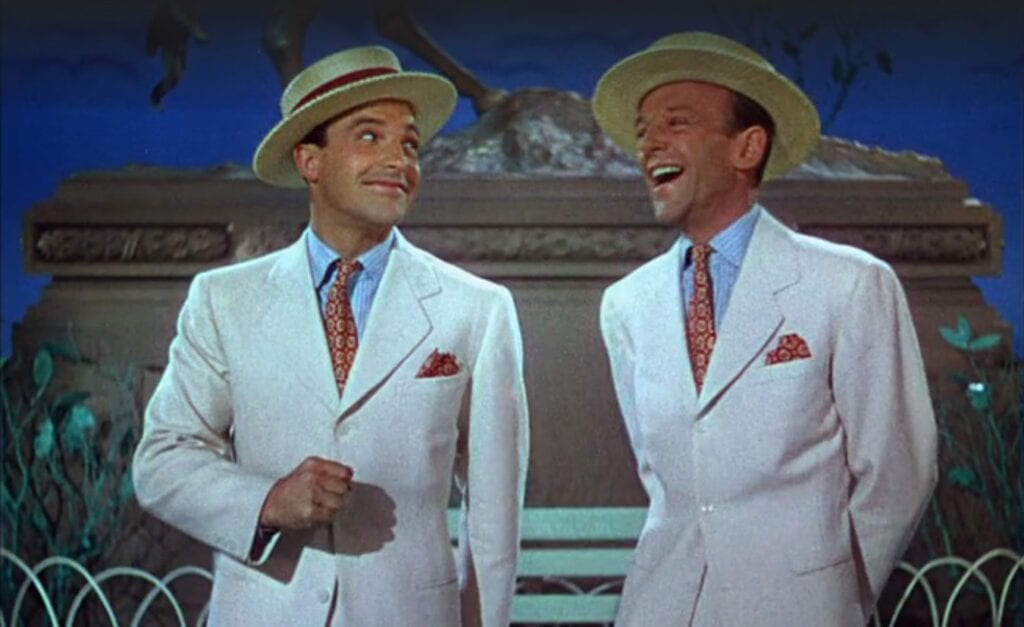 The new Blu-ray features a pristine print that is a major improvement over the prior debris-riddled version still currently in circulation on digital platforms. Colors remain consistent and adequately vivid for the film's vintage. Sound is delivered in a robust two-channel DTS-HD Master Audio mix, also devoid of defects.
Bonus features are well above average, led off with an informative making of featurette about the film. Next up is a full 20+ minute short film about a man who accidentally kills his wife before purposely killing another guy to steal his identity and disappear. Unfortunately, he soon learns that he has suddenly come into a large sum of money that will solve all of his problems, except that he has to resume his actual identity to claim the funds. The disc also includes two classic cartoons, one by Tex Avery and the other a Tom & Jerry by Hanna and Barbera. Finally, although we don't get to see any of the deleted scenes, the disc contains a total of ten audio-only tracks featuring deleted scenes and alternate takes.
There's clearly plenty of entertainment contained in the film, especially without any of that pesky plot to worry about. While it's not consistently enjoyable, the overwhelming caliber of talent and the many high-quality production numbers make it a worthwhile curiosity. Ziegfeld Follies is now available for purchase. For more information, visit the Warner Archive website.