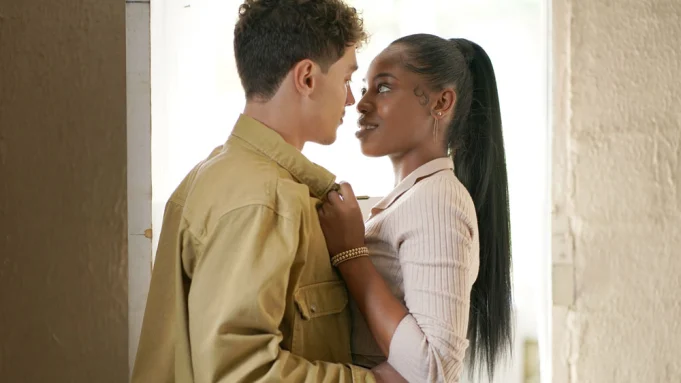 Writer/director Bryian Keith Montgomery Jr.'s makes a notable feature-film debut with Cinnamon, a captivating neo-noir filled with well-plotted twists.
Jodi (Hailey Kilgore) works at a gas station owned by Wally (Damon Wayans). A motorcycle-helmeted robber appears just before closing. Not only does he rob the cash from register and safe, he kills a customer and takes the man's duffel bag. Viewers will learn there was a lot more going on than appeared.
Then plot jumps back three months, when former classmates Jodi and Eddie (David Iacono) reunite on a bus. She wants to be a singer, who uses the stage name Cinnamon. He's a crook. They fall in love quickly and he wants to take her to Los Angeles to pursue her music career and be her manager. To get the money for their trip, they decide to rob her gas station.
Wally is not the sole owner of the gas station. He has partners, James (Jeremie Harris) and his mama (Pam Grier), who own 49%. They question how well Wally is doing and think he is stealing from them. Wally claims his girlfriend received an inheritance. They want to buy him out completely, but he refuses.
After the robbery, Wally calls James to the gas station. Turns out the customer killed was James's brother. He went there for a covert cocaine deal and now James wants to know where his stuff is. His quest for answers reveal a number of secrets.
Montgomery's script is the stand out, doling out enough plot to engage the viewer in the moment, then later revealing what's actually taking place, demonstrating how in command he is as a writer. The twists are all believable as the actions ring true of the characters.
As a director, he has cast a talented ensemble. The young leads are authentic as a couple struggling to find their way. Grier is menacing with hardly speaking a word. Her looks and her presence strike fear into other characters, and when she springs into action, look out. Wayans is amusing as his weaselly character but doesn't stray into comedic performance. He seems of this world.
For crime fiction fans, Cinnamon is a movie to seek out and it signals Bryian Keith Montgomery Jr. is a filmmaker to keep an eye on.