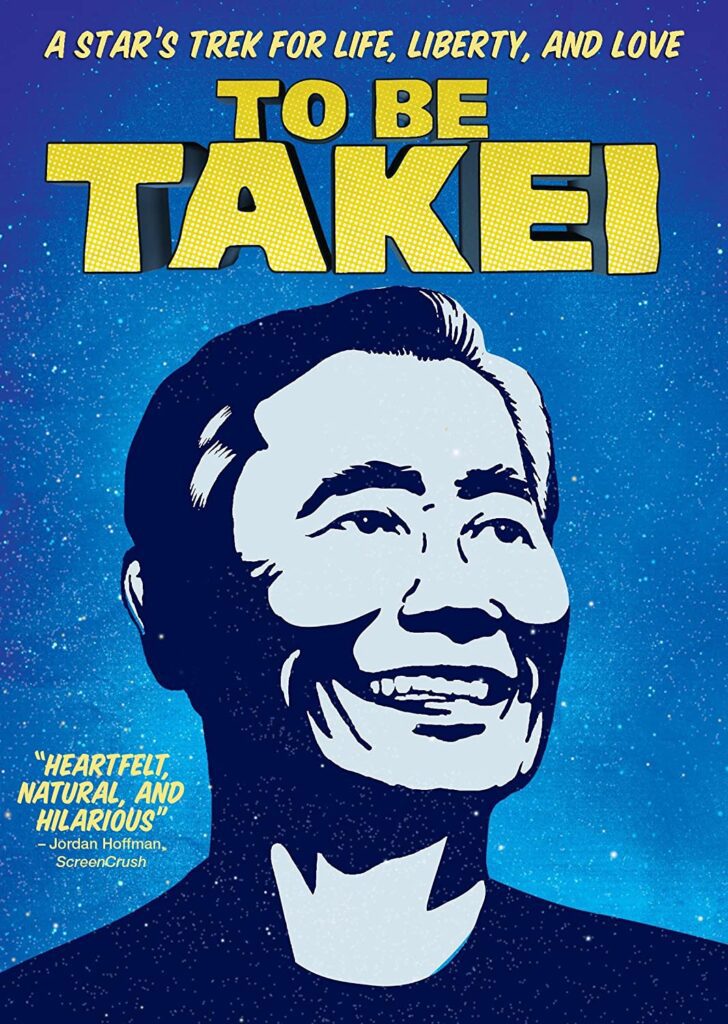 The new documentary To Be Takei looks at the fascinating past and exciting present of the one and only Mr. Sulu, George Takei. Cinema Sentries' Adam Blair caught up with the documentary's director Jennifer M. Kroot, who revealed the intricacies involved in getting an interview with Takei nemesis William Shatner, and how Takei's relationship with husband Brad Altman unexpectedly became an important element in the finished film, which is being released in select cities, VOD platforms and on iTunes August 22.
How did you get involved with this project?
I was always a Star Trek fan, but I didn't really follow the actors as they did subsequent things in their careers. But in 2005 when George came out, I noticed that he had a really interesting, honest, charming ability to laugh at himself as well as do activism, and I was both charmed and intrigued by that. Then I read his autobiography, which covered his experience being imprisoned in an internment camp as a child, and I just couldn't believe it – even though I knew that this had happened [historically], and it made perfect sense that it would have happened to George, I just couldn't figure out how the U.S. government could have imprisoned Mr. Sulu as a five-year-old.
All of the things in his life – being involved in one of the biggest pop culture phenomena ever, facing prejudice as an Asian-American actor, then being closeted, coming out, becoming an activist, with the backdrop of being imprisoned and interned – I just desperately wanted to connect all of those dots.
Did you know George or his husband Brad? How did you actually get started?
I wrote a letter to his agent to see if there was any interest in doing a documentary; I had just finished doing one on George and Mike Kuchar. The agent had been a fan of that previous film, so he set up a meeting between me and George and Brad. We had several meetings over a period of maybe six months, and then we started filming – it didn't happen all of a sudden. Even when we started shooting, they weren't 100% agreed on its becoming a documentary – they wanted to see some of the footage and see the quality. But after a while they let go of editorial control. The whole film was put together over a long period of time; it took about three and a half years, filming off and on.
How did the focus on George and Brad's relationship become part of the story?
I hadn't known anything about Brad, and when I met him I was a bit more intimidated by him. I was star-struck by George but intimidated by Brad, because he's really the manager who organizes everything, including the person, and the brand, that's George Takei. As he says, he has to be the OCD Klingon. Well, you have to be somewhat OCD to make a documentary, so I share that controlling aspect with him.
George seemed much more comfortable with the kind of vagueness that a documentary can entail; Brad wanted to know much more about the subjects we'd be looking at, how long it would take, which people would be where, what he had to do – he wanted to know all the details.
Early on, maybe even the first day we filmed, I saw their dynamic. At first it was 'Oh no, what's going on here?' Then I realized it was a really interesting way to reveal this person's intimate life, this kind of incredible enduring relationship. It's comfortable, but they have their bickering, they're not shy about it. It's a portrait of a long-term gay couple and showing just how normal that is.
As you've said, George's life has a lot of different aspects to it. Was it hard to find the balance of all of them, and keep all the threads alive during the editing process?
It was really challenging. It's a complicated puzzle, and I think of editing as a puzzle – a different director would have put it together differently. I had such a great editor, a top documentary editor, Bill Weber. This film had such a dynamic range of experiences and moods, and I didn't just want it to be a forward-moving linear story. I thought it should be about how certain things still haunt George in the present day.
When we started work, I thought his career had reignited – he had been on Howard Stern's show and started doing some PSAs – but I had no idea about the magnitude of what I was dealing with. I can believe in his success because he's great, and it's really exciting and interesting how he just kept getting bigger and bigger and crossing over into new and different elements of society, finding different ways to be recognized. It's also really nice to see an older person who is not afraid of technology, and willing to take advantage of these things [e.g. George's super-popular Facebook feed]. I think that's really hard to do.
Even for not-so-old people, it's sometimes difficult.
Exactly, it's horrible. But he has Brad's help in doing it.
What was your biggest challenge in putting this together? The interviews with other Trek cast members?
I know what you're thinking: How on earth did you get William Shatner to do this? Brad helped arrange it, and we only got 10 minutes of Shatner's time, but they were 10 incredible minutes. It was intimidating to face someone like him, and I do have a lot of respect for William Shatner. I'm on George's side [with their conflict], obviously, and I believe George, but I just think if Shatner was willing to do an interview, he's a great sport – he knew exactly why I was coming in there. He's a really intense guy, and he definitely threw me off a couple of times during the interview, but I appreciated his willingness.
You say you share a bit of the control freak aspect with Brad, but what about George's optimism, perseverance and generally positive attitude – are those important values to you?
It's an interesting question – usually people don't ask questions about a documentary director, they ask about the subject, which is one of the reasons I love them. I'd say I'm a moderately negative person, but I've never met anyone as positive as George. I wish I was on whatever he's on, and I think everybody who is around him would; I'm not alone in that.
I think I realized while making this film that I might not be as negative as I thought I was, because you really do have to have a lot of hope to put a project like this together. It's very stressful, money gets very tight at times, it takes a long time, and you can't really control your outcome. Even if a lot of things have gone really well, there are still things I can't control, and you kind of have to go with it and not lose it.
Then to see someone like George, an older person doing pretty inspiring things – that gives me hope, and I want to hang on to knowing people like that, because that's the direction where all the conveyor belts are moving for anyone.
Is anything happening with the musical we see pieces of in the film, Allegiance, about the WWII internment experience and memories of it?
George and the producers are relentless, and I'm certain they'll get it to Broadway, it's just a matter of when. They're hovering like vultures, waiting for the right theater to open up. They're outsiders to the Broadway scene, they did the big regional show in San Diego but they're newer to Broadway. But besides the importance of the subject matter to George, it would be his Broadway debut. He can be a bulldozer, so I know he's going to get there. There are no firm plans yet, but they're always scheming and connecting, and they're getting very savvy about the politics of it. I'm so glad I don't have to do it!