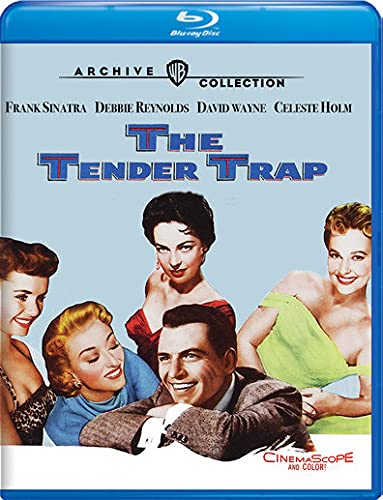 Frank Sinatra plays a wealthy Broadway talent agent named Charlie whose chief talent seems to be adding girlfriends to his expanding roster of conquests. When his old married friend Joe (David Wayne) comes to town from Midwest suburbia, the two engage in frank discussions about the merits of being a playboy as opposed to a husband. Charlie has no intentions of settling down, while Joe envies his friend's rotating collection of beauties. Joe finds special interest in Charlie's wise lady friend Sylvia (Celeste Holm), while Sylvia appreciates the devoted attention Joe pays her, in stark contrast to Charlie's fleeting affection.
When young ingénue Julie (Debbie Reynolds) becomes the latest talent Charlie scouts, both for a Broadway musical and his harem, she throws him a curveball with her single-minded mission to find a husband, especially when she professes no interest in him and rightly calls him too old for her. It's obvious how the superficial main story will end up, although the nuanced B story between Joe and Sylvia leaves enough in question to make it interesting to see to its conclusion.
The MGM film is not a musical, although it relies on its title track so much that it's sung a total of five times throughout the film. Instead, it's based on a mostly dramatic play, and it shows, with almost the entire film taking place in Charlie's swanky Manhattan flat. The dated attitudes are a bit hard to take in our more enlightened era, with Joe admiringly referring to Charlie as a sheik and sultan due to his bevy of beauties, Charlie referring to his many girls as tomatoes with about as much attention to their individual merits, and Julie stating that a woman is nothing if she's not married. Still, the performances are charming and it's worth seeing the fine acting roster playing off each other.
Sinatra seems to enjoy his role as a womanizing cad, leaning into his hard-partying character. Reynolds is delightful as ever in her depressingly one-note, marriage-obsessed role, while David Wayne brings some gravitas and a sense of the fracturing of the American Dream façade as the weary married man. Overall though, Celeste Holm steals the show with her knowing, sly performance as the aging single lady tired of the dating rat race but strong enough to not gladly settle for any marriage offer thrown her way. Thankfully, she got a do-over with Sinatra the following year in the more widely known High Society.
The Warner Archive Blu-ray features a brand new 2021 1080p HD Master sourced from a 4K scan of original camera negative. As a result, it's a very clean print with no evidence of debris or scratches, however the film grain is clearly on the high end and the colors don't really pop. The graininess is somewhat odd considering that footage from the film included in the unenhanced bonus features seems much clearer, although riddled with defects. The original CinemaScope aspect ratio of 2.55:1 is retained, ensuring full visibility of the film as it was originally intended, although a questionable creative choice since the film is mostly a one-set interior play. Sound has been enhanced to a pristine DTS-HD Master Audio 5.1 track, nice to have but again mostly overkill for the interior-set film.
The best bonus feature is a 15-minute look at Sinatra's career in the 1950s, contrasting it with his superstar singing status as a dreamy teenybopper idol in the 1940s and his lazy Rat Pack output of the 1960s. The theme seems to be that he was at his purest essence in the 1950s, as he had escaped his original studio contract that only offered him lightweight fare, experienced failure, and clawed his way back to relevance with movie roles more suited to his tougher persona. The only other bonus features are brief excerpts from an MGM TV variety series in the 1950s, one with Debbie Reynolds answering a few questions about the film while it was in production, and the other of the host talking up the film prior to its release.
While the film leans too heavily on its original source material as a play to be an essential classic film, it's a satisfying trap for fans of the cast. The clip below from Warner Archive includes the full original opening of Sinatra singing the title song on what appears to be the drained Paramount "Blue Sky" backlot water tank used for seafaring films. For more information and a gallery, visit the Warner Archive website.