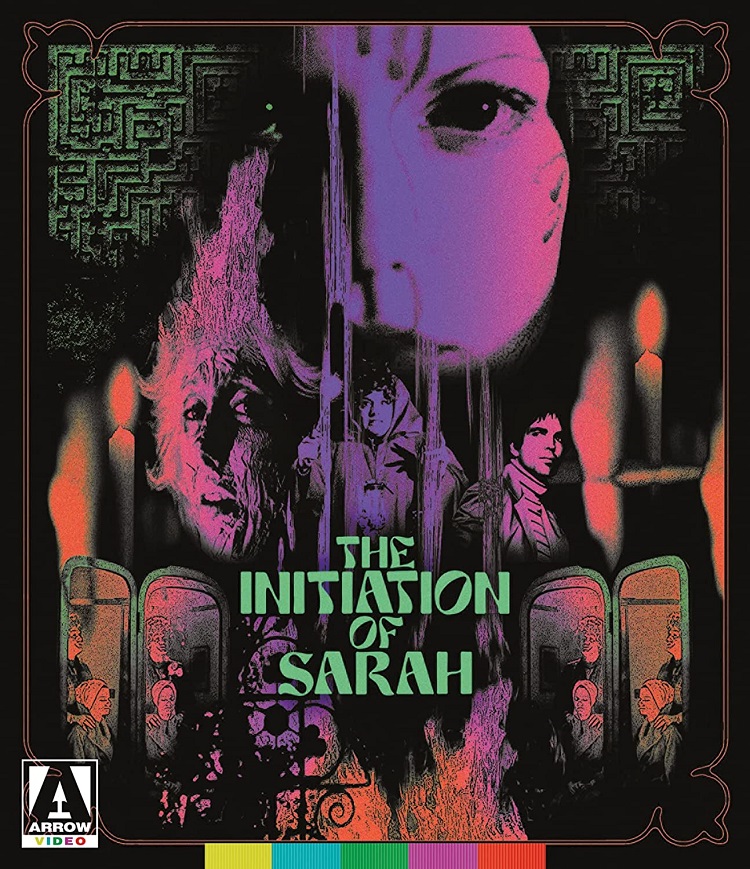 In 1976, Brian De Palma released the supernatural horror movie, Carrie. Based upon Stephen King's first published novel of the same name, it stars Sissy Spacek as the titular Carrie. She's a shy high school girl who is constantly mocked and bullied by her peers whom she unleashes her psychic powers upon one prom night, destroying the school in the process. It was a huge critical and box office hit. It made some $33 million off of a $1.8 million budget and both Sissy Spacek and Piper Laurie were nominated for Academy Awards.
Naturally, the success of Carrie led to numerous imitators and outright copycats, a surprising number of which were made-for-TV movies. Or, I guess since psychic powers can be displayed pretty easily on a low budget it makes perfect sense that TV latched onto that particular genre. Arrow Video is releasing one such made-for-TV Carrie rip-off, The Initiation of Sarah (1978).
This one moves the setting to college and the mean girls are sorority sisters. It leans a little heavier into the occult angle, but leaves out the overly religious mother. Due to the constraints of television, you won't find any naked shower scenes or any real sexuality at all, and the violence is of the non-bloody or gore-filled variety. This doesn't mean that they don't do their darndest to keep pubescent boys watching. The film begins with a bikini-clad beach party, the collegiate first day run-down is held in a dorm room where half the girls are in their underwear, and there is one of the more ridiculous shower scenes I've ever seen in a film. It might be made-for-TV but they sure do try to make it sexy.
Kay Lenz plays the psychic girl, Sarah Goodwin, and Morgan Brittany is her sister Patty. We meet them at that beach party which is a send-off for the girls and their friends as a last hurrah before college. Some beefcake starts aggressively harassing Patty and after a few close-ups on Sarah's very serious face, the boy gets knocked down by some unseen hand.
The two sisters then take off to college where they immediately attend all the sorority house mixers to try and determine where they will belong. The mother (Kathryn Grant) in this film is not at all religious but is more like a former mean girl who also attended that college and was a member of Alpha Sigma Nu, the most popular sorority on campus, and remains active in the alumni association. Patty, who is pretty, fashionable, and outgoing is immediately liked by the sorority girls. But Sarah is less pretty (in this imaginary pretend world where a woman that looks like Kay Lenz is considered unattractive) and shy and is immediately dismissed. She's accepted by Pi Epsilon Delta and it's group of very chill girls who don't give a damn about sorority rituals or cool-girl status.
The head Alpha Sigma Nu girl is Jennifer Lawrence (a wonderfully bitchy Morgan Fairchild) who revels in doing things like making Patty swear she will not associate or talk to anyone who is not a member of ASN including her sister. The PED sorority house mother is Erica Hunter (a delightfully unhinged Shelley Winters), who immediately recognizes Sara's powers and tries to help her control and use them. She's not beyond a few satanic rituals and blood sacrifices if that means her sorority will become the most popular club on campus.
There is one scene completely ripped from Carrie in which Sarah is asked out by the cute popular boy. She gets dressed up and does her hair, and then is attacked by Jennifer and her sorority sisters. Instead of being drenched in pig's blood, Sarah gets pelted with tomatoes and mud, but the result is the same – utter humiliation followed by intense retaliation. Well, as intense as the TV budget would allow which is really not all that much.
It is all a bit silly and a whole lot camp, but there is quite a bit of charm to The Initiation of Sarah. Morgan Fairchild and Shelley Winters are clearly having fun and they make the whole film worth watching. Kay Lenz plays Sarah much more seriously, giving the proceedings some much-needed grounding.
Carrie is by far the better film, but after you've watched it for the hundredth time and you're looking for something else to scratch that "young girl gets her revenge with telekinesis itch," then The Initiation of Sarah might just fit the bill.
Arrow Video has given Sarah the best Blu-ray release anyone has any right to expect. The new 2K restoration from the original camera negative looks terrific. There is a new audio commentary by TV Movie expert Amanda Reyes and a nice appreciation from film critic Stacie Ponder and Queer Horror programmer Anthony Hudson that looks at the film through a feminist queer lens. Plus interviews with critic Samantha McLaren and screenwriter Tom Holland. The booklet includes a couple of essays on the film and the cover includes some new artwork.