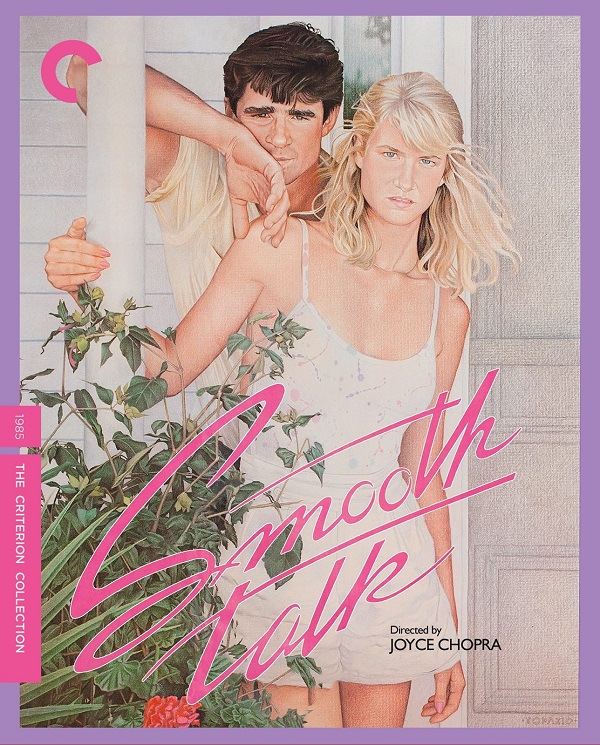 There have been so many tales of adolescence and teenage portraits of sexual and social mores than most people can shake a leg with. However, only a few of them manage to age well and provide a certain of relevancy and real-world humanity. Joyce Chopra's strangely lyrical 1985 portrait Smooth Talk, is definitely one of those films. Based on a celebrated short story by Joyce Carol Oates, it's a rare depiction of the usually stressful issues of growing up, but where teen protagonists are the not only guilty parties involved.
The great Laura Dern (in her auspicious film debut) plays beautiful teenage Connie Wyatt, a teenager spending her summertime casually walking and moping around her home and coming into her newfound awakening in the Northern California suburbs, much to the complex chagrin of her half-clueless, half-discouraging parents. 'Stranger danger' comes to a head when she encounters Arnold, a hunky older man (Treat Williams) and troublemaker, who overconfidently tells her that he is going to be her lover, whether she knows it or not. Obviously, this leads to serious (or sometimes unexpectant) consequences, or decisions that will alter Connie's life forever.
Like I mentioned in the first paragraph, this isn't your typical teen drama, meaning that it provides more questions than answers. There is definitely more than meets the eye. Dern gives an incredible performance of a young innocent who seems to be trapped in the middle of a very dysfunctional environment. She's fully aware of her sexuality, but isn't able to seek advice from anyone, including her parents (Mary Kay Place and Levon Helm) who seem to be disconnected from each other themselves. In this case, Arnold isn't the only adult involved that seems to be providing really false security, even when the character isn't featured in many scenes.
As usual, Criterion delivers another stellar edition, one that give this gorgeously puzzling film even more greater context, with stacked supplements including a conversation with Chopra, Oates, and Dern from 2020 New York Film Festival moderated by TCM host Alicia Malone; new interview with Chopra; new interview with production designer David Wasco; three short films by Chopra, trailers, and more.
If you're looking for something refreshing and uncommonly lyrical, Smooth Talk should definitely be a must-have addition to your collection!
Other releases:
Man Push Cart (Criterion): A depressing, but moving portrait of the immigrant experience about a former Pakistani rock star/widower trying to survive a new way of life as a food vendor in midtown New York.
Chop Shop (Criterion): The incredible follow-up to Man Push Cart centers on a wise 12-year-old street orphan working in an auto-body repair shop to make life for himself and his older sister.
Lady Sings the Blues: Diana Ross' brave and unforgettable Oscar-nominated performance fuses this harrowing biopic depicting the troubled life and career of legendary jazz singer, Billie Holiday. Read Jack Cormack's review.
Pump Up the Volume (Warner Archive): Christian Slater stars as Mark Hunter, the new kid in a small Arizona town who leads a double life. By day, he is a painfully awkward young man, but by night, he's a cynical and uncensored DJ of a pirate radio station.