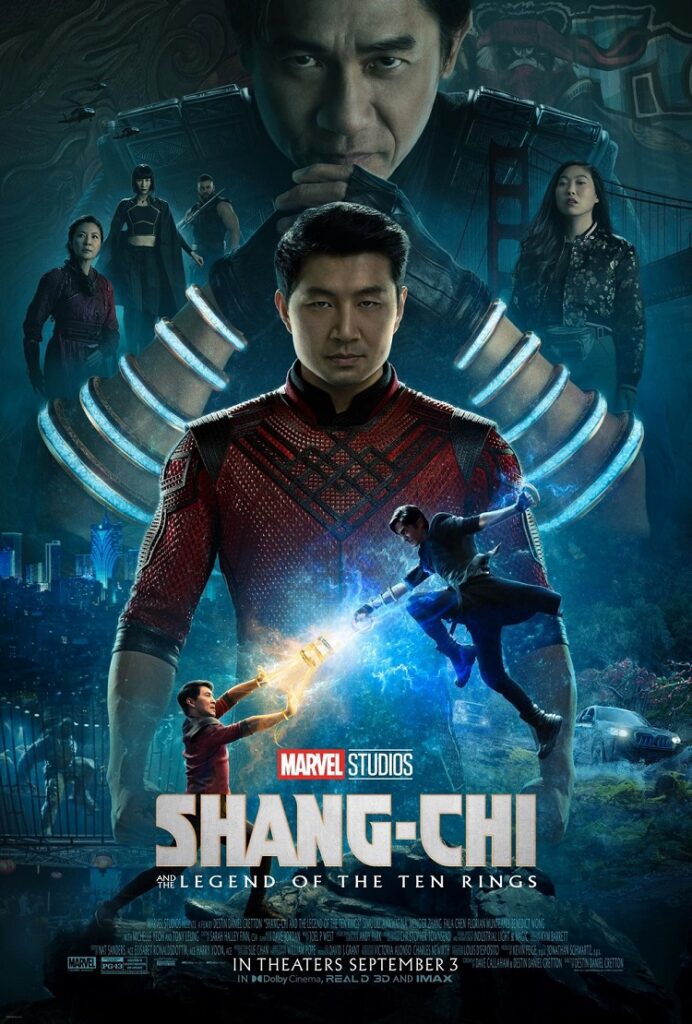 After Marvel concluded Phase Three of their Cinematic Universe with the galaxy-spanning, time-traveling, superhero-packed epic Avengers: Endgame, it was understandable to wonder what would happen to the franchise, especially after losing a few beloved, integral characters. Any concern dissipates with the introduction of Shang-Chi, brought to the life by Simu Liu in a charismatic, breakout performance.
Part of what makes the character and film so engaging is the partnership between Shang (who went by Shawn when he came to the U.S.) and Katy (Awkwafina), best friends since high school. She becomes his sidekick when the adventure starts. They are slackers, content to be car valets and sing drunken karaoke. However, their lives radically change when they are attacked by Shang's father's henchmen during a thrilling action sequence on a bus through the streets of San Francisco.
Shang's father is Wenwu (Tony Leung who brings gravitas to the role), a powerful warlord who has lived for a millennium. He controls the Ten Rings, both a series of magical bracelets and a criminal organization. He is also known as The Mandarin, a name used earlier and improperly by Aldrich Killian and Trevor Slattery (Guy Pearce and Ben Kingsley respectively) in Iron Man 3, which is dealt with in this film. Wenwu sought to enter the magical kingdom of Ta Lo and pillage its treasures.
However, he encounters Jiang Li (Fala Chen), who protects the entrance to Ta Lo. Through her fighting and magical skills, she stops him, one of the first to do so in ages. This intrigues him and their fight leads to love. She leaves her people to be with him and he gives up his terroristic ways. They have two children, Shang-Chi and his sister, Xialing.
Wenwu wants his children to help him free his late wife who he is imprisoned within Ta Lo. He can hear her call to him, unaware he is being duped by a demon seeking its freedom, which will be catastrophic for the world. This sets up battles between the forces of Ta Lo and the Ten Rings and between father and son, which are complicated by winged soul-stealing creatures striving to feed and strengthen the demon.
Director/co-screenwriter Destin Daniel Cretton works from a script that offers a good blend of drama and humor between the action sequences. The fantastic moments are grounded by believable characters whose motivations are understandable, even the villainous father.
While other Marvel characters have used martial arts in their fighting, it's the main focus of the Shang-Chi characters. Recently deceased Brad Allan, a former member of the Jackie Chan Stunt Team, was the film's supervising stunt co-ordinator and 2nd unit director, and he brought together different fighting styles.
Shang-Chi and the Legend of the Ten Rings is an entertaining action film and it demonstrates the MCU is in good hands, both in front of and behind the camera. There are subtle and overt references to the MCU for fans, especially in the film's epilogue and credits sequence. Surely other filmmakers will want to work with Simu Liu, a talented actor who deserves to be a movie star, and if teamed with Awkwafina, even better.