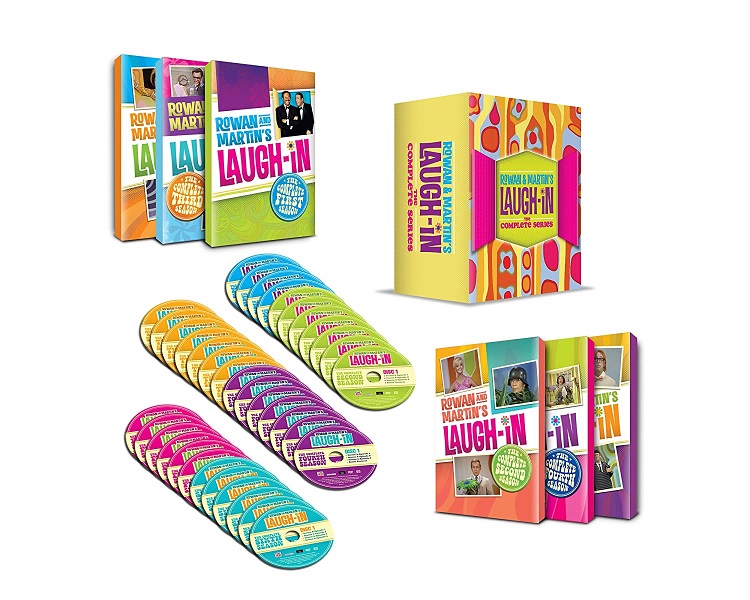 Previously an exclusive from Time Life, the landmark variety show Rowan & Martin's Laugh-In: The Complete Series is now available at retail locations. The 37-disc set presents 140 unedited episodes that aired over six seasons from January 22, 1968 to March 12, 1973.
As I mentioned in my review of The Complete First Season, "The show's format, an anarchic twist on the variety show, was well established at the onset [in the pilot, which aired to great success as a special on Sept. 9, 1967] with humor that pushed the era's boundaries and seemed to appeal to a younger, hipper audience with its sex and drug references. The program featured sketches that offered variations on gags and outlandish scenes filmed on location. The humor of the Marx Brothers and Ernie Kovacs and the editing techniques the French New Wave are clear influences."
The comedy team of straight man Dan Rowan and dummy Dick Martin hosted the special. Cast members Ruth Buzzi, Judy Carne, Henry Gibson, Arte Johnson, and Jo Anne Worley went on to become household names. Goldie Hawn and announcer Gary Owens came on board once the show went to series. The cast would change every season with only the hosts, Buzzi, and Owens as constants. Notable additions were Alan Seus in Season 2, and Lily Tomlin and Johnny Brown in Season 3. Season 1 players Richard Dawson and Larry Hovis return in Season 5 along with familiar faces in the 100th episode.
For those not familiar with the series, I presented an overview in my review of The Complete Second Season. "Laugh-In had a number of recurring sketches. After Rowan and Martin's opening banter, they head to the "The Party" where the cast performs a lot jokes in quick succession. This format repeats during the show-closing "Joke Wall." After the ladies introduce the "News" segment, Martin comes out to The Tonight Show theme and performs a monologue. An embarrassing achievement by an individual or group wins The Flying Fickle Finger of Fate award.
"The series had a large number of guest stars from many fields of [pop culture] that would be edited in with reactions to the proceedings or saying silly things, although they were clearly recorded at another time." "Possibly the most notable…was Richard Nixon, a few weeks before the 1968 election, who seemed to be asking 'Sock it to me?'" Hubert Humphrey declined his invitation, and some" blamed Laugh-In for geting President Nixon elected. Musical guests, such as Strawberry Alarm Clock, the Temptations, and the Bee Gees, appeared in the first season but the producers cut that moving forward.
The comedy is funny and irreverent, but at times comes across dated. Not only in reference to then-current events but presumed attitudes aren't as liberal for being on the cutting edge of the late '60s/early '70s. While forward thinking with drug references, the attitudes about sex are backward. As seen in The Complete Sixth Season, "there is some funny commentary about race, like Martin in drag joking they lost Alabama when Sammy Davis Jr. kisses him on the cheek. Then they are surprisingly tone deaf with white actors playing Asian characters. Seeing them speak broken English is cringe inducing and makes no sense since they were able to find an Asian member of the dance troupe."
In addition to the pilot, other Bonus Features include a 25th Anniversary Cast Reunion, new interviews with creator/executive producer George Schlatter and cast members, bloopers, and a tribute to Schlatter.
Rowan & Martin's Laugh-In is not just a comedy classic but an American time capsule that features a who's-who of comedy with its talented cast members and galaxy of guest stars. The Complete Series is a must have for fans and a worthy blind buy for classic TV/comedy fans. You bet your bippy it is.