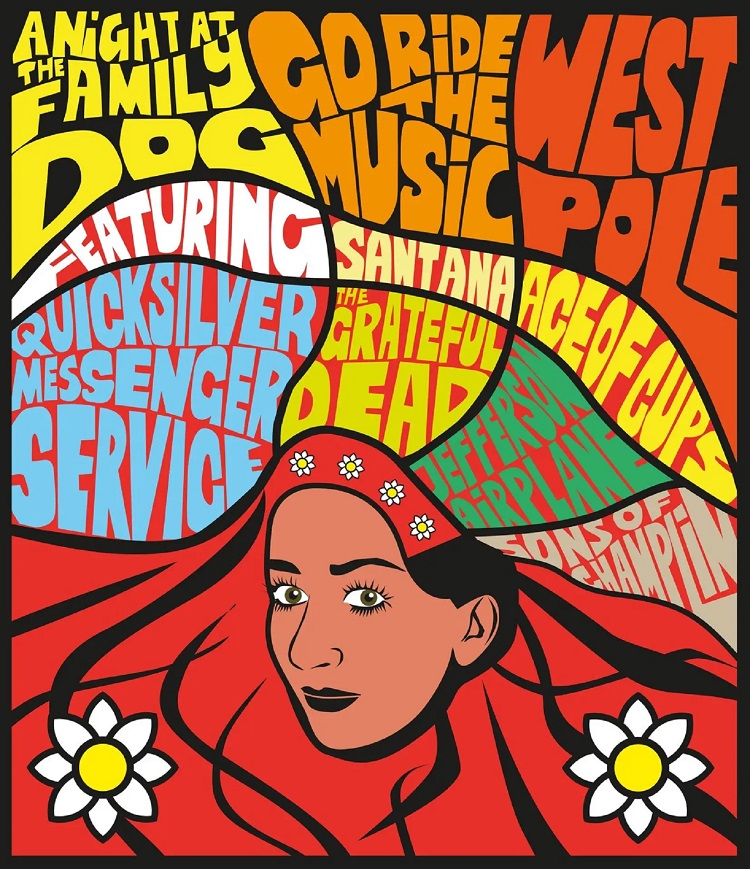 Mercury Records will release A Night at the Family Dog (1970), Go Ride The Music and West Pole (1969), three psychedelic trips down memory lane, on May 12 as a 2 DVD package, complete with new artwork and '60s-styled poster. All three films were originally produced and created as groundbreaking television documentaries by Ralph J. Gleason [1917-1975] who did more than any other journalist to hip the world to what was shakin' in San Francisco in the late '60s.
A Night at the Family Dog held on February 4, 1970, featured the brightest three lights of the Bay Area, Jefferson Airplane, Grateful Dead and Santana. These three bands would define a scene that had the whole world wondering what exactly was going on in the Haight-Ashbury section of San Francisco. A Night at the Family Dog starts with two iconic Santana performances before Grateful Dead covers Otis Redding. Jefferson Airplane then splits the club wide open with their patented incendiary and provocative performance style. And when Carlos Santana, Jerry Garcia, Jorma Kaukonen, Jack Casady and Paul Kantner kick out the jams to end it all, all hell breaks loose. The original mono recording has been remixed and remastered.
The San Francisco Sound, as it became to be known, was a montage of shrieking guitars and bold now-classic Acid Rock. Go Ride the Music is a stunning document of Jefferson Airplane and Quicksilver Messenger Service (a band destined for stardom who short-circuited their own success). There are also cameo appearances from David Crosby and Jerry Garcia.
West Pole captures the magnetic attraction of musicians who provoked the establishment enough to create national news. Gleason knew it. And via his writings, eventually so did the rest of America. Here's a chance to witness first-hand the birth of a culture: Steve Miller Band, Jefferson Airplane, Grateful Dead, Quicksilver Messenger Service and others.
Those born too late to experience first-hand just what made this city at this time so significant will finally understand. Even Beatle George Harrison had to visit from England to see what the fuss was all about. It was a time of wild experimentation. Poetry, music, film, journalism, sex, drugs and political activism shared the spotlight as American Culture itself began to shapeshift into forms heretofore unknown.
Track listing:
A Night at the Family Dog
Incident At Neshabur – Santana
Soul Sacrifice – Santana
Hard To Handle – The Grateful Dead
China Cat Sunflower – The Grateful Dead
I Know You Rider – The Grateful Dead
The Ballad of You And Me And Pooneil – Jefferson Airplane
Eskimo Blue Day – Jefferson Airplane
A Super Jam – featuring Carlos Santana, Jerry Garcia, Jorma Kaukonen, Jack Casady, Paul Kantner and more!
Go Ride the Music
We Can Be Together – Jefferson Airplane
Volunteers – Jefferson Airplane
Mexico – Jefferson Airplane
Warm Red Wine – Quicksilver Messenger Service
Somebody's Crying – Quicksilver Messenger Service
Subway – Quicksilver Messenger Service
Plastic Fantastic Lover – Jefferson Airplane
Somebody To Love – Jefferson Airplane
Mona – Quicksilver Messenger Service
Emergency – Jefferson Airplane
Wooden Ships – Jefferson Airplane
West Pole
Music – Ace Of Cups
Roll With It – Steve Miller Band
Greasy Heart – Jefferson Airplane
New Potato Caboose – The Grateful Dead
Dino's Song – Quicksilver Messenger Service
Sittin' In Circles – Steve Miller Band
Simplicity – Ace Of Cups
Freedom – Sons of Champlin
Gospel Song – Ace Of Cups