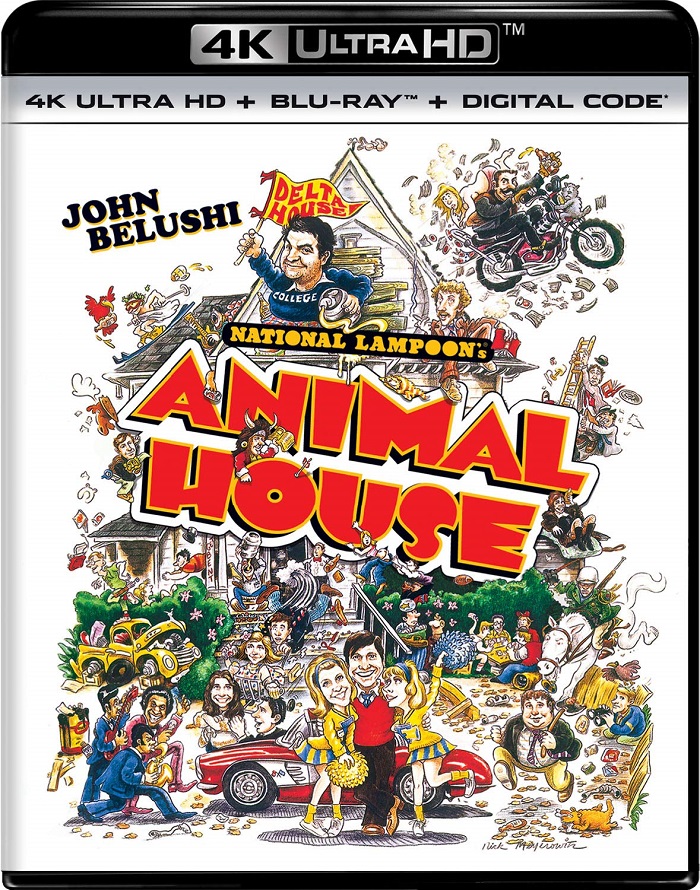 There have been many comedies about college life, such as Revenge of the Nerds, Old School, and Neighbors. As fun and actually competent as those are, they will never quite come close to the one that started it all, and that is John Landis' legendary 1978 comedy classic National Lampoon's Animal House. This iconic film was definitely one of the very first "gross out" movies, and one that kickstarted the often-maligned raunchy comedy genre.
The rather simple plot (set in 1962) begins with Tom Hulce and the late Stephen Furst as two socially awkward college freshmen attempting to join a fraternity. They try to join the ultra-snobby Omega Theta Pi House, but are instantly rejected. With no other options or standards, they pledge to join (and get in) the most notorious and reviled fraternity on campus, the Delta Tau Chi. At first, they are reluctant, but they eventually find solace with the Deltas. However, they always suffer the wrath of Dean Wormer (John Vernon), who not only puts the fraternity on "double secret probation," but has also secretly hired the president of Omega to revoke and put the Deltas under once and for all. This obviously doesn't sit well with the Deltas, and they decide to get some revenge.
When it was first released, the film actually wasn't reviewed or praised well at all. It was considered in very poor taste, and immediately dismissed. But after decades, it has gotten new life as an all-time landmark. It also gave careers to several of of its cast members, especially the late, great John Belushi (who memorably played Bluto); made Landis a household director; started toga parties on colleges campuses everywhere; and changed comedies forever. Despite some dated and sordid elements (homophobia, racism, and sexual assault), it is still very funny, and actually has some social commentary infused in it as well. It's really all about the plight of the underdogs, the lower class, and the constantly ridiculed majority, which does make it feel slightly relevant. Say what you will now about it, its legacy will always remain intact.
Despite making its 4K debut, there are no fresh special features. All of the bonuses are from previous releases, such as The Yearbook: An Animal House Reunion; Where Are They Now? A Delta Alumni Update; Scene It? Animal House Games, and a theatrical trailer. It would have been great to have new commentaries with Landis and surviving cast and crew; deleted scenes (if any); new discussions about the film's themes; tributes to Belushi, Vernon, and Hurst; nostalgia-style comments from famous celebrities and fans, and etc. Oh well, you can't always get what you desire. If you really love the film, then this release should still be a must-have for your collection.
Other essential releases:
Flowers of Shanghai (Criterion): A beguiling drama from Hou Hsiao-hisen centering on the women who work within the brothels (or "flower houses") in late 19th century Shanghai, who have a choice: either accept their confined reality or fight for their futures.
Minari: The engrossing, Oscar-winning recent film about a Korean family moving to Arkansas to start a farm in the 1980s.
The Father: Sir Anthony Hopkins' devastating, Oscar-winning performance fuels this startling drama about an aging man stricken with dementia. He refuses all help from his daughter (Olivia Colman) and begins to doubt his entire existence as he is forced to face with changing reality.
Santa Sangre 4K (Severin): Alejandro Jodorowsky's nightmarish 1989 masterpiece about a young man who escapes a mental institution to join his surviving and armless mother on a nasty journey of murder and revenge.
Supernova: Colin Firth and Stanley Tucci star in a beautiful portrait of a gay couple of 20 years, taking a road trip across England, visiting friends, family, and places from their past, as one them becomes diagnosed with dementia.