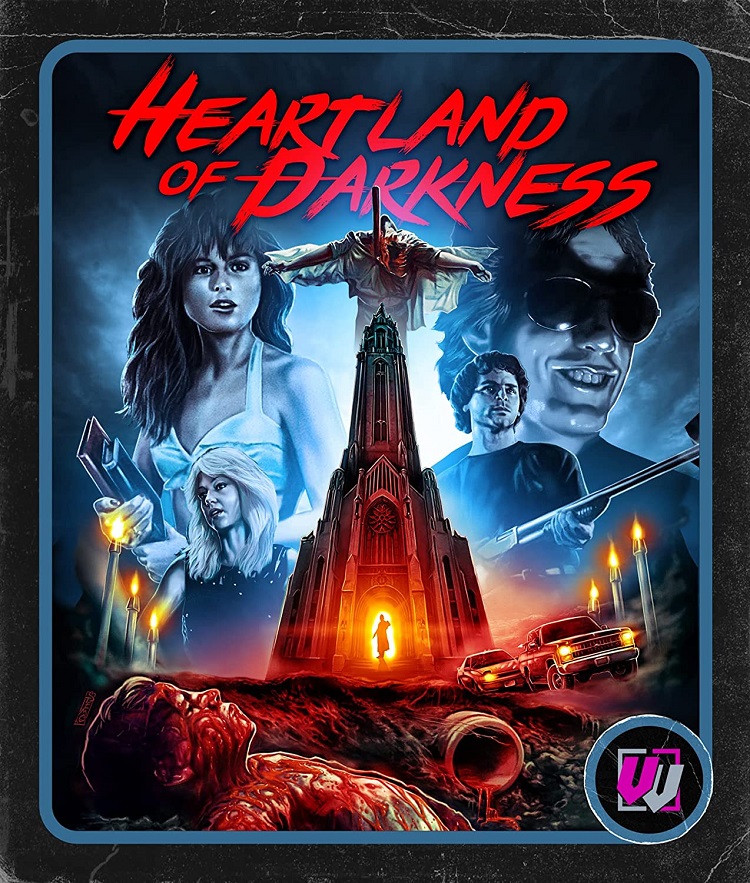 Heartland of Darkness is truly straight from the 1980s. Filmed in1989 but never released in its entirety until 2022. Known as Linnea Quigley's (Return of The Living Dead, Sorority Babes in the Slimeball Bowl-O-Rama, Hollywood Chainsaw Hookers) lost movie, its legend spread due to a short rough cut promo video that circulated around for years. Thanks to the good people at Visual Vengeance it's got a Blu-ray release loaded with all kinds of goodies, which adds to the overall appeal of a movie that's only real highlight is a scantily clad Linnea. The score is pretty good as well but Linnea is tops, or topless rather. Twice!
Drawing inspiration from the "Satanic Panic" that gripped American hearts and minds throughout the1980s, Heartland of Darkness is about big city reporter Paul Henson (Dino Tripodis), who moves with his teenage daughter to the small town of Copperton, Ohio after the tragic death of his wife. They move to avoid "evil bastards" but wind up right in the middle of a town held in the firm grasp of a crazed young reverend named Donovan (Nick Baldesare), who isn't a man of God at all but a minister of Satan. In Donovan's employ is the sexy witch Julia Francine (Quigley), who does her seductive best to draw Paul and his kid into the devils fold. There's a black mass, ritual killings, gore galore, sexy outfits (not only worn by the ladies), boobs, explosions, a car chase, lots of gun play, more boobs, a buff '80s pro wrestler-looking goon, and lots of enjoyably bad acting. 
Heartland of Darkness started as "Fallen Angels," got re-titled "Blood Church" by a distributor who failed to distribute it, and when director Eric Swelstad finally got the film back (thankfully only slightly scratched) the title 'Fallen Angels" had been taken. So he dubbed his yet unfinished labor of love Heartland of Darkness. A student film conceived as a thesis project by Swelstad while at The Ohio State, who took a great idea and made a very low budget film. Quigley's appearance turned this thing into a legendary lost horror movie. Heartland has potential. For what Swelstad and his inexperienced crew had to work with, the movie is better than most of its kind. The acting is a bit weak but as good as college kids and local theater performers get. Years in the making truly benefits Heartland Of Darkness. Through better editing and digital special effects added over the years, like explosions and rain (which falls in the wrong direction), this super low-budget horror film rises from nearly a complete stinker to amusing and watchable.
There are some genuine creepy scenes with gory, good effects, especially the finale. Though there are no real scares, the standout score adds the elements of suspense and dread. Swelstad was also told that to increase his chances of getting the movie distributed he would have to add some nude scenes. So he did. Using Linnea's assets to their full potential. Good thing the other two female leads agreed to flash the camera as well. There are other scenes sans nudity that are pretty well-lit and shot as well. Fortunately for Swelstad, the city of Columbus, Ohio let him film all around town for free or next to nothing. They even flew the police helicopter around so he could get some footage with its spotlight on. Heartland has definitely got that going for it over other no-budget films that need to make due with few places to shoot, using off screen happenings or available stock footage to fill gaps. Super low-budget Troma cheapies like Rockabilly Vampire come to mind, another bad but enjoyable wreck of a movie with a great premise.  
Visual Vengeance has truly loaded this Collector's Edition Blu-ray, which I was fortunate enough to score, with tons of extras. Upon pressing "play," the Blu-ray opens straight away with some grainy and very '80s style "coming soon to home video" previews of more titles in their catalog. There are two feature-length audio commentaries; one with the cast and crew while the second is by Tony Strauss of Weng's Chop magazine (whatever the hell that is). Both are entertaining and add so much more depth to the movie, making it all the more enjoyable and (re)watchable. There are also vintage interviews with Linnea Quigley and some members of the cast and crew; new interviews are also included. Added to the fun are working promo cuts of the film also with a commentary option. The case itself is filled with goodies; we get a six-page booklet, a prayer cloth, retro VHS rental store stickers, and a small poster of Linnea Quigley! Hubba Hubba.  
Full Special Features include
New director-supervised SD master from original tape and film
Deeper Into the Darkness: new 40-minute BTS documentary
Commentary with director Eric Swelstad, star Nick Baldasare, cinematographer Scott Spears and composer Jay Woelfel
Commentary with Tony Strauss from Weng's Chop magazine
Linnea Quigley Remember: new interview
Archival Linnea Quigley 'Close Up' TV interview
Original TV spots, trailers, and behind-the-scenes footage
Complete original "Fallen Angels" 1990 workprint
"Fallen Angels" 1990 workprint commentary track with director Eric Swelstad
The Making of Fallen Angels-vintage cast and crew newscast interviews
Blood Church – original distributors promotional video
Behind-the-scenes image gallery
Six page liner notes
Fantasm magazine excerpt – directors spotlight
Limited edition Heartland of Darkness "Prayer Cloth"
Limited edition slipcase
Collectable Linnea Quigley folded mini-poster
'Stick your own' VHS sticker set
Visual Vengeance trailers
Reversible sleeve featuring original Blood Church  promotional art
Optional English subtitles
I told you it was loaded!
Visual Vengeance has done a masterful job with this Blu-ray Collector's Edition of Heartland of Darkness. All the bells and whistles make for enjoyable viewing of an otherwise mediocre student film. The audio commentaries add greatly to the movie, filling out the story and adding depth and appreciation for what was accomplished with so little money and raw, straight out of film school energy where talent may have been lacking.
The legend of Heartland of Darkness only grows as it finally is unleashed upon the world. Would it have been better left in the can and forgotten? Possibly. But it's out there and the 30 years it took to get released was time well used adding the needed special effects and editing which make it more palatable now than had it been released in 1990 or so. It's comically bad at times yet likable and enjoyable enough to watch. Even those scenes without a topless Linnea Quigley.