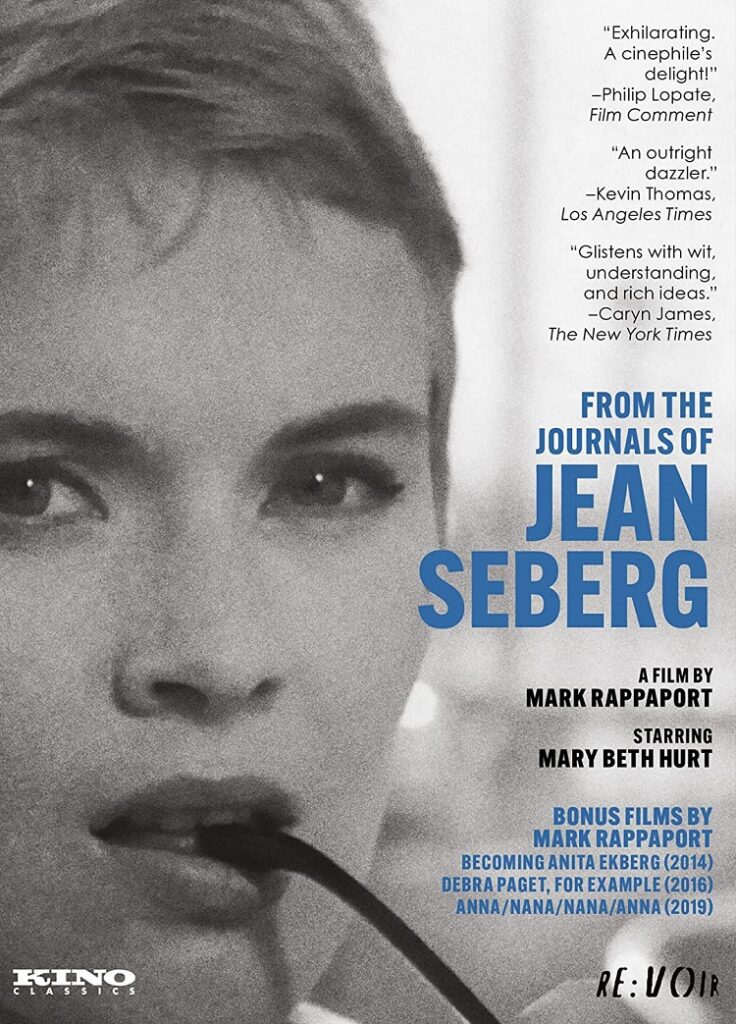 Iconic actress Jean Seberg was ahead of her time. She was also a woman of her time, having a few incredible highs (becoming a French New Wave legend) and mostly devastating lows (four marriages, miscarriages, and attempted suicides). Her life was a never-ending series of misadventures until her untimely death in 1979 due to an overdose of drugs.
Actress Mary Beth Hurt plays Seberg, as she is rescued from obscurity to star in Otto Preminger's 1957 flop Saint Joan, and the sheer criticism that followed her until her star-making turn in Jean-Luc Godard's 1960 nouvelle vague masterpiece Breathless. From there, it becomes all too apparent that she and other actresses, including Jane Fonda and Vanessa Redgrave, were unwillingly put under the microscope, especially how involved they become in politics. This definitely is the case where the examination of Seberg's time in the Black Panthers is explored.
Just like his 1992 film Rock Hudson's Home Movies, director Mark Rappaport puts his trademark skills to very good use. His video essays of famous celebrities do not treat them with disrespect, but in fact allows them a new re-evaluation and voice, which is what happens with 1995's From the Journals of Jean Seberg. It also breaks through the fame and supposed glossiness of it all to really pierce the stigmatization of women who want to be more than just cinematic eye candy. Brilliant stuff indeed!
Included in the Blu-ray & DVD releases are three short films also by Rappaport: Becoming Anita Ekberg (2014), which explores how Ekberg became a sex goddess; Debra Paget, For Example (2016) details how 20th Century Fox groomed Paget for stardom, and Anna/Nana/Nana/Anna (2019) is a tribute to actresses from Anna Sten to Anna Karina.
Other releases:
The Girl Can't Help It (Criterion): Tom Ewell plays has-been agent Tom Miller to hefty hoodlum Marty "Fats" Murdock, who employs Tom to help his girlfriend Jerri Jordan (Jayne Mansfield) become a singing star. Marty trusts Tom not to flirt with her, but the more time he spends with her, the more he falls in love with her.
Miracle in Milan (Criterion): In the outskirts of Milan, a group of vagabonds work together to form their own society. When they discover the land harbors oil, they get divine help to save their community from greedy developers.
In the Heat of the Night (Kino): A new 4K release of the groundbreaking 1967 Oscar-winning crime mystery starring the late, great Sidney Poitier as Virgil Tibbs, an African American police detective sent to investigate a murder in a racially insensitive southern town. He constantly clashes with gum-smacking Police Chief Gillespie (Rod Steiger) as they try to solve the case.
The Humans: The Blake family is a very dysfunctional one gathering to celebrate Thanksgiving in downtown Manhattan in a pre-war duplex. As night falls, mysterious occurrences start taking place and the family's already obvious tension grows to a fever pitch.