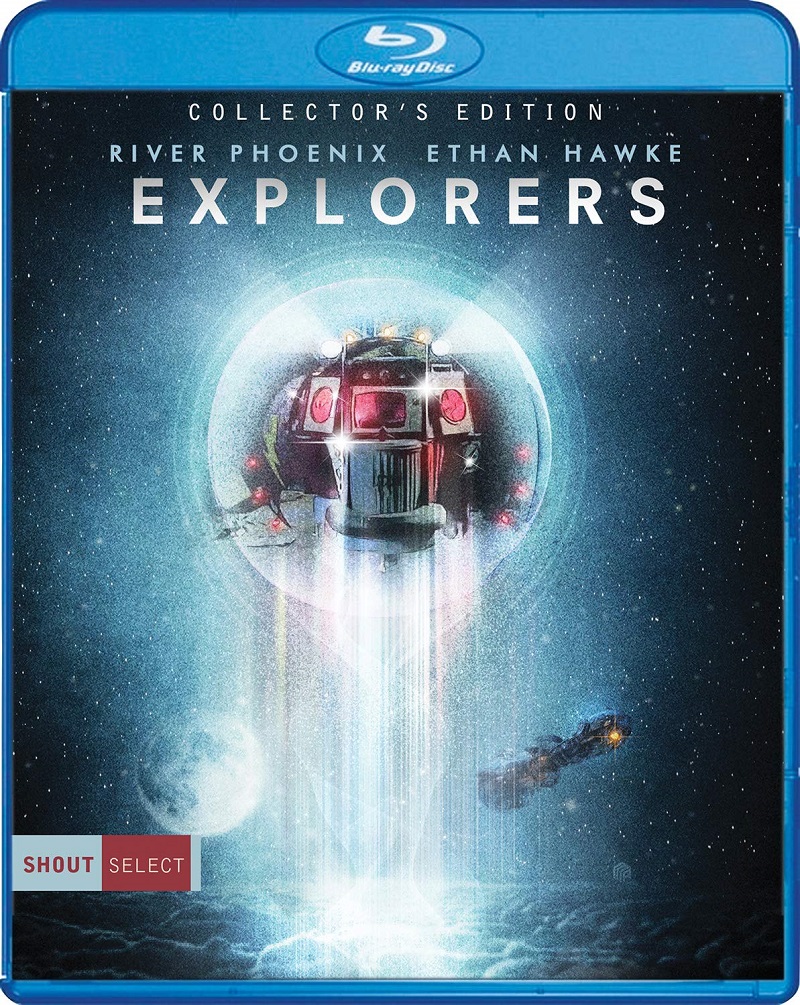 The success of family-friendly, space fantasy films like George Lucas's Star Wars franchise and Steven Spielberg's E.T. led to wave throughout the '80s. One such movie was Joe Dante's Explorers, a young boys' adventure that sees a trio of teenage misfits build a makeshift spaceship, much like characters in stories from decades prior would build a raft or a plane for their journey.
In Ben's (Ethan Hawke) dreams, he sees a huge circuit board. When he awakes, he draws the board and shares it with his super-intelligent friend Wolfgang (River Phoenix), who begins to work on the sketches. Joined by new friend Russell (Jason Presson), a kid toughened because of his home life, they discover the circuit board creates an electromagnetic bubble they can control. They create a spaceship out of junk for the bubble to encompass. Russell names it Thunder Road after the Springsteen song so screenwriter Eric Luke can illustrate how cool the character is, but it didn't seem a teenager in 1985 would be into that album.
The script has some fun as the boys fly through the city, passing through the drive-in, which is showing a science fiction movie that provides them cover, and catch the notice of a police helicopter. This leads one officer (Dante regular Dick Miller) to investigate what he thinks he saw.
It turns out these dreams were actually messages for the boys. Once in space, their ship is commandeered and drawn into an alien vessel. They meet Wak (Robert Picardo) and Neek (Leslie Rickert), two rubber-suited aliens designed by Rob Bottin. The pair have been picking up TV signals from the '50s and '60s, so they know Marilyn Monroe and Little Richard. Wak has been heavily influenced about American pop culture items and riffs like Robin Williams. They have also seen '50s sci-fi movies like The Day the Earth Stood Still and presume humans kill aliens. As Ben tries to explain all humanity isn't like that, the ship is overtaken by space pirates according to Wak.
In the extras, Dante talks about Explorers being rushed and not being the movie he wanted to make. The story doesn't have much conflict, and even the times where there's a suggestion of it occurring, it is easily dismissed. Still, it works as a simple adventure for a young audience, particularly boys.
The video has been given a 1080p/MPEG-4 AVC encoded transfer displayed in the original aspect ratio of 1.85:1. Colors appear in strong hues, such as the green and pink skin tones. Blacks are inky. Focus is sharp and the scenes show good depth. The special effects are sometimes hindered by the high definition, like when Thunder Road flies around.
The audio is available in DTS-HD Master Audio 5.1. The dialogue is clear. Jerry Goldsmith evocative orchestral score swells in the surrounds. Ambient sound effects make scenes feel more expansive. The spaceships move about and across channels and get support from the subwoofer.
The two-disc set comes with the home video version (106 min) and the theatrical cut (109 min). The special features are in HD unless noted. They are:
A Science Fiction Fairy Tale: The Story of Explorers (65 min) – Fan will delight in this new retrospective that not only includes interviews with those who worked on the movie (Dante, Luke, and Hawke), but former executives David Kirkpatrick (Senior Executive in Charge of Production at Paramount) and Darlene Chan (Junior Executive in Charge of Production at Paramount), as well as Explorers superfan/Ready Player One author Ernest Cline.
Deleted Scenes with Optional Commentary by Joe Dante (SD, 34 min) – Thanks to Joe Dante finding Betamax tapes in his garage, viewers can see these scenes taken from a workprint. The a/v quality is poor, but the creative insight from Dante about the decision-making process is outstanding.
Interview with Cinematographer John Hora (4 min) – Hora reminisces and at the end is briefly joined by Dick Miller.
Interview with Editor Tina Hirsch (6 min) – Hirsch talks about meeting and working with Dante.
Theatrical Trailer (SD, 2 min)
Explorers fans will be glad to get their hands on this release from Shout Select because of the high-def presentation and the special features that dig deep into the movie's making. Those looking for a light, family film should give this one a try.