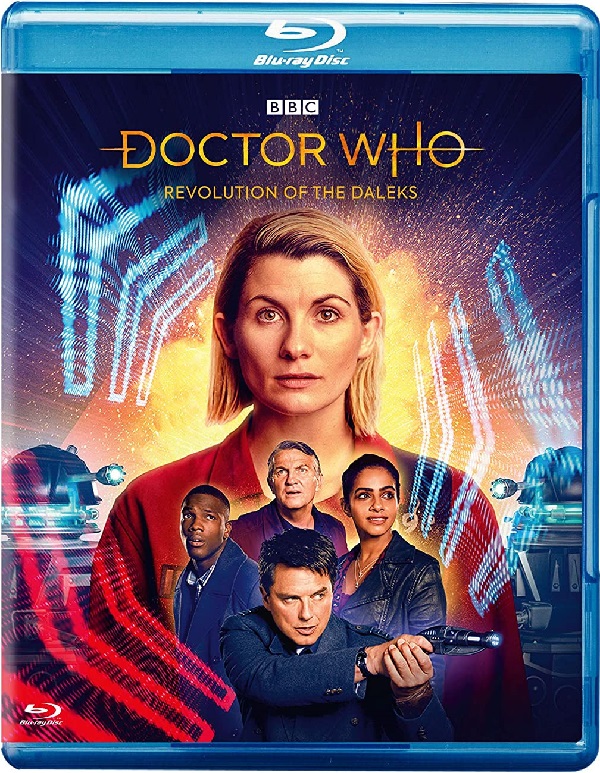 Well, hi there. It has been a long time since I've written one of these. Dave has done such a marvelous job taking over this series and now I am gladly stepping up to work with him in the weeks to come.
I'm a huge Doctor Who fan. I love both the classic era and the new one. I love every single incarnation of The Doctor and almost all of the companions. I love the great stories, the good ones, and the really bad ones. I love that show despite its many flaws. Of course, my Pick of the Week is going to be the newest story, Revolution of the Daleks, even if it epitomizes all the things wrong with the Chibnall era of the series.
There are some really interesting things happening in the episode. It begins with the Doctor in a Judoon prison, it involves the British Prime Minister using Dalek shells as her personal army, Captain Jack makes an appearance, and it ends with Graham and Ryan leaving the series. But Chibnall falters with this material at almost every turn. His default mode seems to be to forego the exciting action and quotable quips so that his characters can stop everything and have a chat about their feelings.
Still, there are a few nice moments. I still quite like Jodie Whittaker's performance as the Doctor, as well as all the other actors, and the look of the show remains excellent. Like I said I love Doctor Who and all of its weaknesses and I'll definitely be getting this Blu-ray. Extras include John Barrowman plays What's My Line?, a clip collection featuring actors Bradley Walsh and Tosin Cole, a closer look featurette, and the trailer.
Also out this week that looks interesting:
Zappa: Documentary about the late, great, and weird musician Frank Zappa.
Monster Hunter: Milla Jovovich and Ron Perlman star in this sci-fi thriller about some soldiers transported to a world full of monsters.
Fatale: Hillary Swank and Mike Coulter star in this noir-ish thriller in which a man has a one-night stand with a woman who turns out to be a police detective investigating a crime he is involved in.
Pinnochio: Matteo Garrone directs this retelling of the classic tale of a wooden puppet who just wants to be a boy. Roberto Benigni (who directed his own version of the tale back in 2002) stars.
Crazy Samurai: 400 vs. 1: A master samurai walks into an ambush and must fight 400 warriors in order to survive. Apparently, all 77 minutes of this film were done in one take. Thats impressive.
Satan's Blood: A crazy haunted house horror film from the 1970s about two couples playing with demons gets a new release from Severin.
My Favorite Blonde/Nothing But the Truth/Caught in the Draft: Kino Lorber is releasing these three comedy classics starring Bob Hope. You can't go wrong with Hope.