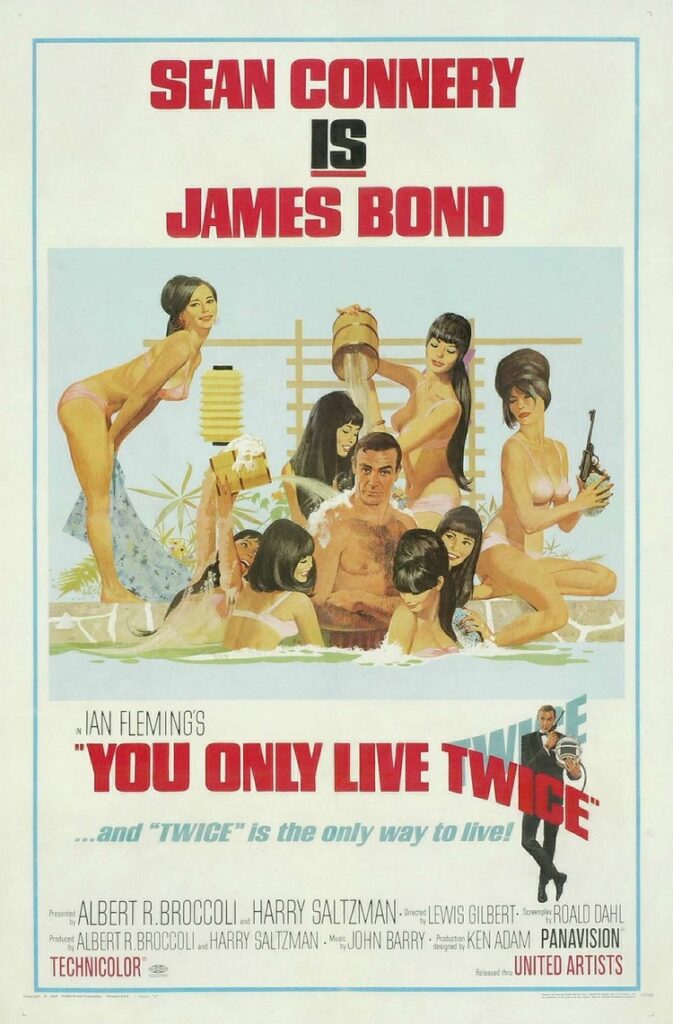 You Only Live Twice is the fifth film in the James Bond series. Released in 1967, it was intended to be Sean Connery's last time playing the character; George Lazenby was the next actor selected but after On Her Majesty's Secret Service he backed out of the contract. This provided the opportunity for Connery to return to the role in 1971 for Diamonds Are Forever. He also appeared in the Thunderball remake Never Say Never Again, which is not considered an unofficial James Bond film since it was made without the involvement of Eon Productions.
Sean Connery set a high standard for all of the actors that were to follow in this coveted British secret agent role. He had always been my favorite Bond, until Daniel Craig came along. Craig brought more of a tortured darkness with less of the playboy silliness, which gave the character more credibility and realism. However, every actor who has played Bond brings his own unique twist to the character, and having seen every Bond film, I've enjoyed them all. But Connery and Craig are the true standouts being the best overall representations.
You Only Live Twice is not the best in the series but it has all of the charm, action, and womanizing you would expect. It is also unique for bringing the evil Ernst Stavro Blofeld to the forefront. He had appeared briefly in two of the previous films but this is when he is finally established as Bond's main nemesis and would appear in three more films. The Blofeld character has been parodied many times, the most notable is Dr. Evil from the Austin Power film series.
The film opens with a mysterious spacecraft capturing a United States capsule orbiting in space. The U.S. suspects the Soviets, who deny it, but the British believe Japan is involved because that is where the unidentified craft landed. Cut to James Bond in bed with Ling, a lovely Chinese girl. After crudely stating women of her nationality taste different from all others, he gets trapped within a wall when the Murphy bed closes up and is shot at by a group of thugs who suddenly arrive on the scene. However, it was all an elaborate scheme to fake his death in order to smuggle him into Japan undetected.
Once there, Bond connects with Aki (Akiko Wakabayashi), a beautiful secret-service agent. She takes him to the local MI6 agent who is killed just as he is about to share the information he knows about the spacecraft. Bond chases and kills the assassin, then disguises himself to take the assassin's place in the getaway car. This leads him to Osato Chemicals; there he finds a safe and thanks to Aki, escapes with the documents contained within it. When he demands information from Aki, she makes a run for it. While chasing after her, Bond drops through the floor and winds up in the office of Tiger Tanaka (Tetsurō Tamba), the head of the Japanese secret service. The documents reveal a photograph of a ship along an unidentifiable coastline. While staying the night at Tanaka's home, Bond is surrounded and bathed by scantily clad women, but ends up in bed with Aki.
The next day, Bond meets with Mr. Osato (Teru Shimada) the head of Osato Chemicals. At the adjournment of the meeting, Mr. Osato orders his secretary, Helga Brandt (Karin Dor), to kill Bond, but he manages to escape, though only for a short while. Brandt attempts to interrogate him but Bond believes he is able to seduce her only to be left in a crashing plane, but of course, he escapes here too. They are able to figure out where the mysterious ship is docked and that SPECTRE (SPecial Executive for Counter-intelligence, Terrorism, Revenge and Extortion) is behind the caper in an attempt for world domination by Bond's nemesis Ernst Stavro Blofeld (Donald Pleasance). This leads to a visit by Q (Desmond Llewelyn), which isn't long enough nor does it involve enough cool gadgets. From here, it takes ninja training and a covert operation to save the day.
You Only Live Twice offers exciting chases and fight scenes, beautiful women, scenic locations, and the unraveling of an international mystery. Donald Pleasance is wonderful as the evil Blofeld, one of the greatest Bond villains and the film's highlight. The director made a great choice holding off on revealing Blofeld to viewers. Presenting just his voice over images of stroking his white cat creates an intense foreboding.
Nancy Sinatra sings the film's theme song, You Only Live Twice, and it is one of my favorites. One of the most anticipated moments for me when watching a Bond film is the opening credits and learning who is singing the theme song.
If you are a Bond fan, You Only Live Twice will deliver everything you would want and more. The story is a bit convoluted and confusing at times, but there is a lot of entertaining action to make up for it. While there are many flaws (At one point, they attempt to disguise Bond as a Japanese man, which looks completely ridiculous), along with the film being rather dated and offensive at times, I enjoyed it for sentimental reasons. I have fond memories of watching all of the Bond movies for the first time with my Dad and recall really enjoying them then. They created my interest in action films. However, I don't know that I would ever watch this one again if given a choice of Bond films to chose from.
Operation BOND returns with On Her Majesty's Secret Service.