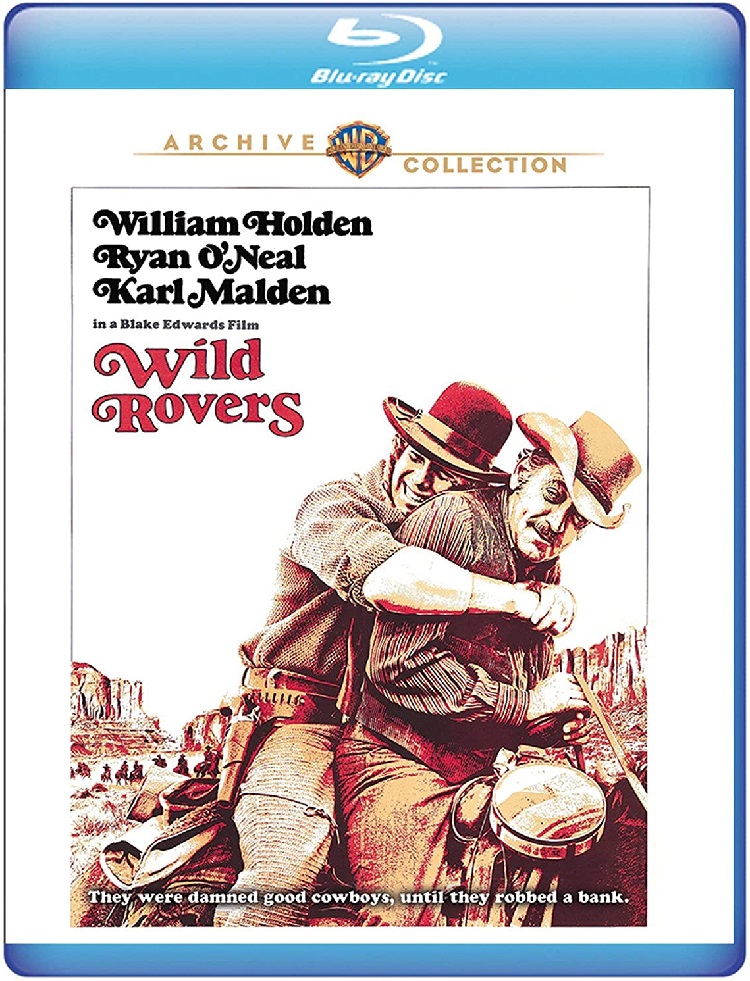 Wild Rovers (1971) starring William Holden, Ryan O'Neal and Karl Malden is a playful yet somber look at the lives of two cowboys as they head to old Mexico after robbing a bank.
Ross Bodine (Holden) and Frank Post (O'Neal) are hard working cowboys. Mending fences, herding cattle, and breaking new horses from sunup to sunset on Walt Buckman's (Malden) R-Bar-R ranch. After a wild eyed "jughead" horse bucks and kills a fellow cowhand, Bodine and Post get to thinking about death and what else life has to offer them.
As Post listens to Bodine talk about his 35 years as cowhand, he confides to the older man that he doesn't want to wait that long. Bodine mentions the only cowhand with extra money has robbed a bank, which puts the idea into Post's head. So that's just what they decide to do. Rob the town bank. Trouble is, R-Bar-R's money is in it and old man Buckman won't stand for that.
After gathering the money Bodine and Post light a shuck for the seashores of old Mexico. Meanwhile back at the ranch, Buckman meets with the sheriff (Victor French) to ponder his options. He settles on sending his two sons, John (Tom Skerritt) and Paul (Joe Don Baker), to do what the law can't: hunt down and bring back Bodine and Post, dead or alive. Old Walt would go himself but has to stay and keep sheepherders from grazing on his range. John and Paul relentlessly track the wild rovers across the country through wind, rain, snow and finally they meet their fate in the heat of the desert.
In Wild Rovers, Blake Edwards (Breakfast At Tiffany's, The Pink Panther) presents the life of two everyday cowboys in the changing West. He shows us how they work, eat, play, and live together. He captures not only the lighthearted fun and camaraderie between brothers, by blood or by choice, but the consequences of the actions we take and the choices we make. There are saloons and brothels; great shootouts and posse chases through gorgeous country which help make Wild Rovers a good western and a good story about the uncertainty of life.
Edwards (who wrote, directed, and produced Wild Rovers) had a vision of a nearly three-hour Greek tragedy, epic roadshow of a movie. MGM had other plans and cut out over 20 minutes of film without his knowledge or consent. He distanced himself from the movie after that, stating they had "cut the heart right out of it." Fortunately, for the 1986 home video release MGM restored as best as possible much of the missing scenes bringing the runtime to 137 minutes.
Warner Archive Collection has released that restored version on Blu-ray complete with overture, intermission, and exit music. The picture quality is as good as possible considering that the lost footage had been scrapped back together; some scenes are still grainy and spotted at times, especially the night scenes.
The Blu-ray special features are the theatrical trailer and the vintage featurette The Movie Makers, 12 minutes of insightful behind-the-scenes footage of the cast, crew, and techniques used to capture horse breaking and cattle wrangling. A very enjoyable little gem. Which pretty much sums up Wild Rovers, a forgotten gem of a western with some solid action, although a bit somber at times but so is Lonesome Dove.