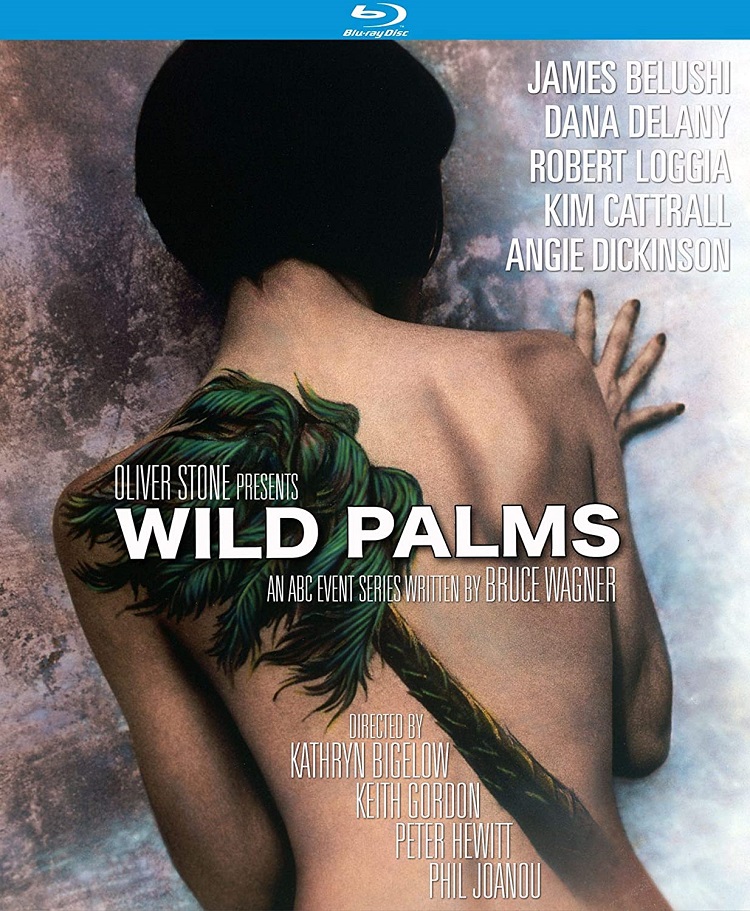 In the wake of the spectacular rise and fall of the original Twin Peaks, its network ABC was keen to produce another offbeat series that might trigger the same kind of national water-cooler fervor. Along came Oliver Stone, at that time a creator in very high demand, with a suitably surreal idea based on a comic strip by Bruce Wagner. To eliminate the possibility of another Twin Peaks Season Two disaster, ABC insisted that Stone's Wild Palms show had a complete story with a clear end up front, leading to the format of this five-episode miniseries. While the resulting project is certainly off the beaten track, that's where its similarity with Twin Peaks ends.
Jim Belushi stars as a successful patent attorney in the futuristic year of 2007. He has two kids and a beautiful wife (Dana Delany), seemingly living the American dream until he begins having odd visions and receives a visit from an old flame (Kim Cattrall) who enlists his help in tracking down her missing son. What follows is a weird, unsettling trip through a slightly off-kilter Los Angeles filled with a cult-like religious sect, a new virtual reality TV network, child swaps, drugs, political intrigue, and murder. Watch for veterans Robert Loggia and Angie Dickinson chewing scenery with aplomb, along with a very young Ben Savage years before he ever met Topanga.
The series is interesting, but edited in such a haphazard manner that it never really makes much sense. If anything, there's simply too much going on, especially within the confines of its five-hour runtime. It feels like something that would result if David Cronenberg met William Gibson (Gibson even makes a brief cameo), with the scary technology of the future making it a departure from the small-town supernatural flavor of Twin Peaks. The actors are all game, but again that bad editing makes their occasional histrionics seem overwrought and out of place rather than a logical result of their dire situations. Still, it's fun going along for this crazy ride, even if it doesn't really pay off in the end.
The soundtrack was created by noted musician Ryuichi Sakamoto, seemingly a big get for the series but regrettably a poor match, with his schmaltzy new age synth score horribly dating the show and making it sound like a bad soap opera.
The Blu-ray image quality from a new 2K master is quite good for a product of its early-'90s era, especially noticeable in comparison to the low quality recaps at the start of each episode that look like they were sourced from second-generation VHS copies. The sound is also upgraded with DTS, easily making this the definitive release of the show.
The bonus features consist entirely of audio commentary tracks on the episodes, and while it would be nice to have some behind-the-scenes videos or interviews, the commentaries are well above average. New commentary tracks are included for most episodes, featuring appearances by Belushi, Wagner, director Keith Gordon, and director Phil Joanou, as well as a legacy commentary track with Delany and Wagner. It's great to have so much new cast and crew involvement nearly three decades later, a further sign that Kino Lorber put some effort into this release rather than just a quick upgrade from the original DVD release.